Playing Board Games Can Improve Brain Health, Study Finds
mbg Editorial Assistant
By Abby Moore
mbg Editorial Assistant
Abby Moore is an Editorial Assistant at mindbodygreen. She earned a B.A. in Journalism from The University of Texas at Austin and has previously written for Tribeza magazine.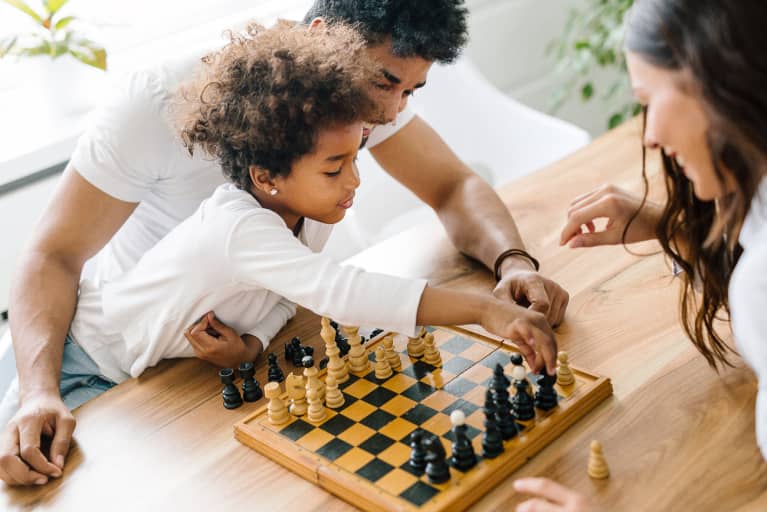 November 27, 2019 — 22:40 PM
Hosting family over the holidays? The only thing more stressful than preparing the food is deciding how to entertain your guests. New research provides good reason to dust off your old board games; they can boost brain health.
A 68-year-long study published in the Journal of Gerontology found that higher frequency of board game playing was linked to higher cognitive functioning. It also proved that cognitive functioning can improve throughout older age.
What did the researchers find?
The study, conducted by the University of Edinburgh, assessed more than 1,000 people of the same sex, health and activity levels, and education, born in 1936. They were tested at age 11 and again at age 70 for cognitive functioning.
Games included crosswords, bingo, cards, and chess, and participants were asked to rate their frequency of playing from one (every day) down to five (less than once a year or never).
Those who played board games more often throughout their lifetimes had sharper mental thinking compared to those who rarely played, or who began playing digital games later in life.
Researchers also tracked behavioral changes every three years from age 70 to 79. Those who increased their frequency of board game playing later in life also showed an increased speed in thinking and memory processing.
This research can help people who begin noticing declines in mental sharpness, like forgetting common words, missing appointments, or misplacing items. Intervening early can reduce the risks of developing dementia and Alzheimer's Disease later on.
Playtime is important in every phase of life, so whether you're hosting your nine-year-old niece or your ninety-year-old great-grandfather, put on a fun playlist and whip out those board games.
If Granny gets too competitive, here's some tips for avoiding family conflict.