Plastic-Free July: How Beauty Fans Can Participate + Expert Sustainability Tips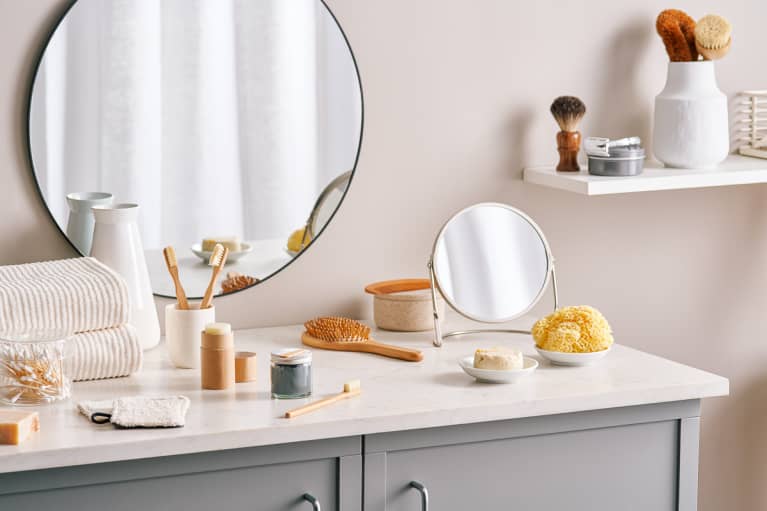 Our editors have independently chosen the products listed on this page. If you purchase something mentioned in this article, we may
earn a small commission
.
Here's a new challenge to try this summer: Plastic-Free July. It's a campaign and nonprofit that started back in 2011, and has grown into a global movement since. And, beauty fans, we have a few unique ways we can participate, which I've outlined below.
And, listen, Plastic-Free July doesn't mean you get to go back to your old habits once August hits. The idea is that you can use this month to challenge yourself, better your habits, learn how your existing beauty routine may need improvements, and do better going forward.
Here, a (non-exhaustive) list to get you started.
Advocate and voice your concerns to your favorite brands.  
When it comes to cleaning up the beauty industry, much of the responsibility needs to fall on the brands and companies themselves. That's where we'll see the biggest changes, after all. And you can absolutely use your voice as a consumer to encourage and advocate for better practices. Brands are more available to us than ever before: Reach out to them on social media, write emails, connect with their leaders and founders (often micro-celebrities and influencers in their own right), and voice your concerns over packaging and practices.
If brands know you care, they'll learn to care too.
But your voice isn't the only tool you have: You have your dollar. And that is a powerful thing. Shop brands who follow your ethos. In fact, a few brands (here) are already participating in Plastic-Free July or are just generally good at being plastic-free year-round. Consider the below for your next beauty find:
Of course, it can be a lot of time and work to scour the internet, diving into the sustainability practices of each and every company you buy. Don't worry, a few retailers have made the shopping experience easier for you and feature products with a green lens or have issued guidelines for sustainable practices going forward:
Credo: Earlier this year Credo announced their new sustainability and packaging guidelines.
BLK + GRN: A marketplace for Black-run beauty brands and Black creatives—all with an eco-friendly, natural bent.
Kindred Black: They sell a plethora of lifestyle goods, but their "Slow Beauty" section is simply not to be missed.
Many beauty brands take the time and care to craft their bottles—some resembling near works of art. So don't toss your favorites: Turn them into jewelry holders, a place to store change, flower vases, or even a spot to grow your own herb garden.
It's easy: In fact, environmentalist and activist Anita Vandyke has instructions to reuse and sterilize beauty jars in her new book A Zero-Waste Life in Thirty Days. She writes:
Choose the best-quality containers. Ones made of glass areideal or thick, durable plastic that can be reused (better than it being downcycled or going to a landfill).
Remove the labels.
Wash the containers with hot, soapy water.
Place in a pot of boiling water for 10 minutes to sterilize them.
Remove and allow to dry before filling them with your own DIY beauty products.
Then, take inspiration from beauty podcast Fat Mascara's recent Instagram post:
Several brands allow for refills, be it in-store or by ordering a larger refill bag. In-store, of course, is extremely location-specific, but do a little research to see what your options are: They might surprise you! And as for online refills (perhaps the safer choice given the current situation), here are a few of our favorites:
We love a DIY moment here at mindbodygreen. So if you're in the mood for a night in and a hair or face mask, don't rush out to buy one: Make one! If you need inspo, we have plenty of DIY beauty routines to give a go. A few of my favorites, here:
To continue your sustainability-focused growth, might we suggest giving the green influencers below a follow? They'll help keep your feed brimming with information and inspiration to better your habits long term: