I Tried Adding Placenta To My Skin Care Routine. Here's What Happened
mbg Contributor
By Amy Chang
mbg Contributor
Amy Chang is a writer and beauty blogger currently living in Los Angeles, California. She received her bachelor's in communications from New York University, and is the founder of beauty and wellness blog, BOND EN AVANT.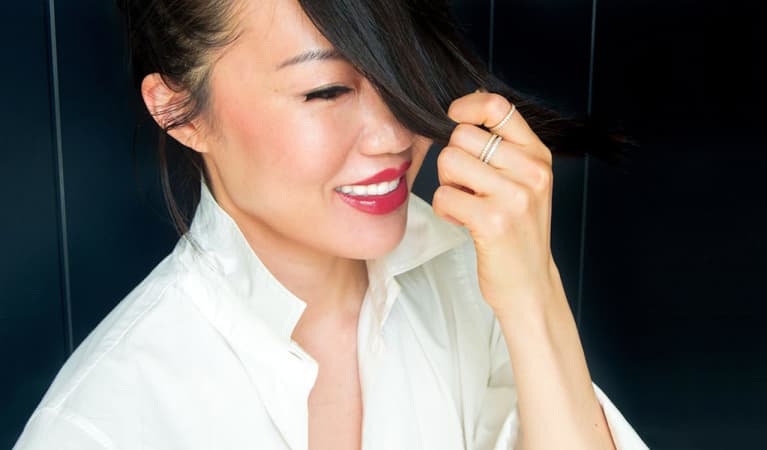 During my trip to Tokyo last spring, I noticed the word "placenta" everywhere: affixed to 1-ounce shot tonic bottles in mini-marts, to high-end department store lotions and creams, and pervasive throughout the supplement section in drugstores. The ingredient would surely be shocking to some, but as a beauty blogger who's tried a lot in the name of vanity and a wellness junkie from Los Angeles, where eating one's own placenta is a topic many pregnant mothers casually discuss over adaptogen lattes and vegan eats (and something I plan on doing after my baby arrives in May), I found the notion of placenta as a beauty ingredient more intriguing than offensive.
"Placenta is really big here right now; it's the anti-aging ingredient of the moment," Alisa Kerr, Australian expat living in Tokyo and founder of the blog Tokyo Beauty Book, explained to me. We met up to discuss her favorite beauty shopping spots in Tokyo, but the conversation kept turning back to placenta. "Collagen was big years ago, and collagen drinks have been around for a while, but placenta drinks are what's new. You can buy the drinks at drugstores in little glass bottles, and people drink them every day. And there are more and more skin care brands coming out with placenta as an ingredient in them."
The history of eating placenta.
Applying placenta topically may be new, but ingesting it is not. Placentophagy, eating one's own placenta, is a common occurrence in the animal kingdom (most mammals ingest their placenta after giving birth) and has been a practice in traditional Chinese medicine since the 1500s to cure ailments like anemia, exhaustion, and pain relief and prevent miscarriages and help sexual dysfunction.
Placentophagy postpartum has recently become trendy among celebrities and women in wellness communities, but the practice is hotly contested. A few scientific studies (discussed below) have been conducted confirming the purported postpartum benefits—re-establishing a hormonal balance, staving off postpartum depression, and helping to bring in breast milk. Most supporters relying on anecdotal evidence for backing the practice, as I imagine it's difficult finding new moms to participate in clinical trials because they are dealing with crying babies, lack of sleep, breastfeeding, and all.
Placenta for beauty is backed by science.
But things are a little different when it comes to using placenta for beauty purposes. There are numerous scientific studies providing evidence of the skin enhancing benefits of ingesting placenta and applying it topically.
This Korean study published in the Korean Journal for Food Science of Animal Resources in 2015 found that pig placenta extract, when taken orally, reduced trans-epidermal water loss (TEWL), UV wrinkle formation, and significantly prevented collagen degradation. Another Korean study published in the Journal of Tissue Engineering in 2013 reported human placenta growth factors greatly improved the speed of wound healing in rats when applied topically. And lastly, this Japanese study published in the Gynecology & Obstetrics Journal in 2013 showed pig placenta stimulated the proliferation of collagen in human fibroblast cells.
The United States may be slow to adopt placenta as a skin care ingredient, but it's exciting to see the medical community has embraced these findings. Dr. Alap Shah, a physician at the St. Francis Wound Care Center in Atlanta, Georgia, has been using donated human placentas, collected and sterilized by the med-tech company MiMedx, topically to speed wound healing, reduce inflammation, and prevent scar formation in diabetic patients with foot ulcers, infections, and other injuries—staving off the need for amputation.
Yes, there are some ethical questions.
Currently, ovine (sheep) and porcine (pig) placentas are most commonly used for placenta products in Asia. The harvesting and sterilization methods aren't publicized, and it's tough to know if the practices are humane. But like anything in life that involves animals—wearing leather, eating meat, or choosing vegan beauty products or not—it's a choice everyone has to determine for themselves.
Here's what happened when I tried placenta beauty products.
I personally let curiosity get the best of me and dove headfirst into all things placenta while on my trip. And discovered quickly a preference for the placenta tinctures that I took daily while in Japan. My skin was glowing by the end of our first week. The month supply of placenta supplement capsules I brought home also produced noticeable results. My hair thickened. My skin was visibly smoothed and brightened. And I couldn't help but regret not filling up a second suitcase with placenta supplements.
Want more beauty solutions? Here's what happened to our beauty editor's skin when she tried cutting out dairy and caffeine.