This Photographer Is Documenting Climate Change From The Front Lines & He Needs Your Help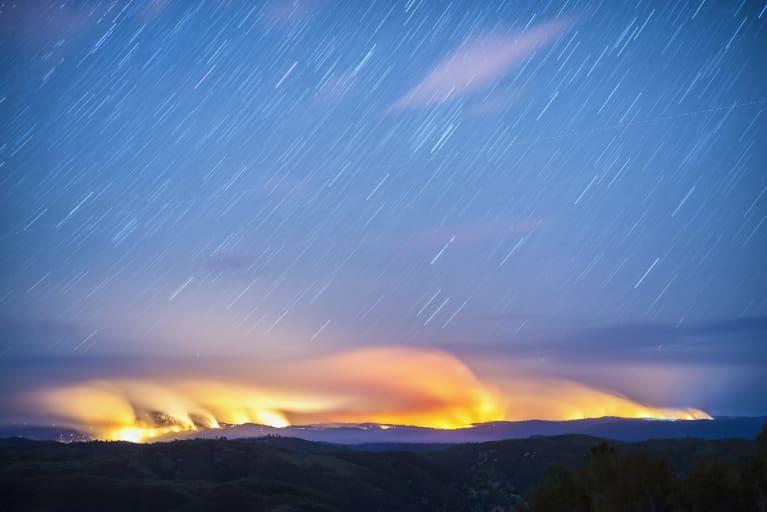 Our editors have independently chosen the products listed on this page. If you purchase something mentioned in this article, we may
earn a small commission
.
When we think of our wellness journey from a
You. We. All.
perspective, we're inspired to build a better future for everyone (our planet included!). We know you want to help make a difference, so this year we've teamed up with Target in an exciting partnership to launch Social Good, a new platform where you'll find stories on some of the most important social and environmental movements going on today. The cool part? Most of these stories include an actionable way you can help make the future brighter—right now.
When a wildfire breaks out in California, Stuart Palley is one of the first ones to be notified. The photojournalist has spent the last six years chasing flames across the state, watching their devastation become more and more severe. An awe-inspiring window into nature's power and impact, his work has appeared in National Geographic, The Washington Post, Time, and his book of long-exposure shots, Terra Flamma: Wildfires at Night.
To ring in Earth Day, we're sharing our chat with Palley about the reality of wildfires and climate change, and how we can all get involved to make a difference.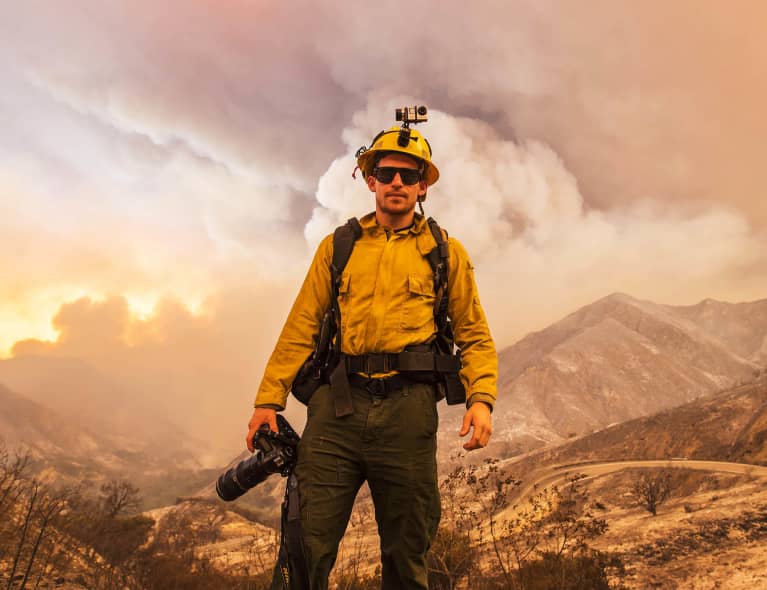 I'd love to learn a little bit more about your origin story. Why were you first drawn to photography?
I've always been interested in drawing and photography. Then when I was in high school, I went to visit my uncle who lived in Southeast Asia and Thailand at the time. I took an early digital camera and we went down to Phuket in the Gulf of Thailand. It was about six months after the 2004 tsunami and they were still cleaning up. I was very much struck by the impact that this natural disaster had there.
And I, as a 16-year-old kid, reacted, kind of used my camera to process the scene and process my feelings—though I didn't recognize that at the time. From there, I just kept on taking pictures.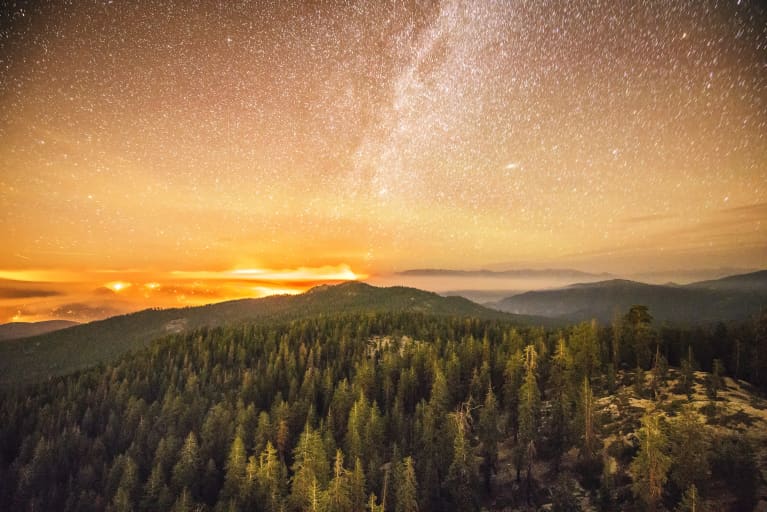 And what drew you to photographing wildfires in particular?
Well, growing up in Southern California, wildfires have always been on the periphery of my life. In the summer of 2012, in between my two years of grad school for journalism, I came back to California to intern at a newspaper. And I got sent to—or convinced the editor to let me go—photograph a brush fire. When I got there, there was this beautiful, large ranch home still burning down. The firefighters had tried to save it, but the fire just beat them to it. I was very much struck by this collision of man and nature.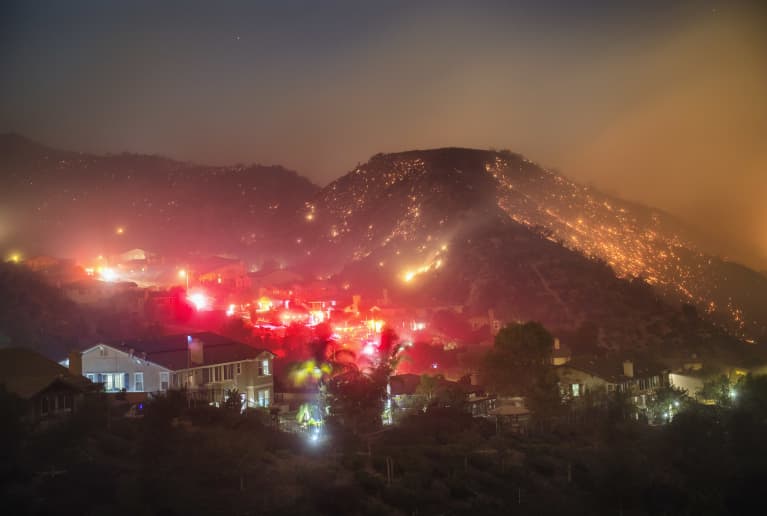 Right. And as someone who's been photographing wildfires for years now, how have you seen them change since you got started?
The majority of the largest, most destructive and deadliest wildfires have all occurred in the last decade—specifically within the last three years. So just within my six years photographing wildfires, the fires have gotten larger in size, have damaged more structures, and have caused more fatalities than they have basically since we started recording fire history, probably in the late 19th century here in California. They're also happening earlier in the year and later in the year. 2018 was literally and figuratively the worst fire season on record for California.
What's one misunderstanding that people have around wildfires and climate change?
Well, primarily, fire in itself is not necessarily a bad thing. For many ecosystems, even back East, fire is part of the ecology of the place and part of its natural cycle. We often view fire as this evil beast. But in reality, when left to its own devices, it's actually very beneficial.
But while fire is not necessarily bad, we need to prepare houses, have defensible space, and manage forests when it's not high fire season to help prevent these mega-fires we've been seeing. (Having defensible space essentially means clearing a zone around your house where firefighters can come in and defend your home.)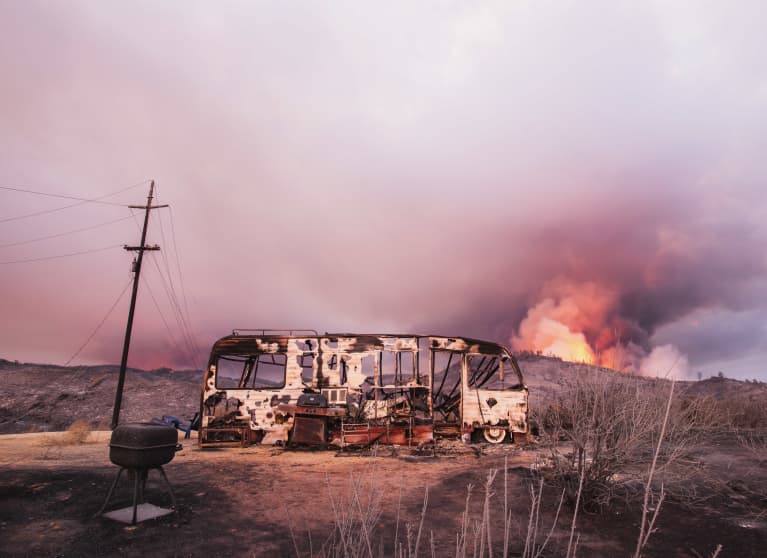 During a fire, you're out there with firefighters and have a really intimate understanding of the work that they do. What can people do to support first responders? What do they need?
I was actually up in Northern California last week and asked that same question. And they said they just wanted people to be aware of what's going on out here, how our fires are getting worse, and how that's affecting firefighters. Firefighters are spending more time away from families on the fire line and that can cause stress.
Appreciate the sacrifice that they're making. And if you're in an area that's prone to wildfires, clear your defensible space. Help the firefighters help you.
What sort of emotional toll does this work take on you?
There's something I've learned about recently called compassion fatigue. It's almost a secondary trauma or PTSD that happens when you're there as a journalist or storyteller witnessing these disasters. Like first responders, you're seeing this human impact, this physical destruction, the death toll, entire towns burning down.
Especially after going to the Woolsey Fire and then the aftermath of the Camp Fire in Paradise, in Northern California, I really had to step back, take my hands off the camera, and just take some time to rest—to spend time outdoors just for the sake of spending time outdoors with friends and family. I focused on self-care to help recuperate both physically and emotionally from witnessing all that destruction.
And what does self-care mean to you?
It means getting good sleep, exercising, eating well, spending time with friends and family and just taking time for myself. Going for hikes. Going out for dinner with friends. It's about realizing that there's still a lot of really wonderful things that we have. It's not mitigating the reality of the fires. It's accepting the reality, but also realizing that there's a balance to things.
Your photographs are so beautiful, and I know quite a few of them have gotten lots of attention. Is there one in particular that's really struck a chord with people?
The most recent one that really spoke to the public is an image from the Woolsey Fire at about 3 o'clock in the morning, just a few hours after it started, of a gentleman named Masao Barrows, who's a carpenter up in Thousand Oaks, just west of Los Angeles. He's running out of his house, for his life, in his pajamas. No shoes, just in shorts and a T-shirt. The moment lasted for maybe 10 seconds.Time ended up featuring that as one of their top 10 pictures of the year. I think it really showed the human impact of these fires and how quickly they move.
In addition to that, a lot of the long exposures that I do—the wildfires at night component of TerraFlamma—have captured people's attention.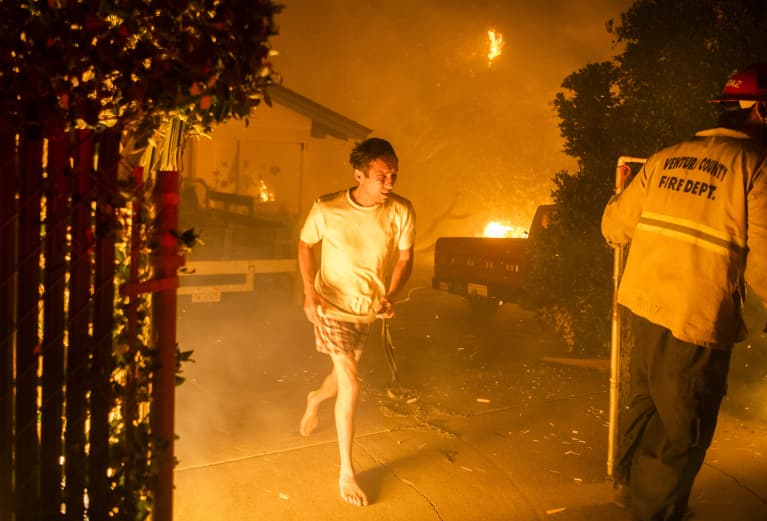 What are you working on now that people can look out for?
I'll have some work on display at the end of April at the Annenberg Space for Photography in LA. I'm one of the LA Times emerging, featured artists as part of Photoville LA and it's actually going to be a collection of images of nighttime photography, not fires.
As part of my new book, I'm also photographing some more work this summer. I was just up in Paradise photographing the recovery and the aftermath of the Camp Fire.
This summer, I'm going to focus on the men and women fighting fires and how it affects them. Their faces after a 16-hour shift, 24-hour shift on the fire line. I want to drill down and get into the nitty-gritty of the human impact of fires on people, so I'm really looking forward to sharing that story.
What was the recovery effort looking like in Paradise?
It was the first time I'd been back since the fire, in November. So this is about four and a half months later and the town, in a lot of ways, hasn't changed that much. The roads are open. There's power. But there are blocks of neighborhoods where there's just rubble of houses and no activity, no people.
But there's been some really beautiful silver linings too. There's an artist who painted murals, with permission of the homeowners, on the homes that were destroyed. And it's a really beautiful tribute to memorialize what happened there. And since there's been so much rain, there's green everywhere. In burned fields, there's grass coming up. There are yellow daffodils sprouting all over the place—wild daffodils that were burned in the fire and somehow survived. That's a really beautiful thing to see in all the destruction.
If someone asks you what they can do to help fight climate change, what advice do you give them?
Instead of being overwhelmed, think about how you can make an impact in your community. It can be as simple as splitting your recyclables or composting your waste.
From a fire perspective, one thing I really encourage people to do is just read about what's going on. One book that I like that talks about the history of the Forest Service called The Big Burn by Timothy Egan. Megafire is also a really good read.
We've got 12 years before we're locked into a degree and a half, two degrees Celsius of warming. And that's going to have some really adverse effects on various ecosystems throughout the world. What can you do to make a difference?
This interview has been edited and condensed.