How Perfectionism Can Hurt Women's Sex Lives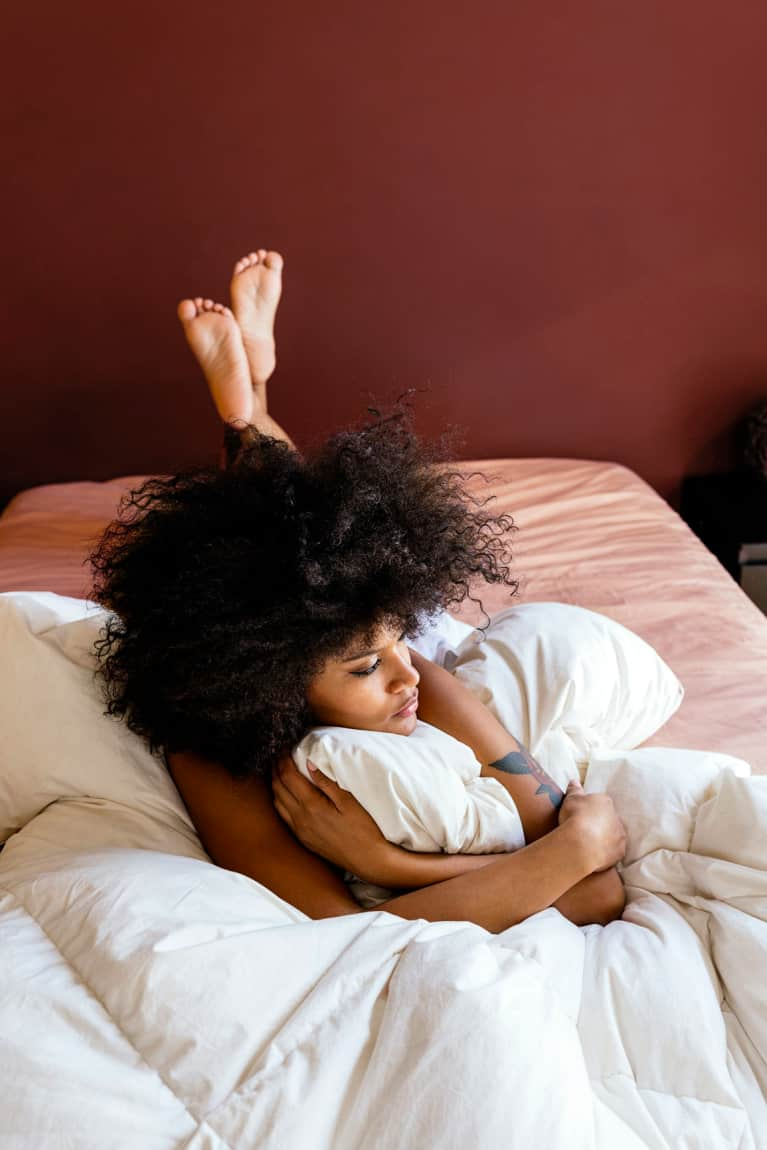 December 13, 2018 — 6:00 AM
Perfectionism is on the rise. In January, researchers compared responses to personality surveys meant to assess perfectionism given by college students between the years 1989 to 2016 and found that recent generations are "more demanding of themselves, perceive that others are more demanding of them, and are more demanding of others." Women seem to particularly suffer from perfectionism: In April, researchers in Australia found 33 percent of women had particularly high rates of perfectionism and 44 percent had high self-criticism rates (compared to 21 percent and 34 percent of their male colleagues, respectively).
This self-judgmental posture toward oneself can lead to mental health issues like anxiety or depression, and according to the latest research, it can even seep into the most intimate parts of our lives—like our sexuality. Being physically intimate with a partner or lover can be intimidating enough as it is. Factor in being the type of person who needs to be on their A-game at all times, and the pressure to be a perfect partner can come at a high price: According to a new study published in the journal Sex Roles, women who experience perfectionism in bed are less likely to be assertive with their partner about their own sexual needs and desires.
The researchers surveyed 202 women from the United States who are or have been sexually active about their levels of so-called sexual perfectionism, in addition to their levels of assertiveness in bed. The questions took stock of four different dimensions of sexual perfectionism: self-directed (standards a woman holds herself to), partner-directed (standards she holds her partner to), partner-prescribed (standards her partner holds her to), and socially prescribed (standards society holds her to).
The results identified a clear connection between sexual perfectionism and sexual assertion: All four dimensions of perfectionism were correlated with less assertiveness, meaning women who felt pressured to maintain certain standards placed on her by herself, her partner, society itself, or some combination of the three tended to be less outspoken about refusing unwanted sexual activity. Partner-enforced pressures particularly muted a woman's refusals, and they also correlated with women being less willing to initiate the kinds of sexual activity they actually wanted.
These findings suggest women who are perfectionists may be more likely to put their partner's needs before their own, particularly when she feels pressured to meet expectations her partner seems to be setting for her. The issue is not that these women want their partners to feel satisfied (who doesn't?) but rather that their perfectionism can cause them to shy away from voicing their own desires and struggle to refuse sexual advancements that make them uncomfortable. Considering that sexual assault and orgasm inequality are still overwhelmingly prevalent in our society, these are side effects with serious consequences.
So, first things first: How can you put a stop to your perfectionism and start living life without the pressure of an unyielding all-or-nothing mentality? It has to start outside the bedroom before it can work its way in.
"What if, instead of trapping yourself in a prison of perfection, you shifted your focus to taking the best action for that specific moment?" Ziva Meditation founder Emily Fletcher tells mbg. "What is perfect for right now will not be perfect 10 minutes from now, and the only way to be able to intuit what the 'best right action' is for this moment is to be easy with yourself and listen."
The truth is, there's no such thing as "perfect"—in bed, or otherwise. Once you can come to terms with that and take Fletcher's advice to heart, that's when you'll be able to enjoy each moment for what it is and identify red flags as they arise.
None of this is to say it's by any means a woman's fault when she experiences unwanted touch or doesn't feel safe enough to voice what she wants in bed. Rather, these findings emphasize just how important it is to empower women to be able to vouch for themselves in bed and release the pressure to perform a certain image of sexuality. We need to deconstruct unhelpful and unrealistic ideals about what sex "should" be like and how women "should" behave in bed to make space for women's voices and needs to really be heard.