Chest Pains After Eating? New Study Says Taking This May Help
mbg Associate Movement & Wellness Editor
By Ray Bass, NASM-CPT
mbg Associate Movement & Wellness Editor
Ray Bass is the associate movement and wellness editor at mindbodygreen and a NASM-Certified Personal Trainer. She holds a degree in creative writing from the University of Pennsylvania, with honors in nonfiction.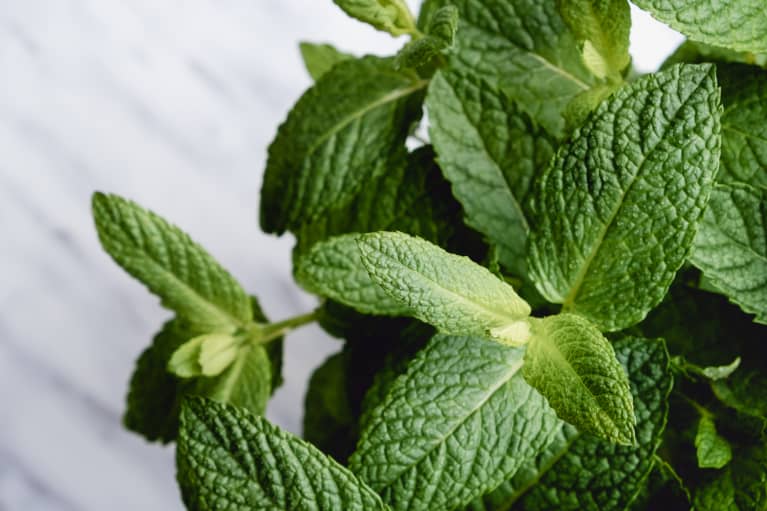 If you've ever had difficulty swallowing food or had chest pains after a meal, you've probably wondered why that happened and what you can do about it. Nothing spoils a meal like feeling sick or in pain afterward, am I right?
In a new pilot study done by the Medical University of South Carolina, researchers found that peppermint oil can help patients who have difficulty swallowing and suffer from non-cardiac chest pain.
Specifically, if you experience these symptoms and your doctor has found no apparent cause (aka they've ruled out obstructive causes by upper GI endoscopy or EGD in cases of dysphagia and ruled out cardiac causes in cases of chest pain), peppermint oil could be a good option for you to relieve your pain.
While peppermint oil is known for its muscle-relaxing properties, this study is one of the few that have investigated its role in the upper digestive tract. Thus far, we've only known of its ability to soothe tension headaches and lessen cold symptoms. These findings, however, suggest that peppermint may help prevent these symptoms by relaxing the smooth muscle in the lower esophagus.
Specifically, this study found that patients who had difficulty swallowing ate two peppermint tablets before meals, and the chest pain patients took them as needed. And according to study author, Mohamed Khalaf, "patients who took peppermint oil tablets before eating felt better after meals than those who did not."
But researchers caution that before taking peppermint tablets, patients should see a doctor so they can rule out heart disease and obstruction—two possible causes of chest pain and difficulty swallowing.
"Peppermint in theory could cause reflux, especially if the patient didn't show a motility abnormality on high-resolution manometry (HRM)," Khalaf told mbg. "Our study showed that symptomatic patients—who didn't have a motility abnormality on HRM—didn't respond to peppermint. The good news is that even though peppermint can induce some reflux in theory, this effect is transient and not likely to be severe."
Khalaf recommends talking to your doctor before trying peppermint oil, but we're keeping an eye out for more research surrounding the many health benefits peppermint may possess.