Half The People On Dating Apps Are Actually Looking For This, Study Finds
mbg Contributor
By Madison Vanderberg
mbg Contributor
Madison Vanderberg is a Los Angeles-based freelance writer, editor, and screenwriter specializing in the women's lifestyle space with a bachelor's in sociology from UCLA. When she isn't writing, she's googling skincare products to spend her paycheck on or baking gluten-free cookies. She's written for HelloGiggles, Insider, Hunker, Racked, and more.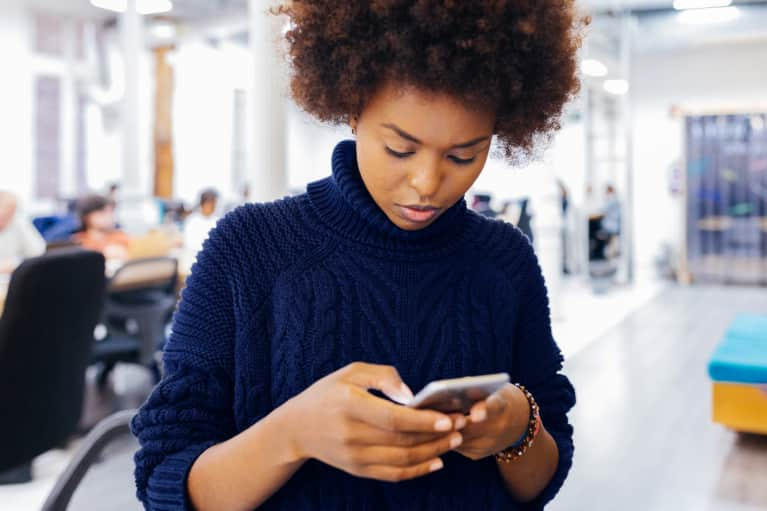 Since the invention of online dating—and more specifically, dating apps—the popular myth is that dating apps are more helpful at finding casual sex and less successful at matching actual life partners. However, a new study from YouGov shows that nearly half of all dating app users really are using it to find an exclusive romantic partner.
YouGov surveyed nearly 400 individuals who have used dating apps before and found 49 percent of users (broken down by gender, that's 47 percent of men and 51 percent of women) are there to find serious, exclusive relationships, suggesting the perception of dating apps as "hookup apps" might be pretty misguided. In fact, only 23 percent of users say that having casual sex is one of the reasons they use dating apps. (Interestingly, 19 percent of people use dating apps to make friends or to boost their self-esteem, and a whopping 17 percent of current users are on an app to cheat on their partner.)
But let's get back to the whole half of users who hope to find their soul mate on a dating app. Despite the large number of people who hope to find meaningful romantic connections on the app, only 20 percent of them actually find the apps to be helpful—which is interesting, considering that every other person you swipe past on a dating app is looking for the same thing you are (i.e., exclusivity).
So why aren't all these relationship-minded people finding each other on dating apps?
Online dating coach Andi Forness tells mbg that some of the common reasons you might not be meeting your soul mate on dating apps are going on too many dates and getting burned out, saying "next" too quickly without truly getting to know someone, and having no strategy for swiping. Forness says intention is everything when it comes to online dating.
"Get clear on what kind of person you're trying to bring into your life, think about the qualities you want to have in that person, and keep these in the forefront of your mind as you begin to swipe," she writes.
Licensed clinical social worker and relationship therapist Rhonda Milrad tells mbg it's harder to make meaningful connections when you treat dating apps like a numbers game.
"Set a limit for how many different people you will be dating at once," she says. "It is difficult and time-consuming to manage the dating process with multiple people. Decide how many individuals you want to be engaged with at a time and stick to it. If someone great comes along, then you have to give up one connection to pick up that one."
The next time you're swiping through a dating app, remember that one out of every two matches is looking for the same thing you are. Set intentions, be mindful, and focus on connecting instead of looking forward to the next match.