Why This Legendary Environmentalist Wants You To Eat Every Damn Thing On Your Plate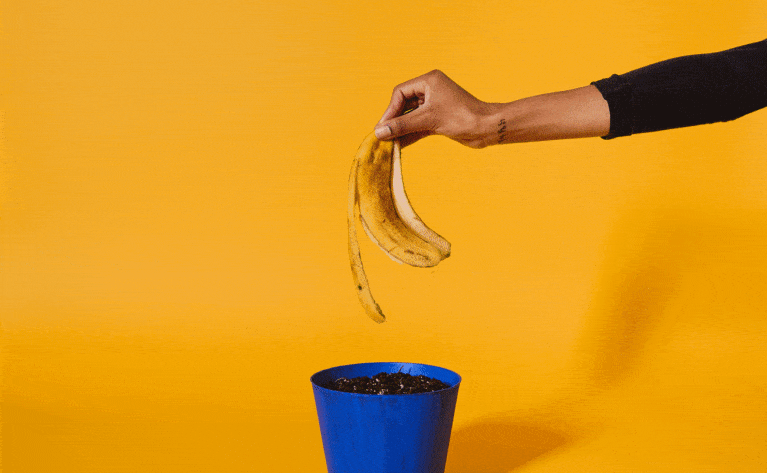 Welcome to day one of Planet for All—a series that will empower you to change our world. This week, we're teaming up with sustainable thought leaders to unpack five of the biggest threats to our environment and pinpoint an accessible, meaningful, and heart-driven action that we can all take to make a huge difference. Today, we're talking food waste with legendary environmentalist Paul Hawken.
There's a reason you were taught to eat everything on your plate as a kid. From an environmental perspective, by throwing away food, you're essentially tossing the water, land, and emissions that went into it too. If ranked as a country, food would be the third-largest producer of greenhouse gases globally, just behind the United States and China, and nearly 1,000 gallons of water goes into the average person's daily diet. And yet, we don't eat a third of the food we grow.
When trailblazing environmentalist Paul Hawken was compiling Drawdown, the world's most comprehensive plan for combating climate change, he wasn't so surprised that reducing food waste came in as the third most effective solution on a list of 100. Unlike other environmental issues that can seem far away, Hawken tells mbg that reducing food waste is something that all of us can and should play a part in. "On the surface you can feel like, 'I hope they do it because I can't. What we want to show is, oh no, you can—food waste is right under our nose."
The problem with the food industry through Paul's eyes.
"Food is the most basic, fundamental way to interact with your environment," Hawken goes on to explain. In the developing world, food is often wasted before the consumer can get to it, left to rot on farms or go bad in transit. In the United States and the rest of the developed world, however, it's the consumers who usually send it off to landfill. We're wary of bumps, bruises, and imperfections, scared off by "sell-by" dates, and simply not hungry enough to finish off our plates. "Most of the waste is by individuals—they don't finish their food at home or when they're eating out. Or they put it in the refrigerator: where food goes to die, basically."
However, Hawken sees plenty of companies, people, and policies emerging to help food make its way from the farm to hungry mouths. France has become the first country to prohibit supermarkets from throwing away food based on its sell-by date, food products like Misfit Juicery and Toast Ale are striving to make waste edible again, and stores have emerged to exclusively sell food that is battered, bruised, or past its expiration date.
When asked about inspiring organizations reducing food waste on a local level, Hawken's response is effusive: "Boulder Food Rescue, City Harvest in NYC, Culinary Misfits Germany, Forgotten Harvest in Detroit, OzHarvest in Sydney, Loving Spoonfuls in Boston... It's just stunning how quickly this is taking root. These groups are acting locally, but they're teaching globally."
According to Drawdown, if this momentum continues and we reduce food waste globally by 50 percent, we'd effectively avoid 26.2 gigatons (yep, that's 26.2 billion tons) of carbon dioxide emissions—and that's a conservative estimate. While 50 percent may sound like a lofty target, cutting down on your own food waste by half at home doesn't have to be all that hard.
How you can become a more eco-friendly eater.
Hawken's advice to anyone looking to cut down on their food waste is simple: "Eat all your food. Even if it's uncomfortable. That discomfort will remind you to take less the next time you pour cereal into the bowl or order something at a restaurant."
Training your brain to remember the facts when you find yourself standing in front of the garbage can or compost pile—that agriculture has depleted billions of acres of farmland, that rotting food is rotting resources—can help you stay on track. Hawken reminds us that it takes about 30 days to form a habit, so be diligent about joining the clean plate club and it will soon become more second nature. "It has to be in the same category as brushing your teeth or taking off your makeup before bed: We have to instinctively know not to waste food."
If you're having trouble using up everything in your fridge, Hawken recommends making what he calls "refrigerator soup" that incorporates odds and ends into a broth, freezing fruits and veggies for smoothies, and getting a little creative with what you have in the cupboard before you run out to the store to buy more. "Most people have five to 10 or more meals in their cupboards at all times. It just may not be what they want that day."
Starting today, try to fit all of your organic trash from the week into one small plastic bag.
If all of mindbodygreen's readers limited their food waste to a small baggie a week, collectively we'd save $123 million and 57.7 million pounds of food—enough to create 44 million meals. So let's all go forth and make an environmentally friendly diet part of our health routines.
Learn more about the Drawdown project and how you can get involved here, and stay tuned for more Planet For All inspiration on mbg this week. In the meantime, catch up on one of the biggest environmental threats of our time here.