Plastic Pollution In The Ocean Sucks — But There's A Movement Brewing To Use It Up
mbg Sustainability Editor
By Emma Loewe
mbg Sustainability Editor
Emma Loewe is the Sustainability Editor at mindbodygreen and the author of "The Spirit Almanac: A Modern Guide To Ancient Self Care."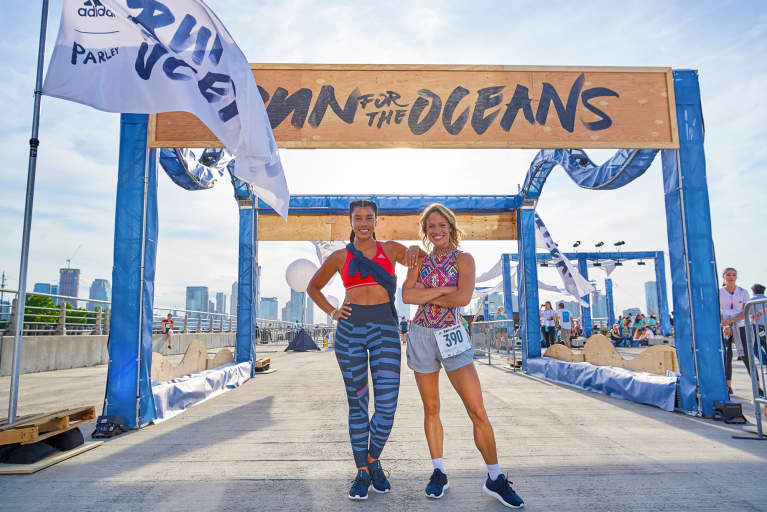 Last week, nearly 1,000 people gathered for an evening 5k around NYC's West Side Highway—but the starting line wasn't abuzz with typical runners' talk of pacing or playlists. Instead, a chant of "Run for the oceans" erupted from the crowd.
Plastic pollution in our oceans is an issue that deserves meaningful dialogue now more than ever. Within the past few months alone, news has broken that the Great Pacific Garbage Patch is four to 16 times larger than we previously thought (and growing at an exponential rate), and a plastic bag was discovered at the bottom of an ocean trench. Plastic is coating the tops of our waters and stretching miles and miles below the surface, and it's reached places few humans have
Every year, Ocean Conservancy holds a massive beach cleanup across the world and publishes the details of their haul. The NGO just announced that last year, plastics comprised the top 10 most common items of the 20 million pieces of trash collected. In one day, volunteers found enough balloons to lift a great white shark, enough straws to reach the height of over 10,000 palm trees, and enough plastic bags to sew 5,461 sails.
Single-use plastic is humans' greatest design failure.
This marks the second year Adidas and Parley for the Oceans, a nonprofit that seeks to raise awareness about plastic in our oceans through viral campaigns and partnerships, joined forces to host this Run for the Oceans. Back in 2015, the companies started collaborating on a running shoe that incorporates plastics found on the beaches of small island nations like the Maldives and Palau. At first a small-batch product, a special prototype, the recycled sneakers now compose an entire Adidas collection.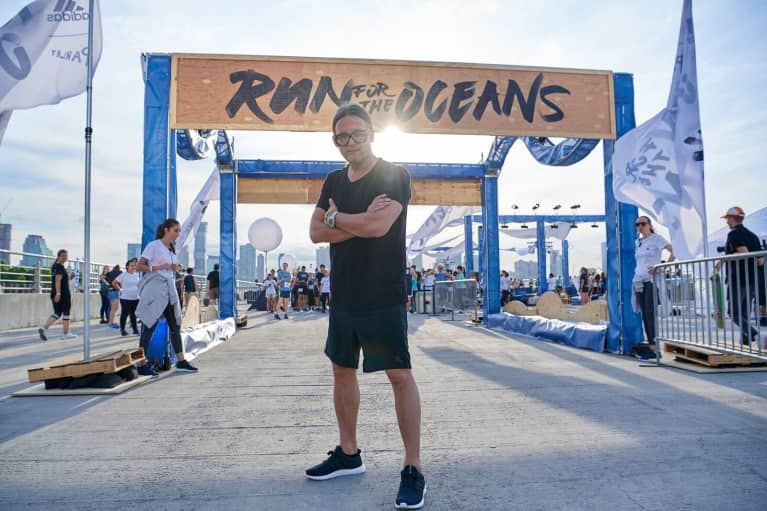 Cyrill Gutsch, Parley's founder, is betting that beautiful products that tell a sustainable story can start conversations that change the world. "When we make products, we're creating symbols of change. We're creating flags for our movement," he told mbg before the celebratory race kicked off. "If you're wearing a shoe made from a material that's hard to reclaim, it's an item you can speak about with others."
According to Gutsch, single-use plastic is humans' greatest design failure, since we sift through it in minutes, but it stays in the environment for decades. Besides partnering with Adidas, Parley has also teamed up with American Express to make a credit card of recycled ocean plastic and joined forces with reusable water bottle company Soma to craft a special line of recycled glassware. It's the beginning of a journey to uncover one "ocean champion" in every business category and help businesses create products that draw consumers into the green conversation using beautiful design.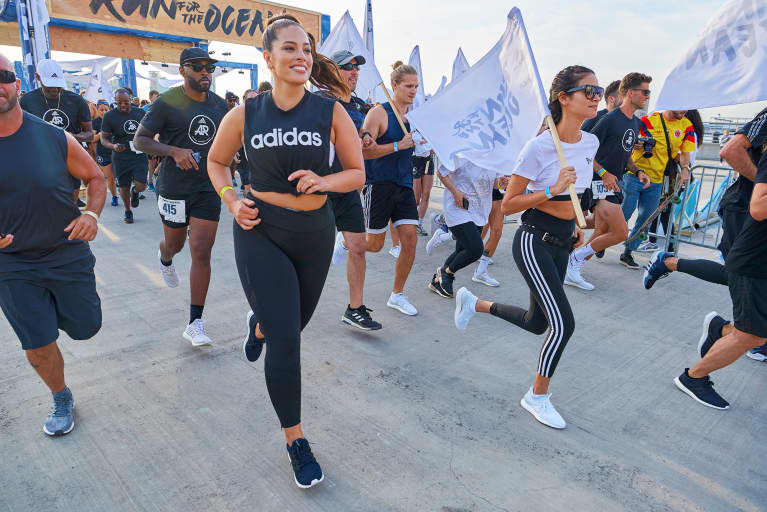 "We think purpose is the new luxury. It's no longer all about the true material value of a product—it's about the intention," he says. "You need big players like Adidas to take a strong stance and make a new standard."
Beyond creating product, Parley's talented team of designers and marketers has also launched campaigns that speak to consumers directly. Earlier this summer, it teamed up with running app Runtastic to donate a dollar to ocean cleanup work for every kilometer run.
Right before last week's run, Parley announced it reached its $1 million goal in three days. Following that million-dollar announcement, the horde of runners set off with intention—electrified by the idea that every step we take can make a difference.
Next up: Check out how this boat of badass women is out tackling ocean trash.