How Outdoor Voices Founder Tyler Haney Copes With Sexism In A Male-Dominated Industry
mbg Contributor
By Leigh Weingus
mbg Contributor
Leigh Weingus is a New York City based freelance journalist writing about health, wellness, feminism, entertainment, personal finance, and more. She received her bachelor's in English and Communication from the University of California, Davis.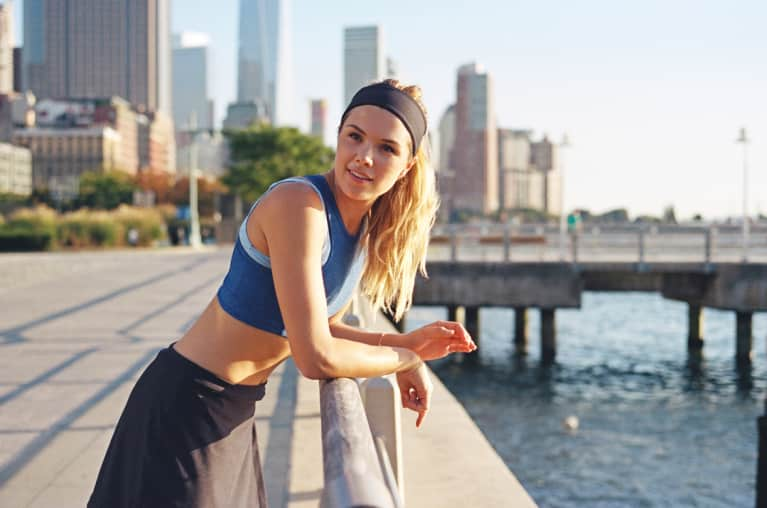 In a sea of Under Armour, Nike, Adidas, and other activewear giants, 29-year-old Tyler Haney's athleisure line Outdoor Voices has been standing out in a crowd since its inception in 2014. With minimalist designs and colors as bold as you want them to be, Haney's leggings and tops were irresistible from the moment they hit the internet. Three years later, it's no surprise that the company has received $22.5 million in funding and has stores opening all over the United States.
When you ask Haney what she attributes the brand's success to, she says the answer is simple: It's all about being human, not superhuman. "It's not about being Steph Curry or someone else; it's about being you, quirks and all. It's about being together and being human. Through the way we message, the team we've built, and the customers we attract, we put people at ease. It's not something that we're trying hard to do, but there's this natural ease about the way we've built a community."
While there's no question that all the pieces were in place from the beginning to make OV the booming brand it is today, Haney's success didn't come without its challenges—and it took a lot of hard work.
Coping with sexism in a male-dominated industry.
When Haney first started pitching her idea to investors, she was met with a lot of skepticism, and she felt she was often not taken seriously because she was a woman. But it only made her come back stronger. "I actually think being a female in a traditionally male-founded activewear industry gave me a leg up," she says. "Although a lot more of my female peers are coming forward now, just three years ago I don't think that was really the case. I remember going to investors and feeling like they weren't listening to me. Like 'yeah yeah, you want to be the next Nike. Sure.' But after a while, I developed a trick: I brought clothes and asked these male investors to give them to their wives to try on. It helps to really understand women, as it turns out."
Although her challenges are a little bit different now—like hiring the right kinds of people and being a good manager—she copes with them in the same way she coped with having male investors not take her seriously: with exercise. "I have 7 a.m. to 9 a.m. completely blocked out every day," she says. "It's a rule I cannot break. It just helps me stay grounded. The runner's high, but a more peaceful runner's high—I think ultimately that's why I exercise; it's all for my mind."
Exercising together and utilizing models of every size.
Other than the sleek look and accessibility of the clothing, two things stand out about OV as a brand: Its emphasis on moving together and the fact that Haney outfits models of every size on the brand's website. Both, as it turns out, have to do with how important community is to Haney and OV as a whole.
"We really believe the future of athletics isn't about being there first; it's about being there frequently," explains Haney. "Doing classes together traveling, going on hikes, going rafting together—I find it neat how people are participating in recreational activity in a more social manner, because I'm really focused on how OV can drive frequency with activity and get people out there on a more consistent basis."
As for her decision to use women and men of every size as her models? "To me, the mom jogging with her stroller every morning is just as aspirational as Steph Curry or Serena Williams. My hunch is that there are so many people who want to be more active, yet they're intimidated. They see posters of professional athletes with Gatorade sweat and think, 'I'll never look like that.' Our imagery and the way we represent our products is a way for us to show what we believe in."
Want to learn more about Haney? Listen to her mbg podcast episode here.