This Couple Quit Everything + Raised Their Kids While Traveling The World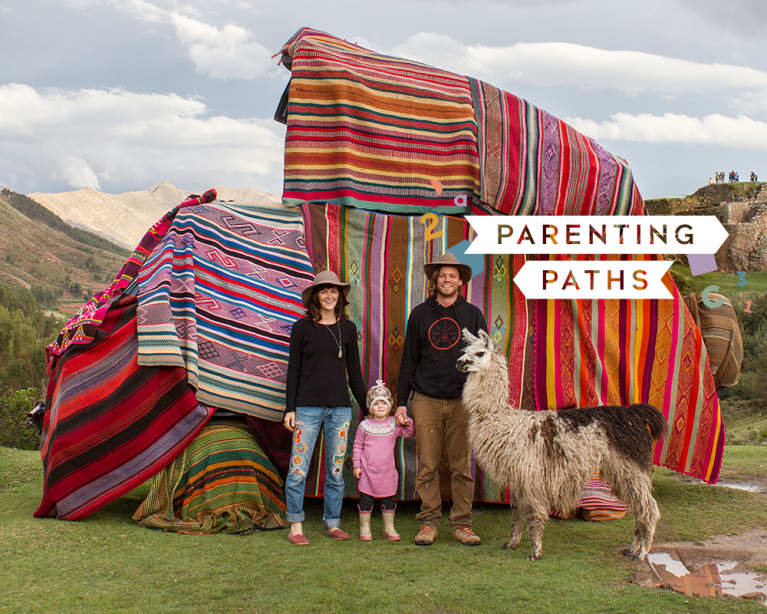 Here at mbg, we believe you're the expert on your own wellness journey, and becoming a parent is no different. Yet from the moment of conception, or often even before, mothers and fathers are told what to do. Our Parenting Paths week celebrates a handful of parents who've listened to their intuition and gone their own way.
"People have this idea that we have trust funds or something," said Emily Harteau, who runs a travel blog called Our Open Road along with her husband, Adam. "It couldn't be further from the truth."
Looking at their Instagram account, it'd be easy to assume they live an indulgent life—constant travel, no mention of full-time work, stunning photography, and seemingly endless amounts of time with their kids. Five years ago, the couple decided to take back one of the biggest, finite luxuries there is: time.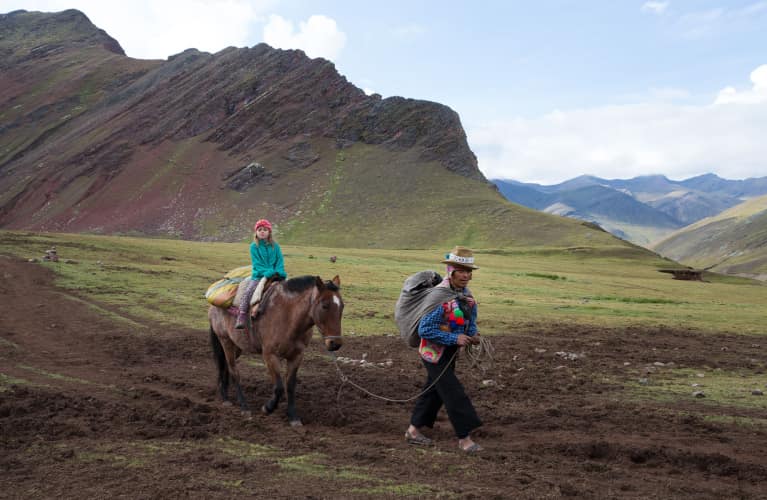 While the adults hike, Colette hitches a horseback ride to Vinicunca. Rainbow Mountain, located in the Peruvian Andes, sits at an astounding 16,400 feet. April 2017.
It was a bold move. Their road trip was an antidote to the poignant dilemma many modern families face: spending time with their kids. Working nine to five (and often much longer hours) to afford child care so someone else can take care of your kids works for some. Other couples decide to appoint one working spouse and another who stays at home. Adam and Emily discussed on several occasions how the world seems to funnel new families into a singular homogeneous path that's not conducive to being present with children, together, which was a top priority for them. They had big dreams of travel and an old van, so they decided to spend a year on the open road in South America with their new daughter, Colette, who was 6 months old at the time.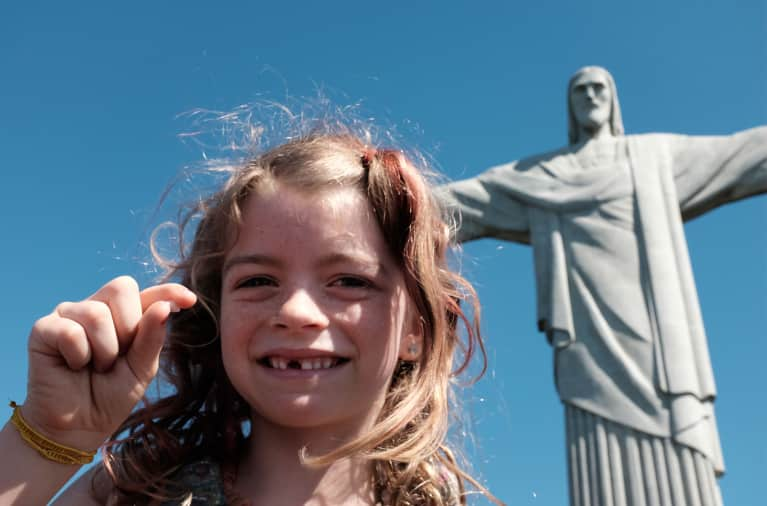 In Rio de Janeiro, Brazil at the famed Christ the Redeemer, Colette lost her top tooth!
They didn't leave until close to a year and a half later, when Colette was almost 2. They'd saved enough for a year's trip but knew they'd need supplemental income. "We had to figure it out on the road, and we had a feeling we'd be able to work something out," said Adam. And indeed, they did. After growing an impressive following on Instagram, brands started sponsoring them from time to time. Adam created and sold art from the road. Almost everything fell into place, but time was still elusive. It was moving too quickly.
"We really were just rushing to get places to stay on schedule and saying no to experiences and opportunities to connect with locals to see that secret waterfall," said Emily. With supplemental income coming in from Instagram and their 24-hour bazaar, where they sell locally made, fair-trade wares from their travels, they lifted the "limit" on their trip and decided to take back their time once again.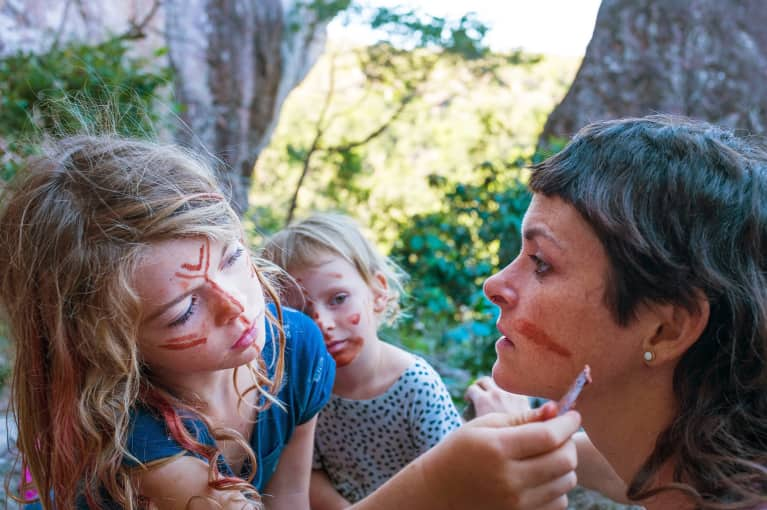 Chapada Diamantina is a natural wonderland, and while on a hike, Colette discovered some of the red rocks were "so crumbly like paint" so she mixed up a pot and wanted to give us all some adornment. August 2017, Chapada Diamantina, Bahia, Brazil.
They returned to California after the first year to tie up loose ends and ventured back out to South America, and they realized Emily was pregnant with a girl. "My entire pregnancy with her was on the road. My first checkup was in Peru in Cusco at a shipping container hospital. It was six dollars for a checkup," she recalled. They canceled plans to go to India and decided to venture to Brazil per a friend's recommendation. With socialized health care, they'd be able to have the baby safely and affordably. The bonus? Sierra was born in June and is now a dual citizen of Brazil.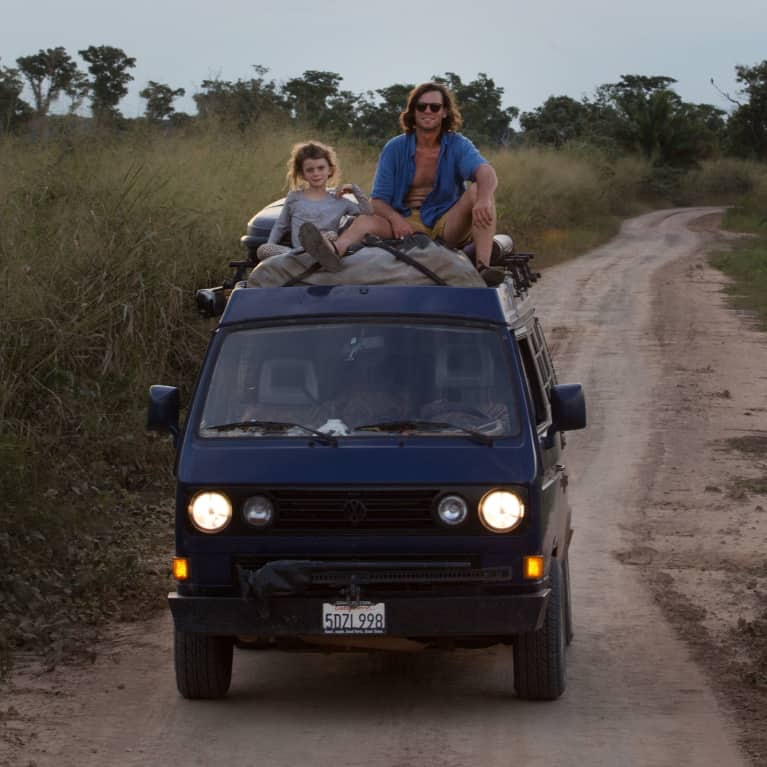 Perhaps there's never been a better place to climb up on our roof for a slow drive, than the otherworldly Transpananteira in the Brazilian Pantanal on our self-guided safari. The extra height affords great views over the bushes to search for hard to see anaconda and jaguar. Spotted plenty of birds and capybara while the warm breeze cooled off the days heat. May 2017.
"There's really no guarantee; there's no security; there's no control. You know life is full of surprises both good and bad, and living on the road has taught me to embrace," Emily put it beautifully. They're only human, too, and had questioned their decision. Her inner resistance was strongest directly before their initial departure. "You know, it was one of those moments of fear. Of living in the unknown and not having things laid out and planned and forecast and controlled." Living on the road helped her feel the freedom that comes with acceptance of zero expectations, zero control, and fully embracing what life has to offer.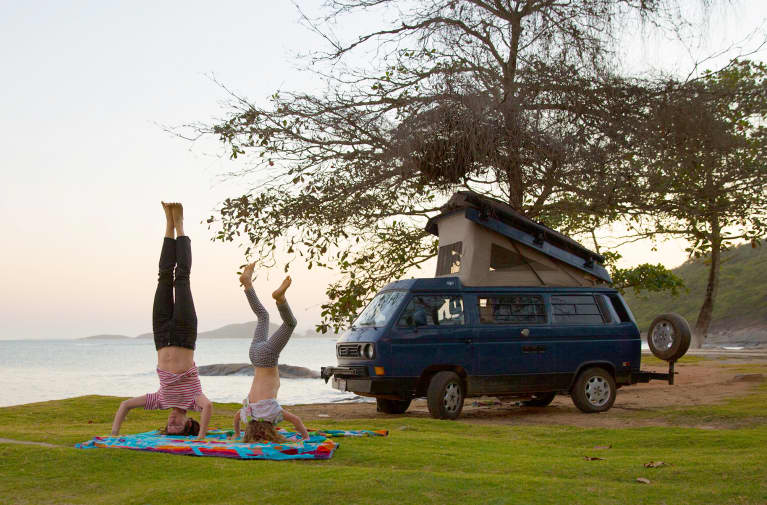 Mind, body, and spirit of both parents and children are all better for forging a relationship with the natural world. A connection with the outdoors just feels good! Taking a moment to look at things from a new perspective in Praia de Setiba,Espírito Santo, Brazil August 2017.
And they lived their dream. Every day is spent with their kids. They've been able to teach them about other cultures, integrate and learn from indigenous peoples, and keep up an active lifestyle, all while enjoying the first few precious years of life with their daughters. Now with five years under their belts, they're returning to Silver Lake for 18 months to visit with friends and family so the kids can form bonds with the people who love them. Skype proved to be a very helpful tool to catch up with friends, see familiar faces, and quell feelings of homesickness, and to keep the girls engaged with their distant family. "It's definitely not the same as being able to sit on your friend's bed and have a coffee while your kids play in the other room, and watch their kids grow up and hug your mother-in-law," said Emily.
"It's been worth it for five years. That feels like a good mark. And of course there's so much more to see. But it feels like the end of 2017 will be a nice close to this chapter and we'll start 2018 anew."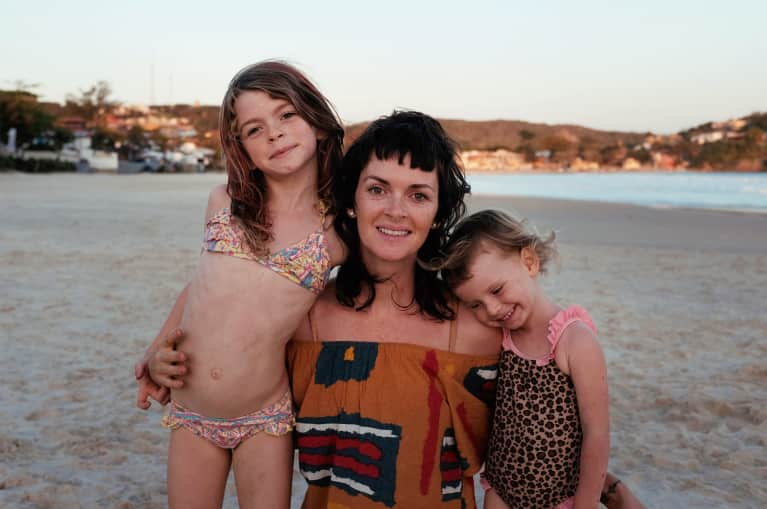 The future is female. Magic hour at Armação dos Búzios, Brazil.