This Is 2017's ONLY Gemini New Moon: Here's Everything You Need To Know
mbg Contributors
By The AstroTwins
mbg Contributors
Ophira and Tali Edut, known as the AstroTwins, are professional astrologers based out of New York and Seattle. Their work has been featured in The New York Times, Elle Magazine, Vogue and Good Morning America and they are the authors AstroStyle, Love Zodiac, Shoestrology, and Momstrology.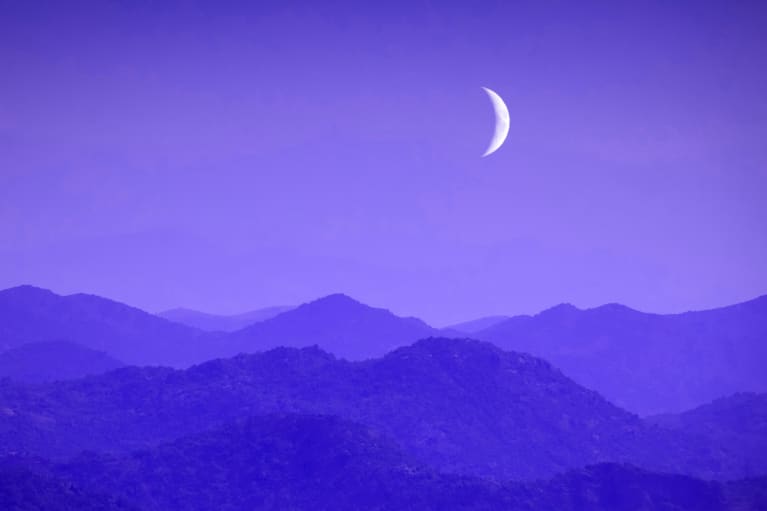 Our editors have independently chosen the products listed on this page. If you purchase something mentioned in this article, we may
earn a small commission
.
Calling all soul twins! Thursday, May 25 brings 2017's only Gemini new moon, putting dynamic duos into the spotlight. Some unexpected mixing and matching could take everyone by surprise under this lunar spell.
Kindred spirits come out of the woodwork at the year's only Gemini new moon, while casual acquaintances could finally move into the legit friendship zone.
Gemini also rules transportation so this might be your cue to invest in a hoverboard or electric car—or rally coworkers into a daily van pool to lower the carbon impact of your commute, while also making those rush hour slowdowns more enjoyable. (Carpool karaoke, anyone?) Ruled by chatty Mercury, Gemini is the the star sign that governs communication. Ready for a rebrand or an image refresh? This new moon wants us to think about the messages we're sending out to the world, especially since Gemini season is now in full swing!
But this lunation could also bring a potential snag in the relationship department. Vivacious Venus in aggressive Aries gets side-eyed by possessive Pluto in Capricorn as the two lock into a tense square (90-degree angle). Spring fever may still be going strong, but make sure the object of your affections KNOWS that they occupy the prime spot in your heart. What feels like harmless banter could rile up jealousy or a flurry of unfounded accusations.
Shadowy Pluto could also bring the players out of the woodwork.
If someone's story (or omission of details) raises red flags, trust your intuition and investigate before getting in deeper. The married guy who is "sleeping in separate beds" and "only staying together for the kids" could turn into the heart-wrenching scourge of your summer fun. Or, maybe a colleague keeps postponing your pitch meeting and putting you off for that supposed power lunch and contract signing meeting. We all have better things to do than obsess while someone jerks our chain, but near the Gemini new moon we must be ultra careful to NOT step into a wolf's den.
New moons are known as initiation points—days for planting seeds that we'll harvest six months later at the corresponding full moon. The Gemini new moon helps us turn a fresh page and spark productive dialogue. Get motivated, and reap the rewards at the corresponding Gemini full moon six months from now.
Here are eight super-charged tips to turn this new moon into pure, super-connector gold:
1. Be the connector you wish to see in the world.
Affable, outgoing Gemini understands the power of social networking. Surely it must have been a Gem who coined the term, "it's all about who you know." Pay it forward this week and play matchmaker. Link the awesome people that you know to each other and let them take it from there. Write a glowing testimonial on Yelp for someone who gave you great service. Shout people out on Instagram; Snapchat or post a compelling story about someone who inspired you, Tweet about their amazing skills.
Being the person with the juiciest contact database, or the one with a finger on the pulse of the zeitgeist is nothing to sneeze at. In his bestselling book The Tipping Point, author Malcolm Gladwell refers to these people as "connectors." If you're not naturally a connector, cozy up to one this week and observe the master in action. Or, take it up a notch and turn your connector status into a super-connector, someone who can build relationships very quickly and with a lot of people. While being a connector-type is an art unto itself, it's also a skill that can be learned; it simply requires untamed generosity and the courage to stick your neck out and give props to people you believe in.
2. Tell it like it is (with tact, please).
Where are you being "two-faced" in your life? You know, those subtle lies of omission, the things you don't say that build up and put a wedge between you and the people you love? Make a list of issues you're holding back from addressing, and with whom. Things you're too scared or shy to say aloud (like "I love you" or, "you're important to me" or, "you hurt my feelings"). Then, go on and have those conversations. You'll feel like a new person once you do.
Warning: Telling it like it is doesn't mean tearing people down or bludgeoning their egos with a truth hammer. Best to speak in "I language," instead of the accusatory "you." For example, "I've been missing you a lot," is likely to engender a more favorable response than, "You never call, you never text."
As the zodiac's sign of the Twins, Gemini loves everything in pairs. Given that commuting and short trips also fall under Gemini's domain, let this new moon lead you to a second city that speaks to your soul. It's a wide world out there, and you can't always find everything you need within biking distance of your own front door. What aspects of yourself would you like to develop? Spin the globe and find a city that is known for nurturing that activity or mindset. The cultural atmosphere of a new city can lure forth a slumbering side of your personality.
Anyone who's traveled can attest to feeling differently when in, say, New York City than in a sleepy seaside town in the South of France. Gemini's "split personality" reputation would love nothing more than for us to develop a bit of an alter ego this week. If you can't actually travel, start planning the trip that you'll embark upon before the Gemini full moon in the coming six months. For some people, this will be the week where bicoastal or bi-city living becomes an exciting reality.
4. Join the locavore movement.
Supporting local businesses is a perfect way to honor the community-minded Gemini new moon. Extend the trend to your palate this month and give the locavore food movement a try. Food that is raised by area farmers is more likely to be fresh and thus, packed with live enzymes. Plus, you're supporting the farmers and growers in your region, which helps the local economy. Some nutritionists believe that our systems benefit more from eating seasonal ingredients, which follow the same natural rhythms as our bodies.
Look into fresh off the farm produce delivery services and CSAs (community-supported agriculture). Each week throughout the summer, a newly harvested box of fruits and vegetables will arrive. Some weeks it will be anyone's guess what the box will contain, which is an exciting opportunity to grow your epicurean skills. A farm-to-table dinner party, perhaps?
5. Start a dance, dance, revolution!
It takes two to tango, so hit a dance studio this week with your partner in tow. It doesn't matter whether you're the reincarnation of Ginger Rogers or cursed with two left feet. From salsa to tango to ballroom dancing, learning to groove together requires an incredibly powerful level of unspoken communication. Who will lead? Who will follow? Dancing can reveal the areas of your relationship that need strengthening (Pop and Lock or, uh, Pop and Just Stop?). Although a few frustrating spinouts may happen, stick with it and you'll get in step with each other like never before.
6. Hone your "zone of genius."
We're fans of Gay Hendricks' book The Big Leap, which talks about finding your zone of genius—that thing you do effortlessly and magically. Gemini rules books and brilliant ideas, so treat yourself to this awesome read (bonus tech-savvy Gemini option: put it on your Kindle, smartphone, or iPad). If you already KNOW your zone of genius, commit to doing one thing that expresses it.
7. Upgrade your technology and make it more eco-friendly.
Gemini rules gadgets and new media—all forms of communication devices. In this world, having a crappy, behind-the-times model can actually hold you back. Are you still lugging around what feels like a 50-pound laptop? Are you eligible for a phone upgrade? Is your printer so ancient it's practically fossilizing with each page it ekes out? Just be mindful of your carbon footprint: you can donate old cell phones in drop-off bins and take outworn computers, printers and appliances to special recycling areas that will dispose of them without wreaking further havoc on the planet.
Here are the EPA's suggestions for electronics donations and recycling if you live in the U.S., and some must-know guidelines for responsible electronics disposal. Tip your hat to Gemini's communal spirit: your "dinosaur" (read: two-year-old) desktop PC could make an amazing donation to an after-school center or a women's shelter.
On the other hand, if you're addicted to texting, answering every call and scrolling through social media instead of engaging with people (guilty as Instagram-charged!), we challenge you to a two-week technology diet. Take one hour a day minimum to go gadget-free and connect with another real, live human being! Selfie sticks have their place, but if yours has become an extension of your arm, try putting it down and actually being present, real and unfiltered. Every moment of life doesn't have to be televised in your Instagram Stories or Facebook Live.
Hungry for more? Get your weekly horoscope here, then check out your love horoscope to help you understand romance through the lens of astrology.