Are Online Doctor's Visits Putting Your Kid's Gut Health At Risk?
Contributing Health Writer
By Gretchen Lidicker, M.S.
Contributing Health Writer
Gretchen earned her master's degree in physiology with a focus on alternative medicine from Georgetown University. She is the author of "CBD Oil Everyday Secrets" and "Magnesium Everyday Secrets."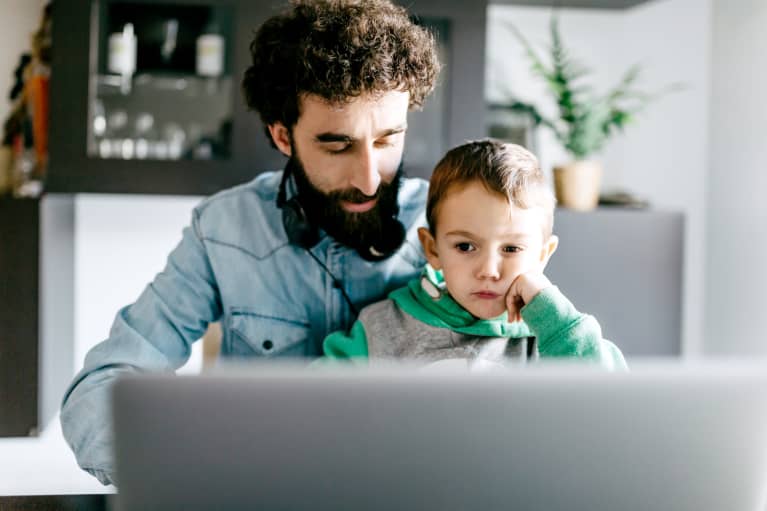 Have you noticed that doctor's offices are getting more tech-savvy by the day? Many of us can now log into online portals—or even an app right on our phone!—to fill prescriptions, make appointments, get our test results, and even talk to our doctors about an acute health issue we're experiencing.
This is incredibly convenient for both doctors and patients, as these online interactions are both cost-effective and timesaving. But, like with any big change, there are upsides and downsides. And according to a new study, these online appointments are exacerbating the already very serious antibiotic overuse in our country, which contributes to the epidemic of antibiotic resistance.
The study, conducted by the NIH and published in the journal Pediatrics, showed that if a child sought care for an acute respiratory infection online, they were prescribed an antibiotic 52% of the time. In comparison, children who went to see their primary care provider in person or visited an urgent care clinic were prescribed antibiotics 31% and 42% of the time, respectively. That might not seem like a huge increase, but these numbers are significant, as the CDC already estimates that one in three antibiotic prescriptions are unnecessary.
So what explains this increase in prescriptions from online visits? The researchers suspect it's because online, doctors can't perform physical exams and tests, which makes it harder to tell the difference between a viral infection—which doesn't require antibiotics and won't benefit from them—and bacterial infections, which might. "Many infections are viral, and these infections don't get treated with antibiotics. It may be difficult for a virtual doctor visit to really understand if there is a bacterial infection or not because it is harder to examine the child through this method of evaluation," explained Marvin Singh, M.D., integrative medicine doctor and mbg Collective member.
This overuse of these drugs could also harm your child's gut microbiome, as antibiotics aren't yet smart enough to target only bad bacteria and end up wiping out a lot of beneficial bacteria at the same time. According to Singh, "Antibiotics can be lifesaving medicines, but we should always do our best to avoid unnecessary antibiotics, especially in children, who have developing gut microbiomes, as it could have long-term implications. For example, taking a single course of an antibiotic for a week has been shown to put certain species of bacteria in our gut into dormancy or hibernation for two years. So we want to make sure that we use antibiotics for the right cause and not preventively or just in case."
This is especially important for toddlers and babies, as Singh explained: "The most important time for the development of the gut microbiome is within the first two and a half to three years of life."
So while online doctor visits are no doubt convenient for minor issues, if it's something that could require antibiotics and a physical exam, it might behoove you to take your child to the doctor for an in-person visit. And the same applies to you as well!