This 'Naturalist Artist' Wants To Change The World With Her Prints
mbg Sustainability Editor
By Emma Loewe
mbg Sustainability Editor
Emma Loewe is the Sustainability Editor at mindbodygreen and the author of "The Spirit Almanac: A Modern Guide To Ancient Self Care."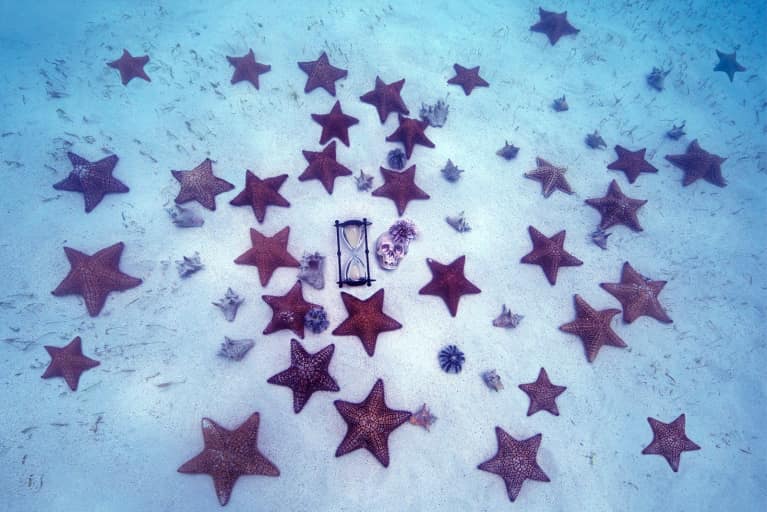 When one prestigious art collector walked in to Anne de Carbuccia's New York exhibition space, he was puzzled. "I love your prints—the light, the composition," he said of the French artist's large-scale photographs of breathtaking landscapes around the world. "But why do you have to have that thing in front of them?"
Before she presses the shutter button in remote, seemingly untouched locations, de Carbuccia places a "Time Shrine" in the frame, filled with objects that speak to the landscape and how it has transformed over the ages. They instantly carry her work from traditional nature photography into art that makes a strong, unapologetic statement on human waste and greed.
Building a shrine to what we've lost.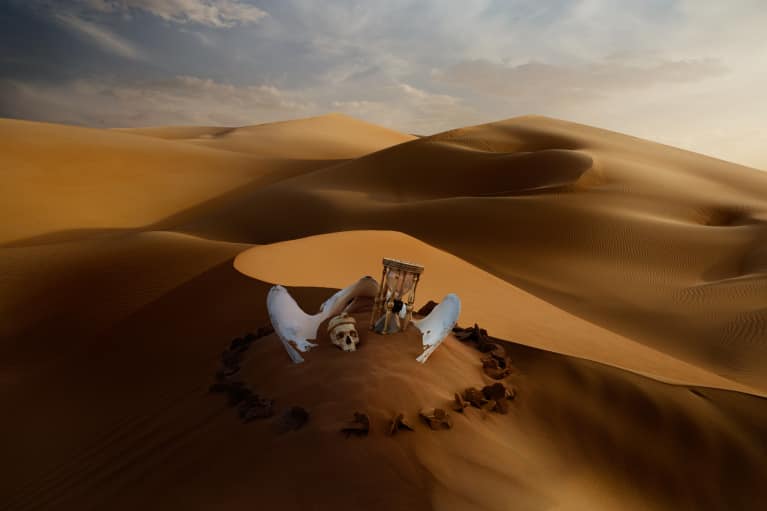 De Carbuccia has long been interested in the intersection of art and the environment (her father was a friend to adventurers the likes of Jacques Cousteau), but she first got the idea for her current project, One Planet One Future, on a trip to Antarctica a few years back. She wanted to find a way to capture the region's transient, ever-shifting nature in a permanent image, so she placed two symbols—an hourglass and a skull—in the frame to demonstrate how time and human vanity have taken a toll on the land. Since then, she's traveled to some of the most extreme pockets of the world—from coral reefs to penguin sanctuaries to bomb sites in Laos to remote jungles—with her hourglass, skull, and camera in hand.
She goes where she is called and never photographs a place without first getting to know the people who live there. On her trip to Mount Everest, for example, she climbed to base camp alongside a group of sherpas who had taken her in, and she photographed the Standing Rock protests upon invitation from a native tribe. Collaborating with the people who have a close communion with these lands helps her document them in a more authentic way. She lets each place speak to her and chooses artifacts to add to her display that tell its story. Her art also gives voice to the people who are watching their home disappear before their eyes.
"Through this project, I've learned how fucking small we are—and how powerful we can be," de Carbuccia has said of her work. "It's documenting what we have, what we may lose, and what we have already lost."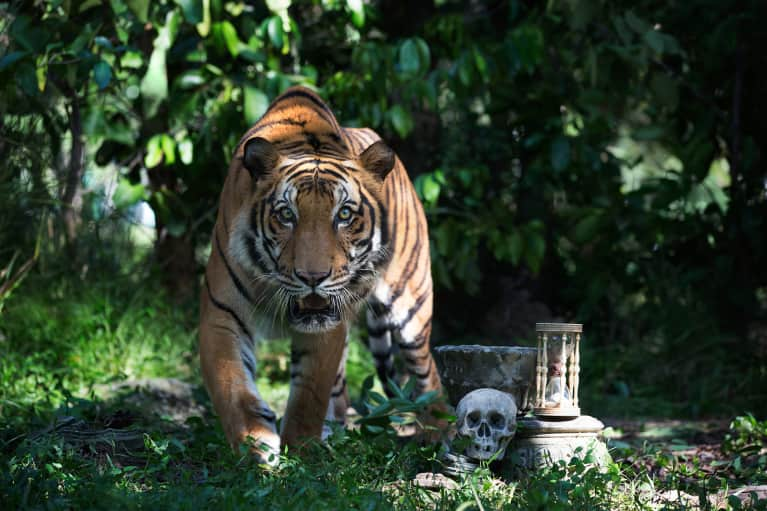 In addition to changing landscapes indirectly through global warming, humans leave their mark in more explicit ways. Every time de Carbuccia heads out on an expedition, she is sickened by the amount of trash she comes across, noting her trip to the Maldives as a particularly disturbing example.
"Like everyone else, I think of the Maldives as the perfect holiday, the ideal break from everything," she tells mbg from her home in Milan. When she arrived on the island, she was shocked to come across Thilafushi—once a coral reef, now a dumping ground and incinerator for tourist trash. "Seeing it made me realize that trash has arrived at the most remote sanctuaries on our planet. It's fundamental to raise awareness and make people see these problems. I landed in the Maldives and saw plastic bottles in the water. Everybody else who landed with me saw the blue water and its beauty. I took a boat and saw that trash island burning. Everybody else saw their destination and that five-star hotel."
Looking toward a brighter future.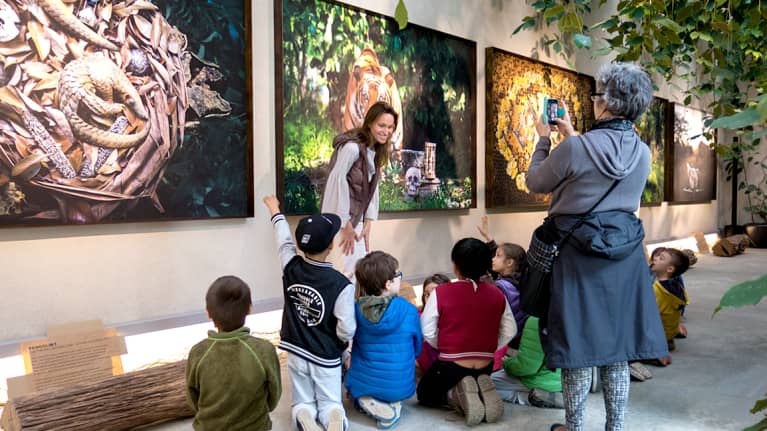 When she's not on location, you can find de Carbuccia working to raise this awareness in One Planet One Future's public gallery spaces in NYC and Milan. Though her work has received acclaim from people of all ages, she's noticed that its themes resonate with children in particular. She says that it is largely for them: the next generation.
"Environmental artists before me depicted nature the way it was, in its full beauty," she says. "In my generation, we need a time shrine in front of it. Hopefully, these shrines will help the next generation of artists after us go back to photograph nature the way it should be. Otherwise, they might have only desolation to photograph." De Carbuccia has developed a curriculum that draws kids in with her tales of adventure and discovery and teaches them how they can take action from there. She says she has already watched her young children building shrines of their own out of plastic litter—something she hopes to never see again.
"We need a systemic change. All of us can contribute to this change in our own way, and step one is awareness," she says. "People tell me all the time, 'Oh my god, I had no idea.' I might not have completely changed their way of looking at the world, but I've affected it a little bit."
Environmental art can truly change the world, and it already is. Here's how.