On The Go? This Is Whitney Port's Must-Have Wellness Travel Item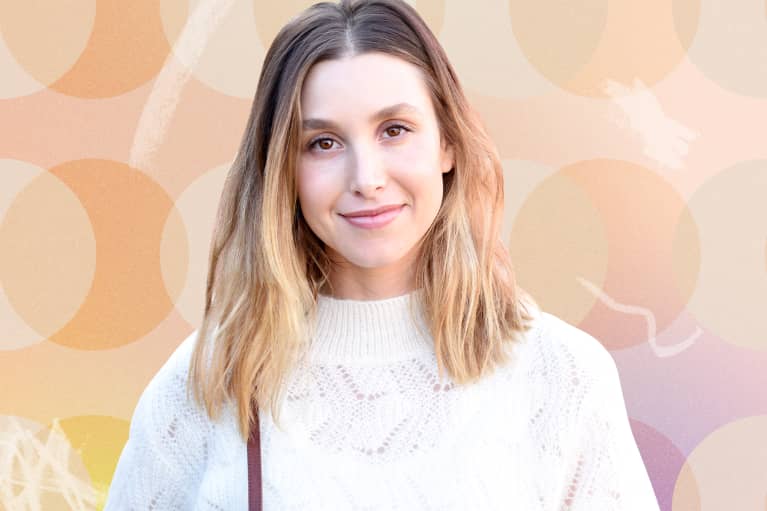 For someone as busy as Whitney Port—reality TV star, host of podcast With Whit, and mom—traveling and being on the go is often just part of the job. So over the years, she's gotten pretty adept at staying healthy while in new environments, or where healthy options aren't necessarily abundant.
How she stays healthy while traveling.
Take fitting in a workout: Rather than visiting the hotel gym, she tries to use it as an excuse to get out and explore. "I'm a member of ClassPass, which they have locations in a ton of cities, so I can always find a class there. That's fun because you get to explore new workouts," she says. And if you are hesitant to book a workout class in a new city? Just go sightseeing: "Sometimes going to a class can be challenging because you're like 'Why am I going to spend an hour in a class when I'm on vacation or traveling?' So if I'm really not motivated, I just walk places and use that as my workout. It's so much better than watching the city go by in your car."
Or, as we've talked about before, the airport: Port's go-to option is something with probiotics, like kombucha. "You go to an airport, and sometimes it seems there's nothing you can eat or drink. Well, if there's a kombucha or another probiotic drink, like Kevita Sparking Probiotic Drinks, I love this because it's organic, has probiotics and so many good things for your body. Also, it's so good with food. You know when you want that bubbly sensation with food? Like a soda, but not a soda? And it holds me over between my meals too."
But the most important part of travel, says Port, is to make sure you're embracing new culture and experiences: "I love travel and finding culture where you go. It fills your soul in a way that nothing else can. There's so much world out there. We get stuck in our bubble so often; it's so important to get yourself out of it and see the world. You not only develop a deeper gratitude for what you have but an appreciation for what others do as well."
Speaking of journeys, here's her journey with wellness.
"Wellness is all-encompassing. So many people just think it's about what you eat and drink, but that's such a narrow view," says Port. "The idea of 'wellness' is so many things to me: It's filling up your spirit to make you feel happy, what you put in your body so it's at its best, what workouts you're doing that makes you feel fulfilled and energized after, surrounding yourself with people that are positive influences, and regularly doing things that you are passionate about, both hobbies and career."
And for Port, her views on wellness have changed over the years, both from losing a parent and from becoming one herself. "Six years ago my father passed away, and he unfortunately led an unhealthy lifestyle. For me, I took that, and I was like, I'm not going to follow in his footsteps. I want to be like him in so many other ways—but I want to take care of myself and be the best version of myself for my son and husband," she says.
And while she's on a mission to be her best, she understands that doesn't mean perfect. "You're not going to hit all of your goals in one day. It's impossible," she says of her wellness ambitions. "But if you look at it bird's view, if you're trying to get a couple of those things in, you're good." With having a child, too, she realized that holding herself up to a certain standard was, well, just unrealistic long term. "When I had my son, my priorities changed. You can't do everything that you used to do. You just have to let that go. You can't have the highest expectations of yourself anymore, because if you did you would be constantly letting yourself down."