6 Things You Need To Know Today (October 31, 2017)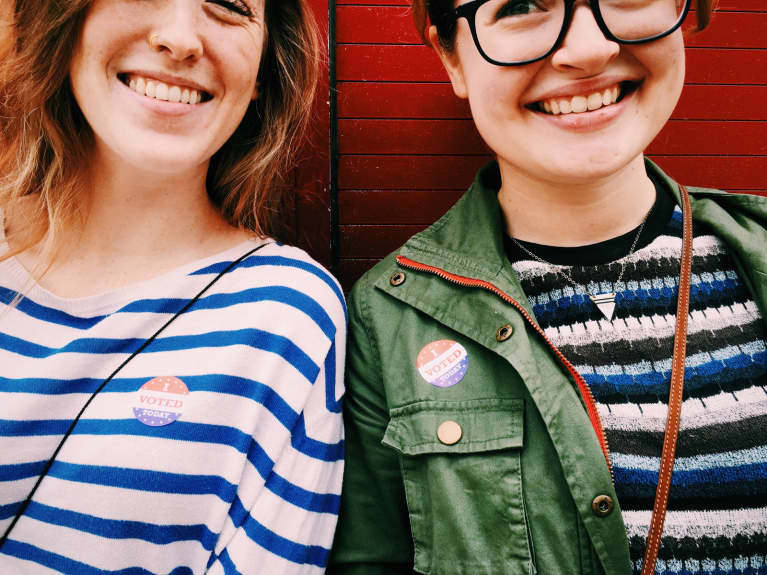 October 31, 2017 — 8:50 AM
1. A record number of women are running for office.
While the political landscape is currently dismal for women, who currently hold 19.6 percent of congressional seats and 25 percent of seats in the state legislature, it looks like times are changing. According to EMILY's List, an organization that works to elect pro-choice Democratic women, 20,000 women have registered to run for office since Hillary Clinton's election loss last November. Is the future female? Absolutely. (TIME)
2. The U.S. Mint is releasing a collectible rose-gold coin to raise money for breast cancer research.
The coin features a drawing of two women on the "heads" side and a butterfly on the tails side. Fifty thousand of the coins will be 85 percent gold worth five dollars, 400,000 silver-clad coins worth one dollar, and 750,000 will be half-dollar, and every coin purchase will contribute to the Breast Cancer Research Foundation. The Mint is using a special alloy combination to make them pink-hued, which is a historical first. (Marie Claire)
3. Sephora hires its own diverse staff to model in holiday ads.
Sephora auditioned staff far and wide to choose 10 voices that represent diversity in beauty. The campaign, "Reach Out and Gift," will answer shoppers' questions on exactly what beauty products to gift their friends while facilitating conversation and bonding during a particularly trying holiday climate. (Racked)
4. Will breastfeeding make you a more responsive mother?
A new study, published in the scientific journal Developmental Psychology, showed that women who breastfeed longer exhibit more maternal sensitivity, which is defined as the "synchronous timing of a mother's responsiveness to her child, her emotional tone, her flexibility in her behavior and her ability to read her child's cues." (EurekAlert)
5. Elon Musk's brother wants to change the future of food.
What Elon has done for space and electric cars, Kimbal Musk wants to do for healthy, sustainable food. He believes in food that nourishes the body, the planet, and the farmer but thinks the food system at present is completely broken (we agree, Kimbal!). He's launched a chain of hyperlocal restaurants called Next Door, which he envisions as an Applebee's of the future. While he's ruffling quite a few feathers in the health food and farming community with his polarizing opinions (edible schoolyards, in his opinion, are a waste of time since they don't scale), here's hoping he's still able to create real change. (NYT)
6. A San Francisco company is making it easy—and profitable—to save energy.
OhmConnect alerts people by text, telling them what hours they need to reduce energy. If they comply, they're able to save real money—up to thousands of dollars a year. By preventing overload at key times, it's able to keep "dirty" energy off the grid and remind consumers how much their actions, like turning off switches and setting ACs for higher temps, can actually make a difference. (InsideClimate News)