This Week Is All About Love & Fantasy. Here's Your Horoscope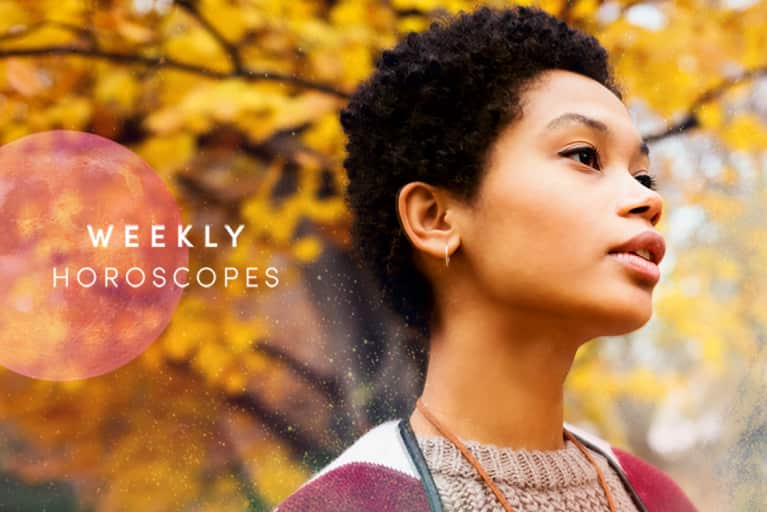 October 30, 2017 — 8:20 AM
Level up those Halloween goals! This Tuesday, October 31, the Sun sparkles in deliciously haunting Scorpio, as it always does this time of year. Bonus: In 2017, the moon is riding on a buddy pass through Pisces, the sign of fantasy and imagination. That means there is zero justification for showing up at the soiree with a basic pair of vampire teeth or a plastic mask you threw down at the checkout counter when buying your La Croix and mints. (Unless, of course, you can back it up with enough humor to make the simplicity your shtick.)
Lights, sequins, sound effects! This extra flourish doesn't have to take more than an hour. See what wonders you can work with a battery-operated LED light tucked under strands of cotton or sheer fabric. Halloween is a notoriously frisky day…there's something about those costumes. And it's almost too easy to be enchanted under the light of a Pisces moon. But before you go gaga for a Power Ranger or a Jon Snow clone, find out if they came to the party with a plus-one (or have one waiting at home). Attached? Don't go bobbing for apples in someone else's pond. Sorry, "But it's Halloweennnnn!" is not a justification—not even in the witching hour when the moon moves on to renegade Aries' realm!
On Saturday, we can rock steady again as the year's only full moon in Taurus ushers in a little sanity.
These earthy, grounding moonbeams help us plant our feet on solid ground, but it won't be a walk in the park without effort! The very same day, hedonistic Venus and rabble-rouser Uranus face off in their annual opposition. Something may have to break down in order to wake us up to the need for some serious repair work. Venus rules love, creativity, and the pleasure-based purchases we make. Uranus is erratic and shoots from the hip. Rule of thumb for the weekend? Assume nada. Just because you and your bae or your bandmate were on the same page in the past doesn't mean you're aligned on every future decision. Check in and get consensus (and consent) before taking action.
If your tub's been dripping into the basement, call your super or a plumber. A bill you forgot about may come due or show up in your mailbox right after you splurged on those Italian leather, over-the-knee boots. But here's where the sensible-yet-sensual Taurus moon can save the day, reminding us all that good things come to those who wait. If you messed up, don't get all emotional. Lean into Taurean pragmatism and fix the mess! Issue a sincere apology for overstepping bounds; return the item and start a savings account so you can buy it again when you've refilled your discretionary funds account. Then, since Taurus is an earth sign, use these moonbeams to scout out natural wonders that don't cost a thing (or more than a few bucks). Take a nature walk with friends, light a bonfire on the beach, collect birch branches for a DIY twig chandelier, etc. Luxury doesn't have to break the bank!
On Sunday, Mercury shifts out of Scorpio into Sagg, and opportunities for new friendships will ensue.
And don't underestimate the power of a great conversation—especially if it involves a culturally diverse dialogue or any kind of "edu-tainment." We'll all be hungry to learn starting Sunday, as messenger Mercury shifts out of secretive Scorpio and lumbers into live-out-loud Sagittarius until January 11. Intersectional Sagittarius is the global ambassador of the zodiac. This Mercury circuit may inspire people to reach across lines in search of common ground. Or, in an effort to avoid the politically challenging vibe of Holiday Season 2016, perhaps this year families will find ways to keep the peace despite differences. But there is a catch: From December 3 to 22, Mercury will be retrograde.
In Sagittarius, Mercury speaks "the truth" without filters, which could become an issue during the pre-holiday backspin. The Tweet-storming culture of calling people out has sure turned ugly in 2017. Alas, this mouthy Mercury cycle could exacerbate that if we aren't careful. If a ceasefire needs to be declared, now's the time to start setting up ground rules. And if nothing gives by December 3, Sagittarius IS the sign of the world traveler.
Ringing in 2017 with friends on another coast or continent might be the best idea of all.
Want more astrological insights? Check out what your sun sign says about your leadership style, and dive into how knowing your moon sign can make you more emotionally intelligent.