Your October Horoscope Is Here: What's In The Stars For You?
mbg Contributors
By The AstroTwins
mbg Contributors
Ophira and Tali Edut, known as the AstroTwins, are professional astrologers based out of New York and Seattle. Their work has been featured in The New York Times, Elle Magazine, Vogue and Good Morning America and they are the authors AstroStyle, Love Zodiac, Shoestrology, and Momstrology.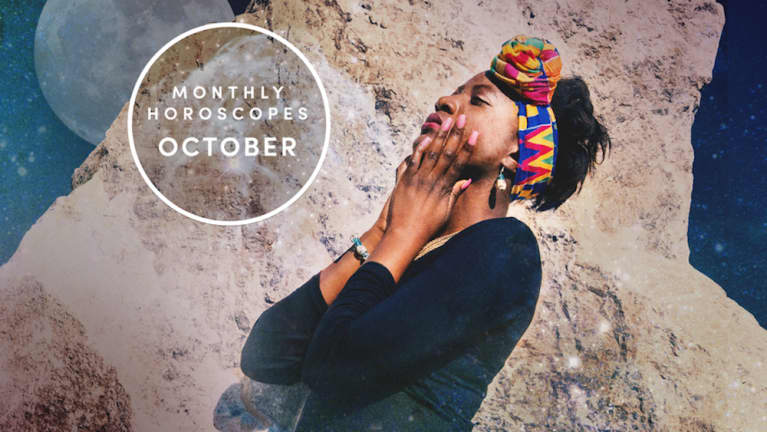 Into the depths we go! On October 10, expansive Jupiter—the planet of growth, risk, higher learning, and cross-cultural relations—will make its once-a-year sign change, exiting airy, social Libra and plunging into watery, intimate Scorpio. Jupiter transits every 12 to 13 months, and this phase defines much of the zeitgeist for this period. Now, Jupiter will stay in transformational Scorpio until November 8, 2018, spotlighting major themes such as money, sex, and power.
Not that it's been light and breezy up until now. Since September 9, 2016, Jupiter has been making the rounds through Libra, the sign of peace, love, and fairness. Our world has certainly been consumed by these topics. People have united across differences to fight the (seemingly endless) injustices and human rights violations that have made headlines throughout this whole cycle.
Jupiter in Libra didn't promise world peace—and it hasn't exactly delivered. But it DID expose where we have our work cut out for us, shining a klieg light on what's NOT fair in our current systems and setups. Justice-warrior Libra raised our voices in the name of fair representation, whether that meant defending civil rights for people of all religions and races, or most recently, pointing out the egregious absence of hurricane relief for Puerto Rico.
From protested travel bans to women's marches, Charlottesville rallies to the failure of draconian health care bills, and athletes "taking a knee," global Jupiter has his fingerprints all over the last year. So much so that New York magazine even declared in a recent issue that "activism is the new rock 'n' roll."
As Jupiter moves into Scorpio, the spotlight is on themes of power and control. How do we share our resources, and can we play well with others? Sensual and psychic Scorpio spotlights our closest bonds and examines all the nuances, from the psychological to the sexual. This transit could bring developments in disease research, economic reform, and property. While the lines between the "haves" and "have-nots" can sharpen, the world may simultaneously move toward even more of a sharing or collective mindset. Read all about this Jupiter in Scorpio year here.
While "red giant" Jupiter is certainly October's scene-stealer, there are a few other showstopping moments. On October 5, the year's only Aries new moon will put its fiery focus on our individual expression. This could be another intense day, as in-your-face Aries vibes coupled with an unfettered full moon could bring strong feelings into the open. Aggression and pushiness could rule the skies—but on the upside, it's a good day to advocate for yourself or a passion project.
Luckily, some of those peacekeeping Libra vibes will linger on as the Sun visits this balancing sign until October 23, followed by a longer visit from Mars from October 22 to December 9. Mars is in its "detriment" when in Libra, a weakened position. Whiner alert: We'll need to watch for thin-skinned and passive-aggressive behavior during this cycle. But with the galactic galvanizer in partnership-driven Libra, there could be an extra spate of holiday season proposals (and breakups) this year.
The October 19 Libra new moon opens the door for powerful negotiations and helps us turn a fresh page for relationships. Is it time to make things official…or at least, to explore what that would look like? That same day, however, the Sun will make its once-a-year opposition to volatile Uranus in individualistic Aries. Make sure you're not giving up too much freedom in the name of compromise or cooperation!
The Jupiter jubilee really gets rocking on October 23, when the Sun joins the spotted supersized planet in Scorpio.
Your luckiest day this year could arrive on October 26, when Jupiter and el Sol make their once-a-year conjunction. This could be a major day for world affairs, too, with global Jupiter and the ego-driven Sun aligned. Here's hoping their superpowers combine for some Scorpio-style transformation instead of amplifying the lower registers of Scorpio, which include revenge and power struggles. It's a day when we might want to take a few moments to meditate and visualize the word at its highest vibration. Woo-woo as it sounds, Jupiter in Scorpio is an energy transmitter. Our intentions can help shape the global consciousness—and every beam is needed, now more than ever. Lightworkers of the planet, unite!