Your Weekly Horoscope Is Here: What's In The Stars For You?
mbg Contributors
By The AstroTwins
mbg Contributors
Ophira and Tali Edut, known as the AstroTwins, are professional astrologers based out of New York and Seattle. Their work has been featured in The New York Times, Elle Magazine, Vogue and Good Morning America and they are the authors AstroStyle, Love Zodiac, Shoestrology, and Momstrology.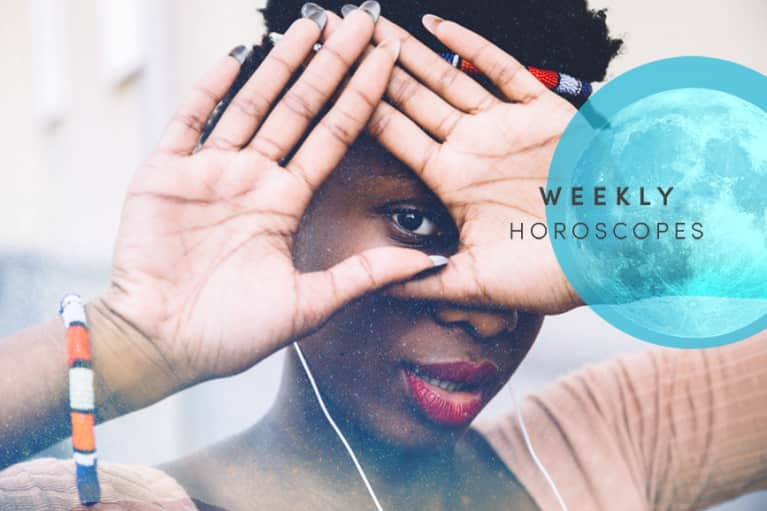 Contradictions, paradoxes, and polarizing extremes. Is your head spinning yet? Ever since boundless Jupiter lumbered into Libra on September 9, 2016, life has felt like the strangest of seesaw rides. Could people really be THAT different from one another? Our worldviews so conflicting? Libra is represented by the sign of the scales—picture the balance (or not) of oppositions fluctuating wildly in an effort to find equilibrium. And with magnifier Jupiter blowing everything up to 1,000 percent the original size, it's no surprise that our divergences have stood out in such sharp relief.
But there have also been great victories for unity as the red-spotted planet lit up Libra, the sign of peace, harmony, and justice. Count it down with us: There are only eight more days of this Jupiter cycle. Next week, on Tuesday, October 10, Jupiter heads into Scorpio and turns his stadium-beam spotlight on all the secrets that have been swept under the rug. Whoosh—it's gonna get interesting.
If you've been burying something yourself, you might want to come clean this week. At least you can put your own spin on events instead of letting the grapevine break the story. Do you have a peace offering to make? Before the week is through, extend the olive branch.
Jupiter, the galactic gambler, also urges us to take a chance on romance. While he tours Libra, all things amorous are blessed by his beams. This could be the week for popping a certain question—whether it's, "Will you marry me?" or "Wanna move in together?" or "Let's start a business, shall we?"
Of course, this flossy Jupiter cycle has put stars in certain people's eyes. Have you been romanticizing a situation only to discover that it's not all that your imagination had it cracked up to be? Quick! Break free! Jupiter in Libra can liberate people from unfulfilling partnerships—and it's best to do so before next Tuesday, when he moves on to Scorpio, the sign of possessiveness and perma-bonding.
The full moon in self-authorized Aries this Thursday, October 5, will support any such declarations of independence. Not that it has to be THAT extreme. Maybe you realize that you just need a little more autonomy, or space. Dive into a passion project, or debut the one you've been working on since the corresponding new moon this past March 27.
"To thine own self be true" is this full moon's mantra. Bow out of activities that don't speak to your soul and say a resounding "YES!" to the ones that light your fire. Got something fabulous to promote? Save the humblebrags and go big and bold. Competition could get fierce, though, as Aries energy plays to win. Careful not to cross the line into "cutthroat" terrain.
Harmonic Venus is also here to help us play fair as she rolls through ethical Virgo all week. On Tuesday, October 3, she'll form a somewhat rare trine (flowing, 120-degree angle) to CIA agent Pluto, who is parked in Capricorn, the zodiac's protector-provider sign. Turn on the charm, but don't forget the integrity. Under this auspicious alignment, it's easy to get a "yes" to just about anything—and maybe a little too easy to SAY yes to attractive offers, too.
Careful not to be seduced by a slick sales pitch. And if you're the one doing the pitching, back it up with facts and stats. This enchanting energy passes after a few days—and on Sunday, astrological auditor Saturn will challenge Venus to make good on her word. Can you back up that big talk? If so, you could be set for an insanely profitable victory in the days ahead.
Want more insights on how to level up your life? Check out your love horoscope, then find out why holding on to past relationships is the worst thing you can do for yourself.