Your Weekly Horoscope Is Here: What's In The Stars For You?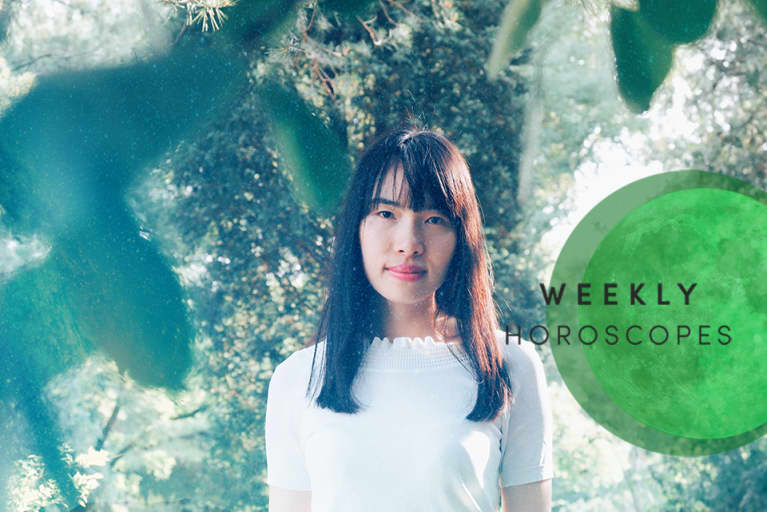 October 16, 2017 — 9:20 AM
Come a little closer, why don't ya? Cuffing season gets a serious boost from the stars this week as planets pump up everyone's urge to merge. On Tuesday, October 17, messenger Mercury casts a seductive spell when he slinks into Scorpio until November 5. Lest we forget, words are not the only way to get a point across.
For the next few weeks, it's the pregnant pause, the flashing gaze, or the heat of body language that will speak volumes. Plus, a little mystery just makes everything more exciting—and with Mercury here, intensity is a plus. Despite Scorpio's rep as the zodiac's sexiest sign, there's no lust without the trust when a planet occupies this sultry domain. Be prepared to pass any loyalty tests with flying colors or you could wind up excommunicated from the VIP room.
Pro tip: Don't expect anyone to extend the benefit of the doubt. We'll have to show and prove and pledge our allegiance if we want the keys to the castle.
Another "let's get together" lure arrives on Thursday, when 2017's only new moon in Libra sets up a launchpad for love.
(Think light-up, fur-lined floor tiles strewn with rose petals. Prepare for liftoff!) Libra and Scorpio are both signs associated with partnership. But Libra's vibe is a lot gentler and more diplomatic, seeking harmony instead of intensity. This new moon can initiate pleasant negotiations or sweet heart-to-hearts. Instead of jockeying for power or insisting that your way is the right way, make it your mission to compromise—or better yet, find a win-win.
These harmonious moonbeams keep discussions diplomatic. Remember that new moons are starting blocks, so there's no need to rush to the signing table or the altar. In fact, there's a warning label here: Choose your "other half" wisely! The seeds that get planted this week will be harvested under the corresponding full moon next March 31.
On Sunday, fierce and feisty Mars lumbers into Libra until December 9, which could make a few waves on the Sea of Love.
We'll be pumped about all things Libra—planning parties, signing win-win contracts, supporting the arts, getting into committed relationships (do we hear plans for a Thanksgiving proposal?). But stress levels can rise in relationships and social situations over the next seven weeks. Truth is, the warrior planet isn't exactly at home in peacenik Libra's realm; in fact, astrologers refer to Libra as a "detriment" for Mars because it's the opposite sign of the red planet's ruler, Aries.
Between now and early December, get ready for weird and contrasting waves. For example, we could become so passionate about peace (Libra's domain) that we wind up coming across as combative. But this combo can actually be an interesting hybrid, bringing out the Justice League superheroes and peaceful warriors in us all.
Libra Mahatma Gandhi changed the world through passive resistance—a Mars-in-Libra concept if ever there was one! And as he taught us, an eye for an eye "only ends up making the whole world blind," so don't lose sight of the big picture when you pick up that picket sign or make a public proclamation on social media.
Want more astrological insights? Check out your love horoscope, then see what the stars have in store for you all month long.