Water Chestnuts Are Actually Nutritious: RDs Share How To Eat Them
mbg Editorial Assistant
By Abby Moore
mbg Editorial Assistant
Abby Moore is an Editorial Assistant at mindbodygreen. She earned a B.A. in Journalism from The University of Texas at Austin and has previously written for Tribeza magazine.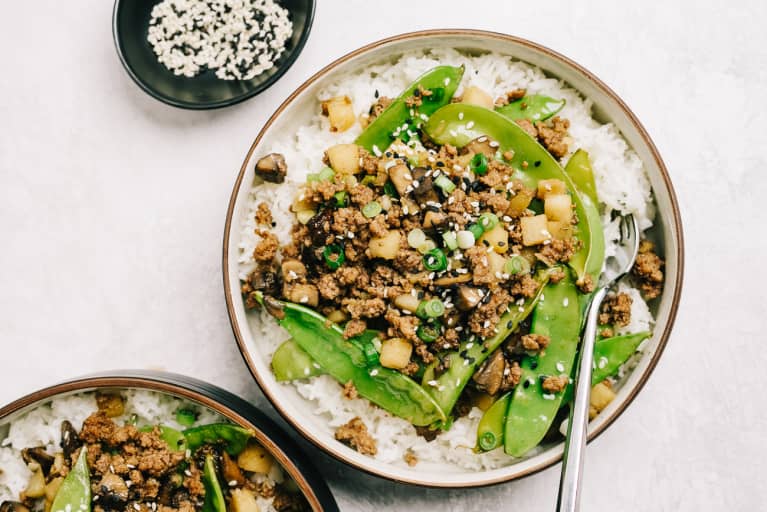 Working from home might mean access to a pantry full of crispy, crunchy snacks at all hours. If you find yourself longing for a satisfying crunch but are bored of your carrots and almonds, consider reaching for a can of water chestnuts.
Though unsuspecting, nutritionists Jess Cording, M.S., R.D., CDN; Molly Knudsen, M.S., RDN; and Abby Cannon, J.D., R.D., CDN, said water chestnuts pack a nutritional punch. They also shared some of their favorite ways to eat the delightfully crunchy veg.
What exactly are water chestnuts?
Despite the misleading name, water chestnuts are not nuts at all. They're actually an aquatic root vegetable grown underground in freshwater marshes.
"They're surprisingly nutritious for something that we usually think of as just a way to add some crunch," Cording told mbg. "You'll get about 100 calories and 3 grams of fiber per serving as well as 17% of your daily needs for potassium and manganese."
According to Cannon, "They're also a good source of the essential nutrients vitamin B6, potassium, copper, and even protein." That's a whole lot of nutrients—but how do we incorporate them into our diet?
How to eat water chestnuts.
Since water chestnuts are native to Asia, they are commonly incorporated into Asian cuisines, like stir-fried dishes (including the one below).
"Use it with frozen veggies and brown rice you've already stocked up on," Knudsen suggested. "They also pair nicely with soy sauce, teriyaki sauce, and hoisin sauce."
Aside from a stir-fry, the sweet and nutty flavor pairs well with fresh salads, lettuce wraps, and even a fruit salad, according to Cannon. "Just be sure to rinse canned water chestnuts before cooking or eating them," she said.
If you are going to bake them into a dish, like a green bean casserole, remember to add them toward the end of cooking—this ensures they keep their signature crunch.
Many of us are cooking a lot more than we normally would, and while we support that new hobby, it can become a bit exhausting. If you're looking for a quick, no-fuss recipe—with plenty of frozen ingredients—this five-minute Asian-inspired stir-fry is for you.
Frozen broccoli
Water chestnuts
Red pepper
Avocado oil
Tamari
Garlic, chopped
Rotisserie chicken or grass-fed short ribs (optional)
Soba noodles or brown rice
Sriracha
Sesame seeds
Kimchi
Boil the noodles or brown rice in salted water.
Sauté all the vegetables, tamari, and garlic in avocado oil until tender.
Pour vegetables on top of chosen grain (or meat), and sprinkle with sriracha, sesame seeds.
Add a generous scoop of kimchi, to help support your gut (and immunity).