Diet Is More Important Than Exercise When It Comes To This Part Of Your Body
mbg Contributor
By Caroline Muggia
mbg Contributor
Caroline Muggia is a writer, environmental advocate, and registered yoga teacher (E-RYT) with a B.A. in Environmental Studies & Psychology from Middlebury College.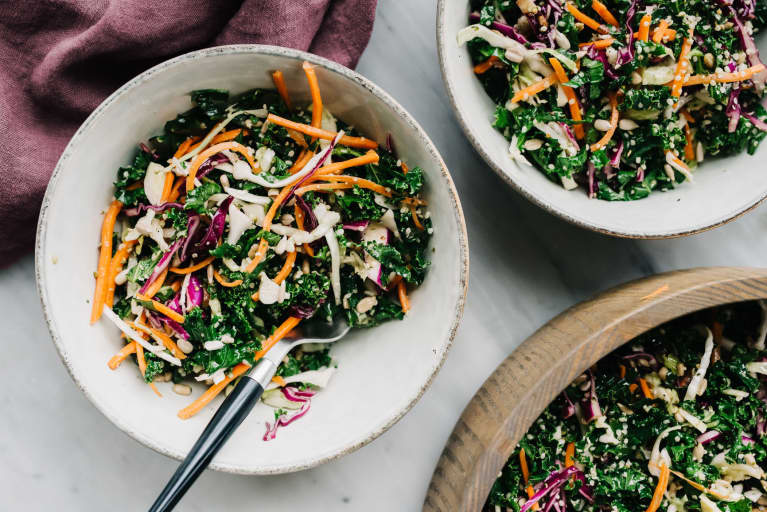 October 19, 2018 — 9:00 AM
If you've ever wondered about whether nutrition or exercise is better for your bones, you're not alone. Fitness enthusiasts, scientists, and those in between are asking the same question—and thanks to science, we may finally have an answer. A new study, published in the journal PLOS One, shows that when it comes to bone strength, diet is paramount.
By comparing results from mice who were given a mineral-supplemented diet (including calcium and phosphorus) and those put on an exercise regimen, researchers from the University of Michigan found that nutrition led to greater bone strength than exercise. To their surprise, even after the mice stopped exercising, they maintained their bone strength as long as they continued a diet rich in these mineral supplements.
David Kohn, professor in the school of dentistry and engineering at The University of Michigan tells Science Daily that these findings could have profound implications on the aging process. Peak bone density occurs in the early 20s and then begins to decline. Kohn suggests that if we can determine how to maximize our bone density before its decline, the rate of decline could slow. We know exercise becomes more difficult with age and the fact that our diet could be a solution is promising.
Although the findings suggest nutrition is more important than exercise for bone strength, the study found that a mineral-supplemented diet combined with regular exercise leads to optimal bone strength—faster than nutrition without exercise.
So, what should you be taking for your bone health?
Dana Cohen, M.D., points out that although taking calcium is important for bone health, it can be even more effective when taken with vitamin D and vitamin K2. Vitamin D helps the body more quickly absorb calcium, and vitamin K2 activates a protein called osteocalcin, which stimulates the merging of calcium ions and bone minerals. Magnesium is also a very important (and often forgotten!) player in bone health.
And don't worry if you're not interested in getting your calcium through dairy; there are other ways. JJ Virgin, celebrity nutrition and fitness expert, offers nondairy (and fun) options for building your bone health. It can be as easy as spending some time in the sunshine (vitamin D), eating more greens (calcium), or incorporating strength training into your routine (increased bone density).
The take-home? Although it seems that diet is more important than exercise—if you're looking for strong bones, a mineral-supplemented diet and exercise is the way to go.