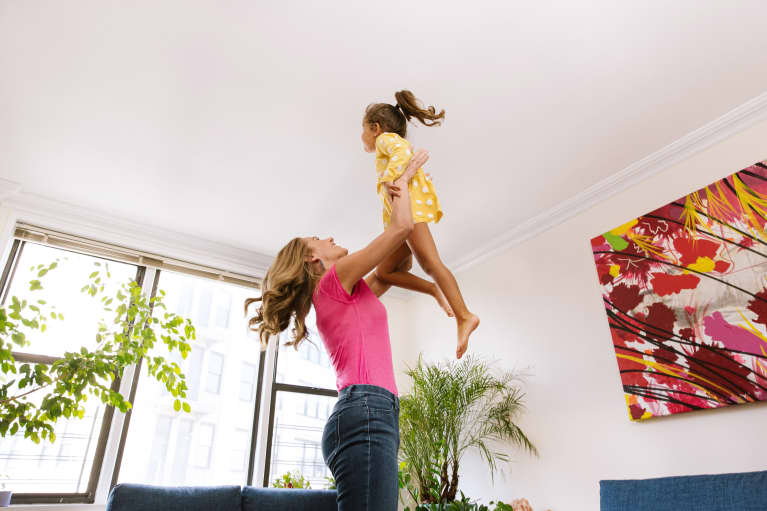 Our editors have independently chosen the products listed on this page. If you purchase something mentioned in this article, we may
earn a small commission
.
As a doctor, mother, wife, writer, speaker, and yogi, I wish I had about 25 percent more energy to do everything I want to accomplish in a day.
But there are days when I can almost feel any energy I have drain from my body. And then I look at my three-year-old daughter, racing into my room at 6:20 a.m., and I wonder, how does she have so much energy? What does she have that I don't have?
Well, science points to a pretty surprising and specific answer to that question: NAD.
NAD (often written NAD+) is short for nicotinamide adenine dinucleotide, and it's a helper molecule that is present in every single cell of your body. You've probably heard of it from your high school biology class, but essentially NAD is required for your cells to make energy so your body can function and do everything that it's supposed to do. It's not just about running and jumping—energy is necessary for us to carry out our most basic functions, so without energy production, we cannot go on.
As we age, NAD levels dramatically decline. We lose up to 50 percent of our NAD between the ages of 40 and 60, and even before that, things like stress and sun exposure can cause our stores to deplete.
The solution to my low energy problem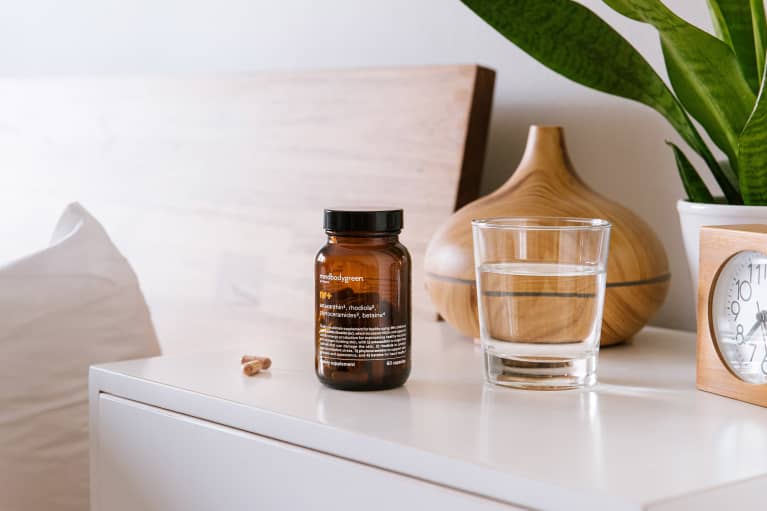 Research suggests that supplemental NAD can help keep our levels up, even as we age.* While I usually recommend getting our nutrition from food rather than supplements, it's not realistic to get NAD from food.
Instead, we can supplement with a form of vitamin B3 (niacin) called nicotinamide riboside—or NR—which is a precursor to NAD.* Taking NR in capsule form effectively supports NAD levels in the human body, and this can enhance cellular energy production, help us avoid certain adverse health conditions, and delay some signs of aging.*
I take nr+, a formulation with a really intelligent combination of ingredients that support both more efficient energy production and smoother skin from a few different angles.* mbg developed nr+ with Thorne, the clean supplement brand most trusted by healthcare practitioners, so it goes through four rounds of testing, from raw ingredients to stability.
I've built nr+ into my routine by taking two capsules in the morning (along with my other supplements) and have noticed a few things so far.
My favorite effect of nr+ is feeling my energy improve.* As a psychiatrist, I'm seeing patients, writing, or speaking at summits all day. And at home, as the mom of a toddler, it's chaos. There was a long stretch where I felt really depleted at the end of the day, passing out on the couch at 8:30 p.m. and wishing I had more to give to all the passions and people in my life that need me.
With nr+, the combination of NR and rhodiola—one of my favorite adaptogens—has really helped my body handle stress and has increased my energy in a way that feels very natural and manageable.* It's not a jittery effect that I might get from coffee—I feel like my overall energy has improved. It's helping me be more present for my daughter and a more insightful doctor for my patients because I'm more engaged and focused at work.* I can pour all the passion that I have into the projects I'm working on, and at the end of the day—rather than wanting to completely collapse on the couch—I might even do a bit of yoga in my living room.
I chose nr+ because it has a really intelligent combination of ingredients.
In addition to NR for supporting NAD levels plus rhodiola, nr+ has the added benefits of astaxanthin and phytoceramides for skin.* Each of these components has synergistic effects with NR: Astaxanthin is a powerful antioxidant, which helps attack free radicals which really lessens the appearance of aging on our skin, and phytoceramides help draw moisture to the skin to maintain a youthful appearance.*
I wish I could say I've used sunblock religiously throughout my life, but I'm a sun lover. So since starting nr+, I've noticed that my skin has looked brighter and more youthful.* I try not to put too much stock in vanity or appearance, but the fact that my skin looks more youthful (and that my husband, who rarely notices if I do anything, has mentioned that I've been looking just a little bit brighter lately) tells me this is probably helping me on the inside as well.
Normalized circadian rhythm*
NAD plays a role in our internal body clock, which is increasingly dysregulated in modern life. If you struggle to fall asleep or you drag yourself through the day, then this might apply to you, too. I've noticed I now get tired at the appropriate time at night, so rather than collapsing on the couch right when I get home, I can spend time playing make believe and dress up with my daughter before she goes to bed. And instead of staying awake long past my bedtime, I can fall asleep more easily.* Then, I sleep well overnight and wake up with more energy at the right time in the morning.*
I'm not saying I sprint into my daughter's room at 6:20 a.m., but now that I'm not as tired as before, I can be fully present with her when she wakes me up. For me, these benefits go beyond noticing improved energy and more youthful-looking skin*—I love knowing that I'm doing the best thing that I can for my body on the inside, and that makes all the difference.
If you are pregnant, breastfeeding, or taking medications, consult with your doctor before starting a supplement routine. It is always optimal to consult with a health care provider when considering what supplements are right for you.