An Innovative Skin Care Supplement Experts Recommend For Your 40s
mbg Beauty Director
By Alexandra Engler
mbg Beauty Director
Alexandra Engler is the Beauty Director. Previously she worked at Harper's Bazaar, Marie Claire, SELF, and Cosmopolitan; her byline has appeared in Esquire, Sports Illustrated, and Allure.com.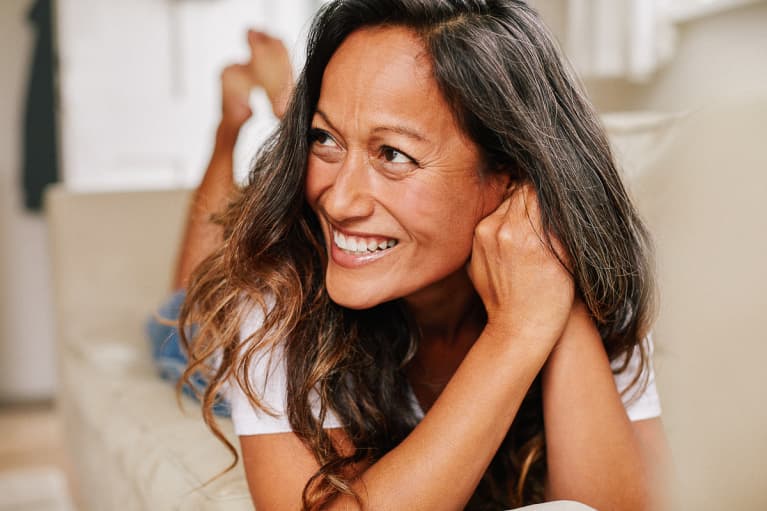 Last updated on April 13, 2021
Each new decade brings new joys and wisdom, no? And as you enter your 40s, in particular, we know that you may want to become a bit more strategic about skin care. Of course this means external skin care adjustments—but it also means incorporating internal skin care. What do we mean by this? We mean that just tending to the surface level of your skin is not enough—you should also make sure you are taking care of your body, too.
One easy way to do this daily is by taking an active-packed supplement, like mindbodygreen's nr+.*
Here's why experts recommend nr+ for those in their 40s.
"As a doctor of Chinese medicine and acupuncturist who specializes in facial rejuvenation, I am constantly reading new studies from both Eastern and Western medicine, then interweaving both into my private Chinese medicine practice. This is when I came across something that caught my eye: mindbodygreen's new cutting-edge, healthy aging supplement, nr+," Debbie Kung, DAOM, L.Ac., tells us, who started taking the supplement herself when she turned 40.*
See, there's one very important thing you need to pay attention when you reach this new decade: nicotinamide adenine dinucleotide (NAD). NAD is a coenzyme found in all living cells, and it plays a vital role in energy metabolism and maintaining proper cell functioning. Levels of NAD also happen to decline significantly as we get older, and these declining levels apparently drive the aging process. This drop hits around the start of this decade, research shows.
However, you can help support NAD levels in the body. And one of the most innovative and promising ways to do that is through nicotinamide riboside (NR), a newly discovered form of vitamin B3. Studies have shown that taking NR can enhance NAD in the body, promoting healthy aging and longevity, and is, in fact, one of the most efficient ways to do so.*
As functional medicine pioneer Robert Rountree, M.D., tells mbg, "If you raise NAD, you basically promote a vital, healthy aging process, which is a huge thing. I think nicotinamide riboside is an incredibly promising compound that most people haven't heard about."*
But mindbodygreen's nr+ doesn't stop there. It also includes a plethora of other good-for-aging-skin ingredients. Notably, there's the antioxidant astaxanthin—a powerful free-radical fighter that can help skin manage oxidative stress as well as the effects of photodamage (read: too much time spent in the sun in your youth).*
There's also phytoceramides, or plant-derived ceramides. Ceramides serve as a vital part of your skin barrier function: They are the first line of defense against harmful environmental aggressors, protecting your skin from damage. "They are special lipids in the outer layer of the skin, used to protect the skin and keep moisture in," says Rountree. "Research shows that when you take these things by mouth—and you don't need many milligrams of them—your body actually incorporates them into the skin."
If you haven't gotten on the supplement train, your 40s is a great time to start. You just want to be smart about what supplements you are taking, as some are more targeted toward this stage of your life. Case in point: mindbodygreen's nr+.