Your November Horoscope Is Here: What's In The Stars For You?
mbg Contributors
By The AstroTwins
mbg Contributors
Ophira and Tali Edut, known as the AstroTwins, are professional astrologers based out of New York and Seattle. Their work has been featured in The New York Times, Elle Magazine, Vogue and Good Morning America and they are the authors AstroStyle, Love Zodiac, Shoestrology, and Momstrology.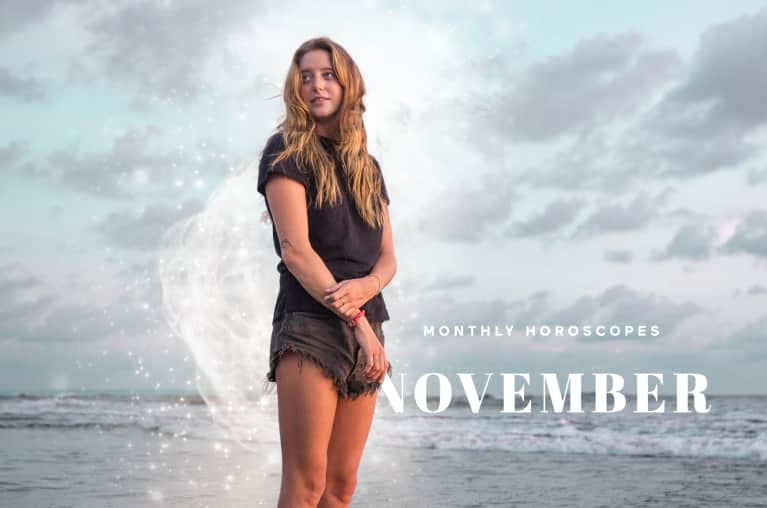 As 2017 starts its outbound journey, life has gotten pretty surreal. This year has packed its fair share of plot twists, intrigue, and shady dealings. But where is it all leading? Is there a method to this madness? Could relief be in sight?
Buckle up, because November could bring some clarity, both to our personal lives and the world stage.
For starters, global Jupiter is settling in to its first full month in Scorpio. The planetary truth-teller dove into the sign of sex, mystery, and power on October 10, launching a 13-month probe that will last until November 8, 2018. On a personal level, an era of self-discovery and powerful mergers is under way, so how can we blend our energies for mutual good and gain?
Scorpio is ruled by Pluto, the mythological god of the underworld. It's also the sign that rules collusion—the "shadow side" of Scorpionic merging. In news headlines, outspoken Jupiter has already dredged up everything from Harvey Weinstein's chilling sexual assaults to Paul Manafort's indictment on #MuellerMonday. Conversations around power, consent, and violence are making headlines. Some of it has gotten intense and triggering. Many people are feeling a complex cocktail of emotions—if not out-and-out triggered—as silent taboos break.
With the Sun also in Scorpio until November 21, this is the tip of a pretty large iceberg—one that threatens to break off and flood us with the truth. And with assertive Mars in Libra, the sign of justice, from October 22 to December 9, we can expect more activism like the #MeToo hashtag, along with some intense legal developments.
Relationships will also take center stage as Mars emboldens us to get more authentic with the closest people in our lives. Mars is in an uncomfortable "detriment" while in Libra, so watch for passive-aggressive moves. Don't water down your message or point fingers. Mars in Libra wants us to own our choices and speak up—even if it rocks the boat.
A groundbreaking Saturn-Uranus trine on 11/11 could help us get clear on the rest of the year.
But the biggest day this month arrives on November 11, when the third of three rare and harmonious trines forms between old-guard Saturn and new-school Uranus. These planets are polar opposites in nature: Staunch Saturn is the cosmic patriarch who cleaves to tradition while rebellious Uranus fights for progress and change.
It's rare that these two "odd couple" planets align in such an angle. And they've been doing so on and off for almost a year. The last two Saturn-Uranus trines were on December 24, 2016, and May 19, 2017. This set off a cascade of developments that will reach a peak today.
The Saturn-Uranus trines have been revolutionizing some old institutions. The "establishment"—from Hollywood to government to big business—is being shaken to its core. But the walls haven't come tumbling down just yet. Will this last trine deliver that blow?
It also comes on 11/11, a day that most of us have always honored because of its "master numbers." If you've had your own too-serendipitous-to-be-random encounters with 11:11 and 11/11, it may not be your imagination. Many believe that 11/11 is part of a larger global awakening of "oneness consciousness," a call to come together as lightworkers and heal the planet. (There's even a new app called Breathe 11:11 designed to help with that.)
On November 19, things will get interesting yet again.
We'll need to hang on to these enlightened vibes on November 19, when Mars will engage in a fiery clash with powermonger Pluto, which is in old-guard Capricorn. As these two hotheaded luminaries lock into a tense square (90-degree angle of tension), there could be fireworks indeed.
We'll all breathe a sigh of relief on November 21, when the Sun moves into jovial and optimistic Sagittarius. While there won't be any candy-coating the issues, Sagittarius season WILL help us turn a wider lens on all the ills of society that Scorpio season dredged from the muck. What can we DO about this—and how can we create a world that works for everyone?
With denial-queen Neptune ending a five-month retrograde the next day, we'll be ready to shake out the rugs instead of sweeping things under them. Here's hoping healing Neptune in compassionate Pisces and the Sun in superconnector Sagittarius can help us channel outrage into action.
And despite all this...it's the holiday season.
If 2017's surreal, post-truth climate has taught us anything, it's that we can (and do) live in parallel, coexisting realities all at once. We CAN simultaneously speak out against injustice and enjoy some damn eggnog and fruitcake. (Who doesn't deserve a treat for making it this far into the year?)
But let's do it with our eyes open. If conversation around the family Thanksgiving table starts tipping into treacherous terrain—or your rage gets stuffed down further than cornbread in a turkey's cavity—change the subject. Be firm. Insist. Think of it like a seasonal cold: Just because someone's sneezing and coughing doesn't mean YOU have to get infected.
With that, we tip a mug of mulled cider—spiked with a shot of November's truth serum—to you.
If you're looking to take a deeper dive into your astrology, start by reading up on your moon sign and what it means for your emotions.