Design Experts Swear By These Nourishing Home Retouches
mbg Sustainability Editor
By Emma Loewe
mbg Sustainability Editor
Emma is the Sustainability Editor at mindbodygreen and the author of "The Spirit Almanac: A Modern Guide To Ancient Self Care."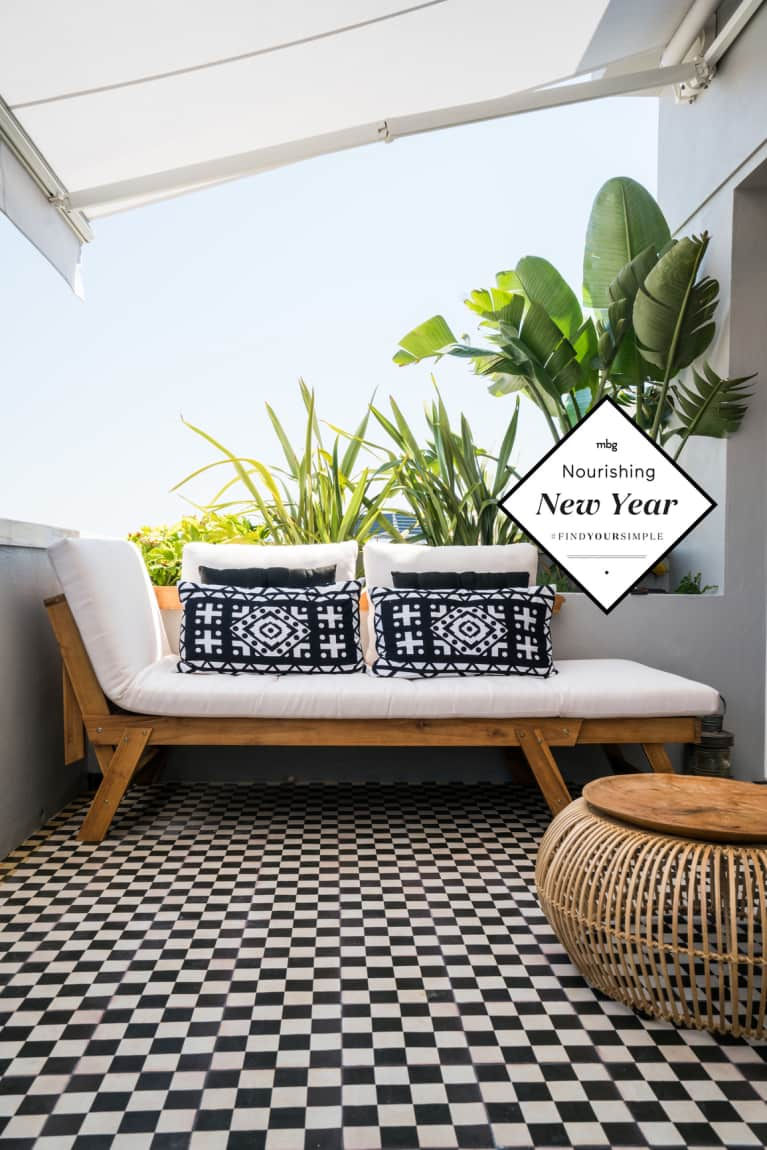 Our editors have independently chosen the products listed on this page. If you purchase something mentioned in this article, we may
earn a small commission
.
Don't you push yourself enough? This January, nurture yourself with Nourishing New Year. Instead of focusing on flaws to fix, this January we're nurturing ourselves back to balance with simple, grounding steps. Each day for the next two weeks, mindbodygreen will share a story a day inspiring you with simple ways to nourish yourself, your community, and our world through eating, moving, giving, creating, and loving. Follow these common-sense principles along with us for the next 14 days and start the new year with a calm mind, connected spirit, and balanced body. Check out the full plan here!
A clean, thoughtfully curated home can help ease stress, boost happiness, and bring big dreams to life. And luckily, you don't need to spend your life's savings on a total overhaul to snag some of these benefits. A few simple seasonal tweaks can set you on your way to an outer environment that promotes inner peace and well-being.
To ring in the new year, we polled leading feng shui experts, energy healers, interior designers, and architects for the quickest ways to an abundant home. The resulting expert-approved mini makeover will make walking into your front door feel like a warm hug and support you through all of your 2018 intentions.
1. Add pops of bright color.
Even for the minimalists among us, a little bit of the right color can go a long way. "Ultraviolet is Pantone's color of the year for 2018 for good reason," explains holistic designer, feng shui master, and two-time mbg class instructor Dana Claudat. "Violet is uplifting, meditative and, in feng shui, ultra-prosperous." Bring on the purple! Claudat explains that in feng shui, violet is especially potent when it appears in the home's money section. So if you're looking to welcome more abundance of the cash department, place a purple vase, throw pillow, or piece of art in the far left corner of your home, as seen from the front door.
Orange is another vibrant shade that holds special meaning in feng shui. Amanda Gibby Peters, the feng shui expert behind Simple Shui, says that crafting a sweeter life could be as simple as placing a bowl of nine oranges on your dining room table. "If oranges aren't your thing, punctuate a room with the color orange instead," she says. "Orange suggests a healthy, happy spirit, both necessary ingredients for an abundant life."
Finish your colorful escapade by adding a splash of red to your front door in the form of a hanging wreath dotted with crimson or a red pot with a lush plant in the entryway. Peters refers to the color as an abundance catcall, explaining "It's symbolic of fire and blood, sparking our life force and fueling courage."
2. Throw in some lucky plants.
According to Tanya Meda, an interior designer with a damn enviable house of her own, a nourishing home is one that makes you smile. "To create positive energy in any space, surround yourself with only things that you love. It's really that simple," she says. For her, plants do the trick. "They help create a positive environment, both in mind and spirit. Candles and fairy lights add incredible warmth to a space and create an environment that immediately welcomes everyone in."
Greenery is more than just aesthetically pleasing; bringing the outdoors in is a proven way to boost mood. "People tend to thrive and be more productive around nature" explains Amanda Sturgeon, CEO of sustainable architecture firm International Living Future Institute and author of Creating Biophilic Buildings. "When they're able to see the patterns of light through the day or what the weather is like, they have a greater sense of inner calm and an ability to be at their best."
Not sure which blooms to feature first? If you're looking to ring in healthy relationships in 2018, Peters suggests going with soft hues like pinks. If you're after more general positivity, feng shui expert Marianne Gordon recommends a Crassula Ovata, or jade plant, and bamboos stalks, especially in groups of five, seven, eight, or nine.
Even if you're not ready to commit to a whole-house cleanse for the new year (though if you are, we have you covered), Claudat recommends at least giving your front door a good wipe-down. "Your front door is literally where you welcome things in, so the more it's cared for, the more magnetic it will be," she explains. "Wash it down, adding a few drops of mint or lavender essential oil to the water for some extra-bright energy." Finish by sweeping the floors in your entryway, a symbolic way to clear the path for fresh, new gifts.
4. Reinforce your New Year's intentions.
If you have a particular goal in mind for 2018, carving out physical space for it at home may help bring it into being. For example, dedicate a small manifestation altar to it; fill it with objects and imagery that remind you of your intention. Peters says imagery that depicts something soaring—a bird, a balloon, etc.—only helps boost the abundance.
5. Grow your own good vibes.
This year, take your smudging ceremony up a notch by growing your own unique herbal bundle. Claudat recommends starting with smell-good, low-maintenance plants like rosemary and lavender, trimming clippings of equal size, wrapping them in twine, and letting them dry for one to two weeks before burning them like you would sage or palo santo.
Looking for more design inspo? This bright, colorful Parisian pad just may be the happiest home you've ever seen.