Start Your Week Off Right With This 5-Minute, Nontoxic Desk-Cleaning Routine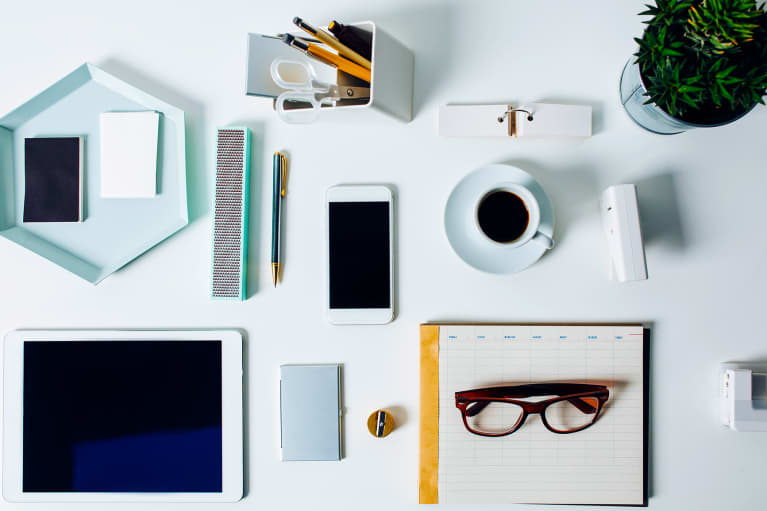 Our editors have independently chosen the products listed on this page. If you purchase something mentioned in this article, we may
earn a small commission
.
Seeing a mess does not inspire organization or workflow, so keeping the desk area, no matter how big it is, clean and tidy is important. Here's a guide to everything you need to know.
A vinegar mix to shine your computer screen.
Computer screens, especially with the touch-screen technology we have today, get fingerprints, food splatters, and dust that we don't notice until the light hits it just right. Most computer screens can be cleaned with simple water. If that doesn't do the trick, add some vinegar to the mixture.
Ingredients:
¼ cup white vinegar
¼ cup distilled or boiled and thoroughly cooled water
Clean routine:
It's important to start with a computer screen that is cool, so power off and unplug your computer or laptop before cleaning. Mix the white vinegar and water together in a small bowl, and using a lightly textured cloth, clean the screen in a left-to-right, top-to-bottom motion, being sure to get the edges well. For any tougher spots, a gentle circular motion may help loosen grime. Let the screen dry completely before plugging in or turning on the computer.
A scrub to make your keyboard shine.
The computer itself, including the keyboard and mouse, is likely just as dirty, if not dirtier, than your screen was, so why not clean both while you're at it? Don't spend money on compressed air, which also contains toxic chemicals. We'll add a little alcohol to this mixture to really get some of the keyboard and mouse germs gone, and if there's a texture to your computer facing, it will get into those crevices nicely, too. If you've already made the computer screen cleaning mixture, simply add the 2 tablespoons of rubbing alcohol and proceed to clean the rest of the computer.
Ingredients:
¼ cup vinegar
¼ cup distilled or boiled and cooled water
2 tablespoons rubbing alcohol
Clean routine:
Mix well in a small bowl. Again, only clean your computer or laptop when it is cool and unplugged.
Exterior of computer: Dip the edge of a clean rag in the mixture and clean well. If your computer surface has a grain to it, wipe with the grain.
Keyboard: Unplug or turn off your keyboard if necessary. Let it cool completely before proceeding. Some keyboards you can easily pop the letters off to clean it more thoroughly, but unless you are sure you'll be able to get them back on easily, I recommend leaving them on. A straightened-out paper clip can be inserted around the base of each letter to get any lint buildup free. Then use a cotton swab dipped in cleaning solution to get around, between, and behind each key. Clean the rest of the keyboard with a rag dipped in cleaning solution. Let dry thoroughly before using.
Mouse: This mixture works for touchpads built into laptops and external handheld mouses. Be sure to unplug or turn off any external mouses and let them cool before cleaning. Use the paper clip and cotton swab dipped in the solution method to clean your mouse. Let dry thoroughly before using.
Sanitizing wipes for an everyday touch-up.
Daily wipe downs of your desk and phone will keep your office nice and tidy until you feel compelled to do another full-on clean. You can really use these on just about anything: to clean a small desk fan, wood, glass, ceramics, laminate, and even your desk chair. These wipes are handy for the office because they are disposable, so you don't need to run to the laundry room with a dirty rag each time you clean your desk. This is one area where I think the convenience of disposable is worth it. Of course, feel free to use regular cloth wipes if you prefer; the process is identical and you simply wring the extra solution out of the wipe, clean the desk, then throw the wipe in the laundry.
Ingredients:
¾ cup vinegar
¼ cup distilled or boiled and cooled water
¼ cup rubbing alcohol
15 drops tea tree essential oil
1 roll of half-sheet paper towels
Container that will fit half the paper towel roll and solution with a tightfitting lid
Clean routine:
Cut the paper towel roll in half so you have two halves that look like toilet paper rolls. You'll want to use a heavy-duty serrated knife for the best results. Remove the cardboard roll.
Then, in a small bowl, combine the vinegar, water, alcohol, and tea tree oil. Mix well. Place one half of the paper towel roll into the container and pour the solution on top, being sure to saturate all of the paper towels. When you need to use a wipe, pull from the inside of the roll. Use the wipe to thoroughly clean the surface of your desk, drawer handles, and the handset and receiver of the phone. Toss the paper towel when you're through.
Psst. here's your cheat sheet for using nontoxic cleaners outside the office, too.