3 Tips From Top Dermatologists Anyone Can Follow For Glowing Skin
mbg Beauty Director
By Alexandra Engler
mbg Beauty Director
Alexandra Engler is the Beauty Director. Previously she worked at Harper's Bazaar, Marie Claire, SELF, and Cosmopolitan; her byline has appeared in Esquire, Sports Illustrated, and Allure.com.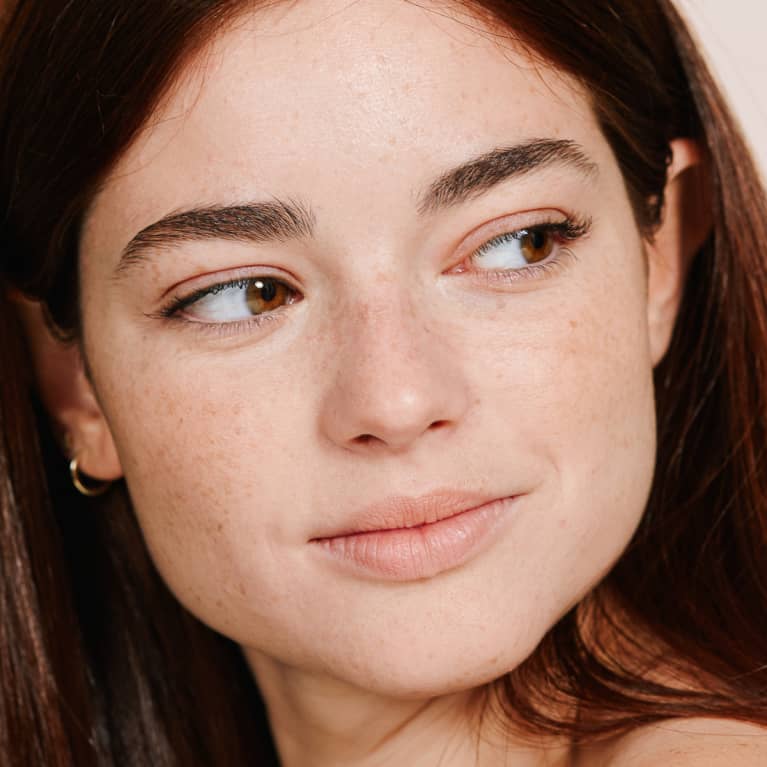 This article was produced to support the mindbodygreen supplements+ line. Our supplements adhere to the highest standards of ingredients and quality. We hope you enjoy these products, for more information
click here
.
I often say there are no true rules in skin care: that with every piece of advice comes an exception. And I believe that—but I also believe that there are some pieces of tried-and-true tips that, for the most part, are good for us all. Because while we're all different and have different needs, our skin is an organ—and therefore has some general guidelines of care that we'd all benefit from following.
Here, three pieces of advice that derms recommend for just about anyone:
1.
Feed your skin with skin-supporting nutrients.
Your skin can't thrive without the right nutrients. No, you may not see immediate effects from eating a dark leafy green salad, but with a consistently balanced diet, your overall health will likely improve—and therefore your skin's as well. The problem is that it's hard to get all the nutrients you need in our modern diet.
"As a holistic dermatologist, first and foremost, I believe that skin care goes from the inside out. Therefore, I'm a big believer in supplements. Sure, it'd be great if we could get all the nutrients we need from our diet, but, unfortunately, we can't, and it's unrealistic to expect us to," says board-certified dermatologist Keira Barr, M.D.
And to find a skin-supporting supplement, look no further than mindbodygreen's nr+. The potent combination of actives supports skin health and longevity internally. There's the hero ingredient, nicotinamide riboside (NR), which when ingested turns into nicotinamide adenine dinucleotide (NAD+). NAD+ is a coenzyme found in all living cells, and it plays a vital role in energy metabolism and maintaining proper cell functioning. Levels of NAD+ also happen to decline significantly as we get older, and these declining levels apparently drive the aging process.
The supplement also contains a trio of skin-supporting additional ingredients, like rhodiola, phytoceramides, and astaxanthin.* Rhodiola is a potent adaptogen to neutralize oxidative stress (a common trigger for aging skin that can come from prolonged anxiety, poor diet, bad sleep, and more).* Astaxanthin is an antioxidant that's particularly effective at fighting photodamage, as well as dealing with the free radical damage caused by internal and external aggressors.* And phytoceramides help enhance skin barrier function—one of your skin's most vital roles.*
"A smart skin care supplement can truly enhance the appearance of your skin," says Barr.*
You've heard it before, and you'll hear it again: Wear SPF daily and protect your skin from sun damage and other environmental stressors. This includes during the winter—the sun peeks through those clouds on overcast days, too. It also includes days you mostly spend indoors: While UVB rays (the kind that give you sunburns) are blocked by glass, UVA rays are not; this should give you enough reason to slather on some SPF: UVA rays are the main contributor to photoaging.
We recommend a nice mineral option: "Mineral sunscreen ingredients zinc oxide and/or titanium dioxide sit on top of the skin to scatter and deflect UV rays, physically blocking them from penetrating the skin, so make sure to apply these products last," says board-certified dermatologist Hadley King, M.D. And if you want some easy options for any skin type or tone, here are our favorites for the face.
3.
Wash your face every evening.
Whether you wear makeup or not, slather on a plethora of skin care products or keep it simple, stay indoors or go on a rigorous hike: Wash your face in the evening. This is because small particulate matter, like pollution, dust, and grime, collect on your skin—wreaking havoc and free radical damage as you sleep. "If you only want to do it once a day, do it at night so you can take all the pollution off before you go to sleep," board-certified dermatologist Jeanine Downie, M.D., explains.
Celebrity esthetician Joanna Vargas agrees: She previously tells us, "Your skin must be clean before bed, so you can repair the skin overnight and not break out more." Your skin is more permeable at night, which makes layering on actives and creams before bed all the more important. And what do you need to ensure those ingredients do their job? Fresh, cleanly washed skin.