6 NYFW Moments That Prove Eco-Fashion Is Coming For Your Wardrobe
Our editors have independently chosen the products listed on this page. If you purchase something mentioned in this article, we may
earn a small commission
.
September 13, 2018 — 9:29 AM
New York Fashion Week: The glitzy arena where old trends die out and new ones are born. This in-one-day-out-the-other ethos has made fashion one of the world's most polluting industries, with textiles composing about 6.1 percent of our landfills, according to the U.S. Environmental Protection Agency. Luckily, some designers are starting to move the needle on what it really means to be "fashionable" by taking clothes made using environmentally friendly fabrics and production practices and making them super cool. Here are a few moments from this year's NYFW that proved sustainable fashion is on the rise:
1. 3D-printed clothes made their runway debut.
This season, designer Julia Daviy did something that's never been done before: She made an entire womenswear collection on a 3D printer. The technology is better known for pumping out rigid materials, so while brands like Rothy's have used it to make its recycled plastic shoes, that's been about the extent of its runway time. But Daviy found a way to use a large-scale printer to make fabrics out of raw materials such as recycled plastic. An ode to natural ecosystems, her Liberation Collection featured skirts inspired by the exoskeletons of sea urchins and dresses that mimic the lines of sea reefs—all of which were less labor- and resource-intensive to make than traditional garments. Though a lot of the fabrics used mimicked leather, they were all made without animal products and left little-to-no waste behind.
2. Tencel went high-fashion.
Tencel is an emerging fabric in the sustainable fashion world that's made from the pulp of eucalyptus trees—fast growers that don't require pesticides and herbicides. The closed-loop process used to make Tencel garments also requires less energy and water than the one used to turn, say, cotton into a T-shirt. This year, during the couture division of NYFW, designer Pawan Kumar unveiled a line that blends Tencel with upcycled cotton scraps, bringing the materials to a high-fashion stage.
"As an expert in sustainable finishing and fashion design, I always incorporate eco-friendly fabrics, wash processes, and embellishments into my collections," Kumar tells mbg. "The soft hand, gorgeous texture, and feminine drape of these fabrics are the design aesthetics that made them the perfect fabrics for [the collection]."
3. The OG eco-designers had a strong showing.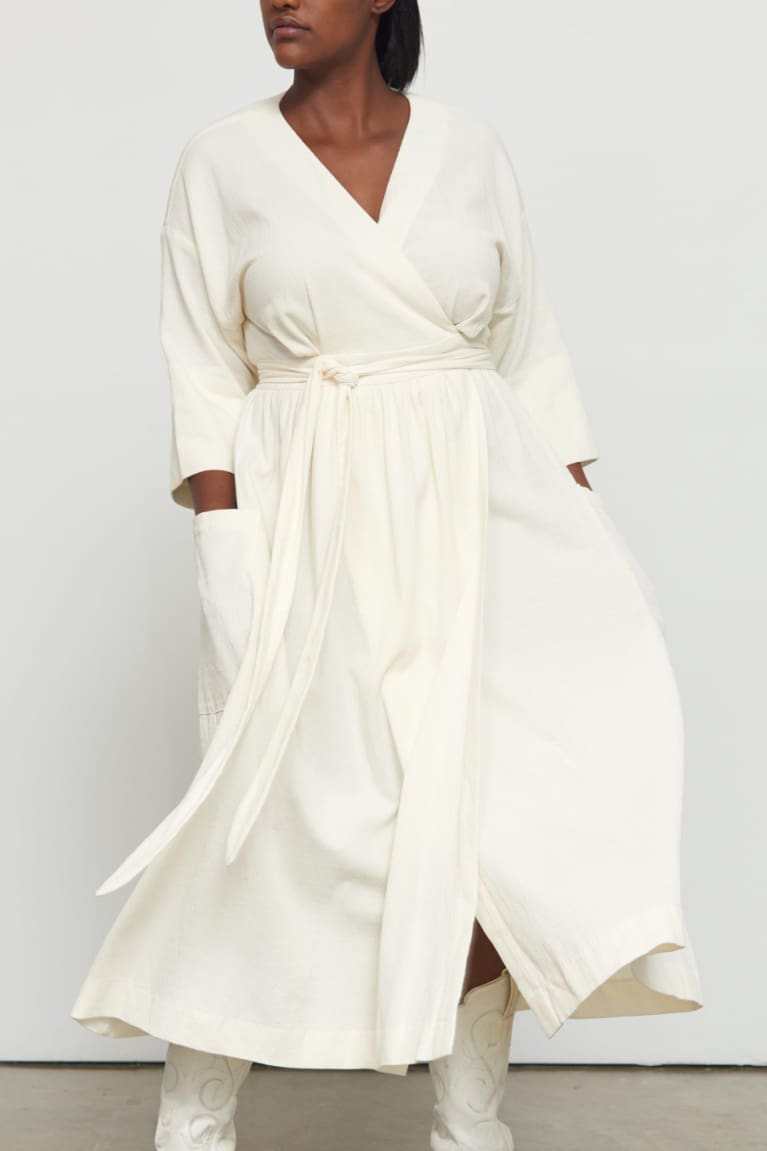 For years, designer Mara Hoffman has called on the fashion industry to change its ways. "The level at which we are producing haunts me," she told mbg in 2017. "If we're not going to stop producing, we need to slow down and change all of our manufacturing processes and the way we're treating people within those processes. We need to figure out ways to deal with our waste and take more responsibility for it."
The NYC-based designer is trying to lead by example with clothes that are made using environmentally friendly materials and techniques, and designed to be part of a capsule wardrobe that lasts a lifetime. For her latest collection, she used organic materials inspired by patterns of nature and displayed them in a private showroom lined with massive piles of dirt and flowers. The result was meant to be a kind of performance art "about letting go of grief and putting it back into the earth," the designer told Vogue.
Avery Verse, another brand that uses more environmentally friendly production practices, also put on a planet-centric show with a line of leather handbags that are dyed using vegetables. Vegan sneaker behemoth Veja also announced a new product in tandem with NYFW—shoes printed with illustrations inspired by Here We Are: Notes for Living on Planet Earth, meant to call attention to some of the world's threatened creatures.
4. Industry leaders met to discuss the future of fashion.
A series of "Wear Your Values" panels co-hosted by Remake and the Human Rights Foundation gathered fashion insiders like Carmen Gama and Eileen Fisher to discuss the intersection of fashion, human rights, and technology. "Set during NYFW, the event is ultimately about fostering community and demonstrating how fashion can be both sustainable and a tool for activism," Elizabeth Suda of Article 22, an ethical jewelry line featured during the event, told mbg.
5. New, buzzy green brands emerged to lots of fanfare.
Actress Rosario Dawson made waves on the runway this year with her new fashion-company-meets-artist-collective, Studio 189. Co-founded by marketing exec Abrima Erwiah, the new brand is a bright ode to African fashion that's produced by African artisans, mainly from Ghana. "Studio One Eighty Nine celebrates artisans, women's empowerment and poverty reduction through the agency of fashion. At the heart of the Studio One Eighty Nine social enterprise is the concept of building a fairer fashion industry by creating artisan-produced collections," reads the company's website. Dawson and Erwiah won the coveted Council of Fashion Designers of America sustainability award for their sustainable commitments earlier this year.
6. There were deals on responsibly made garments.
New brand For Days sells its line of basic tees on a membership model in an attempt to cut down on waste. Members can exchange old shirts in exchange for new ones at any point, and their old ones will be deconstructed and turned into new yarn—an entirely closed-loop process. At NYFW, the e-commerce company set up a pop-up store where guests could shop their collection and learn more about this new industry model. "I really felt like the world needed a new model for commerce that empowered the customer to participate in something better and bigger, so they could have everything without creating waste," For Days CEO Kristy Caylor told mbg earlier this summer.
There's lots of progress happening on the streets of New York, and the fashion revolution is only beginning: London Fashion Week kicks off tomorrow—and word on the street is it will be an entirely fur-free affair.