Why You Should Let Someone Else Make Your New Year's Resolution For You
mbg Contributor
By Allison Task
mbg Contributor
Allison Task is a New Jersey-based author and career and life coach who helps clients move through transitions. She obtained her master's in coaching and nutrition from NYU and her bachelor's in human development and family studies from Cornell University.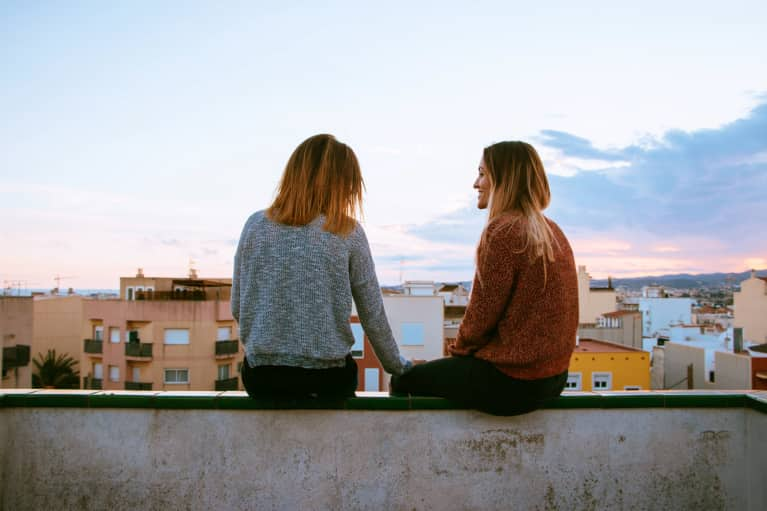 You probably know how to make a resolution that doesn't work: Pick something you don't like about yourself and pledge to change it. Weight loss, exercise, and changing drinking habits are all popular choices—especially after the holiday binge. Unfortunately, many people abandon their resolutions and go back to old habits within a few weeks, if not days.
So how do you set a more effective resolution, one that results in meaningful, lasting improvement to your life?
Find a collaborator.
An observer's perspective.
In 2011, my husband and I decided to set goals together for the first time ever, and he helped me develop one of the most effective New Year's resolutions I've ever had. He saw that I was often worried about what I didn't have. He asked me to consider making 2012 the year of abundance. Instead of spending my energy being distressed about what I didn't have, he invited me to find the eustress—the positive, hopeful energy to believe that what I wanted was possible and pursue it. I accepted his resolution mindset and behavior-shift challenge.
In that year, I used IVF to become pregnant with twins, enjoyed the most lucrative year of my professional life to that point, had my food and travel show renewed by Yahoo, and purchased a five-bedroom home with lots of land and wildlife. Abundance!
By inviting my partner to establish my resolution, he gave me perspective as to where I was limiting myself and invited me to shift my thinking to envisioning the solutions I wanted instead of focusing on the gaps between what I wanted and didn't have.
It's hard to see your face without a mirror, yes? The people closest to you can help you see the forest and not get stuck in the trees. My husband helped me find the big-picture growth opportunity, and by co-creating the resolution, he had skin in the game and provided the kind of accountability that is the difference between talking about a goal and actively pursuing it.
How to create your New Year's resolution board.
Companies have boards of directors, and you have friends, family, and loved ones. When a CEO wants some support for a new initiative or strategy, she presents that idea to her board. The board wants the best for the company and helps guide the CEO to a smart choice.
Could you identify some people who could be on your New Year's resolution board? Your partner? Best friend? Boss? A teacher? It can be as simple as one person or as many as three. If you invite more than one person, consider aiming for some diversity if possible: someone from work, your social life, and a family member. You might also consider gathering a small group of people in which you all know each other well and can together be a board for each person in the group.
Once you have your board settled, approach them and ask for some guidance as you embark on a behavior change for 2019. Here are some questions to prime the conversation:
First, focus on your strengths.
What do you think I am good at? (Focus: skills.)
What are some unique qualities that I bring to the world? (Focus: attitude, style, personality.)
What did I do this year that was remarkable? (Focus: achievement, repeatable skills.)
Next, identify a behavior to add or a habit to develop.
Is there something that you hear me complain about or observe as a weakness that might be holding me back? (Now we're getting to the meat!)
What's a key behavior I could add this year that would help me increase my effectiveness or happiness? What habit could I develop?
If you could set my resolution in 2019, what would it be? To be specific, what's a behavior I could shift/change/start that could set me up for a desirable outcome? Why do you think that would be helpful for me?
Email the question list to your board and give them time to think through and write out their responses. Then get together to swap answers.
This strategy isn't about putting other people in charge of your life; it's about gaining a little perspective from the people who interact with you regularly and therefore know you well. You don't have to roll with the goals other people suggest for you, but take their advice and consider how you can mold that into a resolution you can commit to.
After you get their takes, sit down with those ideas and get clear on why adding each behavior will change your life significantly. Consider how life could be different on December 31, 2019, if you make this change. Why is this change important for you at this time? If you make this change, how will your life be different? Create a vision for how your future will be different, and better, because of this choice.
After you complete the visioning exercise, it will become abundantly clear which change would be the most beneficial, and you will have increased your urgency as to why that change is important now. Commit to one focus for the year.
Stay accountable to your team.
Once you've determined your focus and the behavior you want to change, make a plan. How can you make this happen? If you're reducing your drinking, what can you do instead? If you're committed to exercise, what exercise would you most enjoy? And of course, perhaps the most important question: Who can support you?
Remember, since the people closest to you have helped you choose your behavior change, they are invested. Let them know what you choose, and invite them to become your accountability partners as you pursue this. Ask if you can check in with them regularly as you pursue your 2019 focus. Put it in your calendar, and reach out on the first of each month to update them on your progress.
By collaborating with those closest to you on your 2019 resolution, you'll be more likely to achieve it and make a positive, meaningful impact on your life. Life shared is more joyful, and collaborative resolutions are more likely to be achieved. Here's to a happier, more effective, group-powered 2019!