Researchers May Have Found A Way To Reverse Memory Loss
mbg Associate Movement & Wellness Editor
By Ray Bass, NASM-CPT
mbg Associate Movement & Wellness Editor
Ray Bass is the associate movement and wellness editor at mindbodygreen and a NASM-Certified Personal Trainer. She holds a degree in creative writing from the University of Pennsylvania, with honors in nonfiction.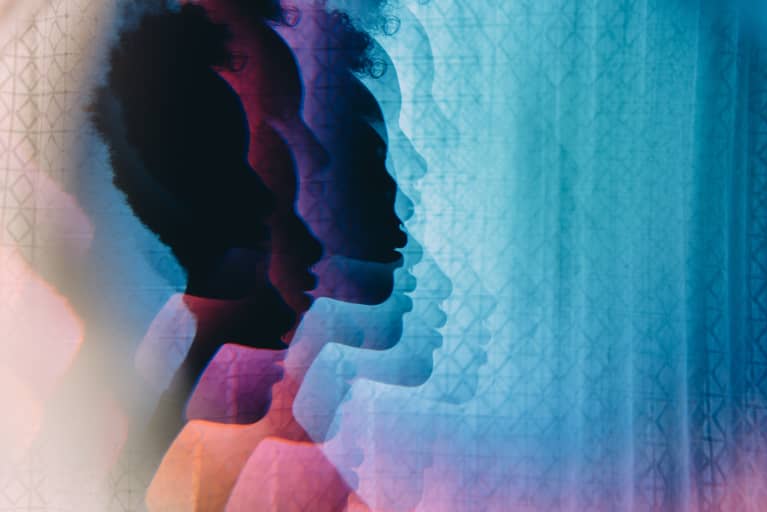 April 17, 2019 — 20:00 PM
Taking care of our brains is more important and urgent than ever. By the year 2050, 14 million people in the U.S. will need full-time care for Alzheimer's disease. And that's not including the 5.7 million Americans currently living with neurodegenerative disease, and the 5 million with age-related dementia. Declining brain health is the fastest growing epidemic in the world—and once it starts, it's almost impossible to reverse. Or at least we thought so, until now.
A new study from Northwestern University found that when applied precisely to the brain's memory center, electromagnetic pulses improved the memory of older adults with age-related memory loss. Their memory improved so much so that doctors likened it to the memory levels of young adults.
"Older people's memory got better to the level that we could no longer tell them apart from younger people," said Joel Voss, associate professor at Northwestern University Feinberg School of Medicine. "They got substantially better."
Here's what the study looked like.
Researchers used Transcranial Magnetic Stimulation (TMS) to target the hippocampus of participants—a region in the brain that degenerates as we get older, which consequently causes memory decline.
During the study, younger and older adults were given a memory test in which they learned "arbitrary relations between paired things, such as this object goes on this spot on the computer screen." Younger adults scored 55 percent correct, while older adults scored below 40 percent correct.
Following the test, researchers applied "high-frequency repetitive magnetic stimulation" to their brains for 20 minutes a day for five consecutive days. Participants were given a new memory test 24 hours after the final stimulation, and this time the older adults scored at the level of the younger adults. As Voss notes, this study shows it's possible to alter memory ability in older adults using this type of brain stimulation.
Although we can do our best to ward off memory loss by tending to our brain health with preventive measures like eating a balanced diet, exercising, and even finding our purpose, researchers note that most of us will experience a decline in our memory as we age.
That's why this study is so incredible—it shines a promising light on the future of brain health and memory recovery. Previously there had been no evidence indicating that memory impairment could be rescued at all, but now there's hope that it can through this type of brain stimulation.
And while we think these findings have a lot of potential, we're reserving some of our optimism for the further tests that employ this type of brain stimulation. Voss himself said he isn't certain how long the memory improvement effects could last, and that his next test will involve stimulating brains of people with early stage Alzheimer's disease for longer periods of time.
In other words, there is no definitive, widely available cure for existing memory loss yet. But this is a step in the right direction, and we're excited to see what comes next.
The study is published in Neurology, the medical journal of the American Academy of Neurology.