Can Tea Improve Your Brain Structure? Science Says Yes
mbg Health Contributor
By Gretchen Lidicker, M.S.
mbg Health Contributor
Gretchen Lidicker earned her master's degree in physiology with a focus on alternative medicine from Georgetown University. She is the author of "CBD Oil Everyday Secrets" and "Magnesium Everyday Secrets."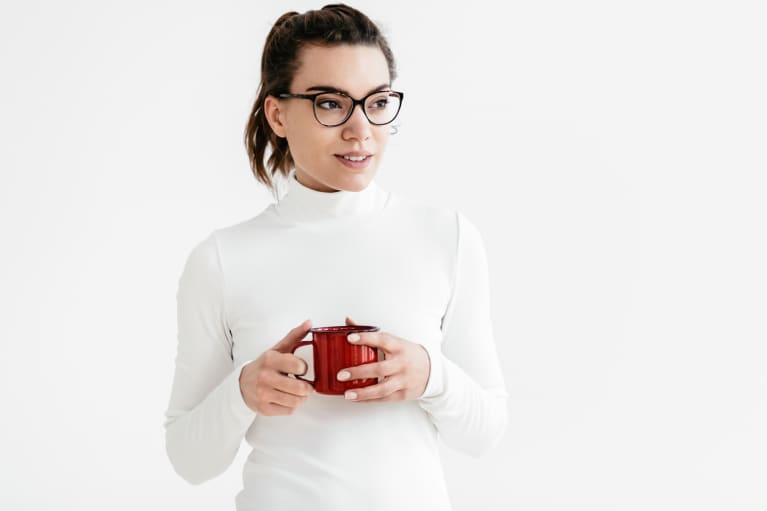 September 16, 2019 — 21:39 PM
Most of us are already familiar with the health benefits of tea. Harvard-led studies have shown that regular tea consumption has been linked to a lower risk of diabetes and cardiovascular disease; a longitudinal study, published in 2017, showed that daily consumption of tea can reduce the risk of cognitive decline in older persons by 50%. As it turns out, the benefits of tea are pretty hard to argue with.
And now, the authors of that 2017 study are at it again. Their new research, published in the journal Aging, shows that regular tea drinkers have better-organized brain regions compared to non-tea drinkers.
How tea benefits your brain.
From their previous research, it's clear that tea can benefit the brain in terms of cognition, but in this study, the researchers—from the National University of Singapore (NUS)—decided to dive deeper to investigate exactly how tea affects specific brain networks. To accomplish this, they gathered data about the lifestyle choices and physical and mental health status of 36 older adults. Then, they conducted neurophysiological testing and took MRIs of the participants' brains.
The results showed that the participants who consumed oolong, black, or green tea at least four times a week for 25 years displayed brain regions that were connected in a more efficient way. As the lead author on the study, an assistant professor named Feng Lei, explained, "Our results offer the first evidence of positive contribution of tea drinking to brain structure, and suggest that drinking tea regularly has a protective effect against age-related decline in brain organization."
What "improving brain structure" actually means.
So what does a well-organized brain actually mean? According to Lei, "consider brain regions as destinations, while the connections between brain regions are roads. When a road system is better organized, the movement of vehicles and passengers is more efficient and uses less resources. Similarly, when the connections between brain regions are more structured, information processing can be performed more efficiently." As you might expect, organized brain regions are associated with healthy cognitive function.
In the future, the team plans to figure out how functions like memory are related to these specific brain connections. This information could be used to help support our brain as we go through life. For now, we can rest assured that every cup of tea we drink supports our health in more ways than one. And if that's not motivation to brew some Earl Grey or whip up a matcha latte, we don't know what is.