New Study Gets Fascinating Insight Into How Our Brains Change When We're Outside
mbg Contributor
By Leigh Weingus
mbg Contributor
Leigh Weingus is a New York City based freelance journalist writing about health, wellness, feminism, entertainment, personal finance, and more. She received her bachelor's in English and Communication from the University of California, Davis.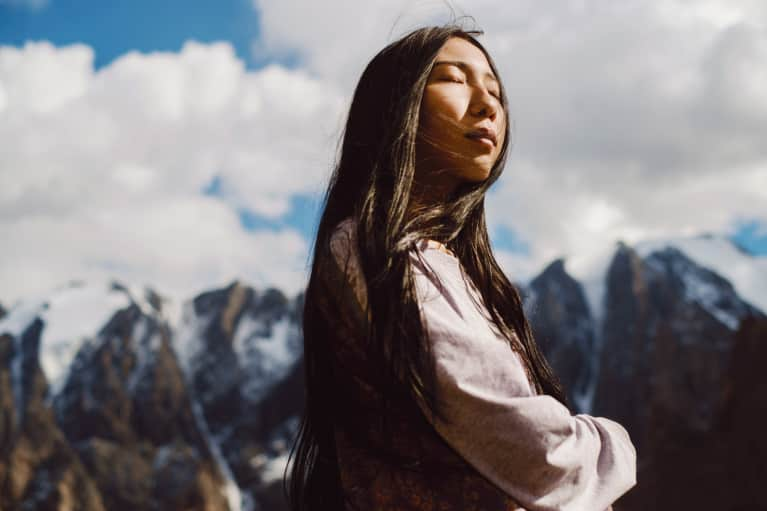 January 31, 2018 — 10:05 AM
Ever feel like health news is too overwhelming, fast-paced, or hard to decipher? Us too. Here, we filter through the latest in integrative health, wellness trends, and nutrition advice, reporting on the most exciting and meaningful breakthroughs. We'll tell you exactly what you need to know—and how it might help you become a healthier and happier human.
It's no secret that getting outside is good for the mind and body, but neuroscientists at the University of Alberta recently took a deep dive into exactly what happens to the brain when we perform tasks outside versus in a controlled environment like a lab.
For the study, researchers put EEG equipment into the backpacks of study participants and had them identify changes in a set of stimuli while riding a bike inside, and then had them perform the exact same experiment outside. They saw major changes in how the brain responded to riding a bike outside versus inside.
"Something about being outdoors changes brain activity," explained Joanna Scanlon, graduate student and lead author on the study. "In addition to dividing attention between the task and riding a bike, we noticed that brain activity associated with sensing and perceiving information was different when outdoors, which may indicate that the brain is compensating for environmental distractions."
While the researchers still have a lot to understand about how the brain changes when it's outside, researchers hope to eventually use this information to make roads safer for bikers, runners, and pedestrians. Because we know there are endless benefits associated with exercising outside—improved mood, a stronger immune system, and improved heart health, to name a few—making outdoor exercise as safe as possible could be an incredible way to boost our overall mental health.
Committed to getting outside more in 2018? Here's why that's a good idea.