Hey New Runners, Marathon Training May "Reverse" Aging (So Lace Up)
mbg Associate Movement & Wellness Editor
By Ray Bass, NASM-CPT
mbg Associate Movement & Wellness Editor
Ray Bass is the associate movement and wellness editor at mindbodygreen and a NASM-Certified Personal Trainer. She holds a degree in creative writing from the University of Pennsylvania, with honors in nonfiction.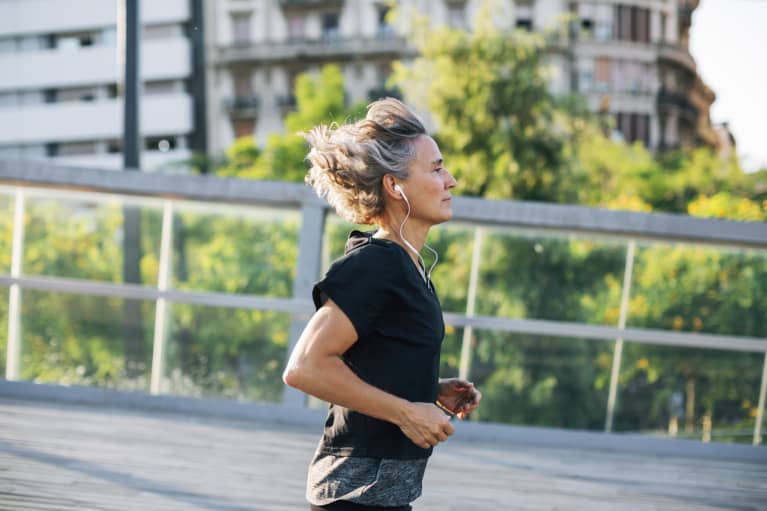 I don't have numbers on this, but I would venture a guess that more people are running marathons now than ever in the history of mankind. Running has always had a loyal and loving following, but that following has expanded beyond those who run professionally or race for time—now it includes those who run as a means of exercise, mental clarity, and joy.
I know plenty of people who said they'd never run a marathon and yet decided to train and make it happen. Not only did this check something off their bucket list, but apparently, according to new research, it reversed their biological markers of aging. That's right—they basically came away from the training and race younger than they were before.
A new study from the European Society of Cardiology investigated whether training for a marathon could modify aortic stiffness, even in novice runners. They found that training for and completing a first-time marathon "reverses" aging of major blood vessels.
The study examined 139 healthy first-time marathon runners between the ages of 21 to 69. They were advised to follow a beginner marathon plan (think Hal Hidgon Novice 1), meaning they ran about 6 to 13 miles a week for six months and then completed the London Marathon.
"Novice runners who trained for six months and completed their first marathon had a four-year reduction in arterial age and a 4 mmHg drop in systolic blood pressure," said study author Anish Bhuva. "This is comparable to the effect of medication, and if maintained, translates to approximately 10% lower risk of stroke over a lifetime."
This is particularly remarkable because our blood vessels stiffen as we age, which can increase our risk of stroke and heart disease, even if we're otherwise healthy. That said, after training for and running a marathon, participants' aortic stiffness reduced and the aorta was four years younger than before training. In other words, they decreased the age of their cardiovascular system. The best part? Anyone can reap the benefits.
"You don't have to be an elite athlete to gain the benefits from marathon running," says Bhuva. "In fact the benefits appeared greatest in those who were older and slower. By completing training and getting to the finish line, it is possible to rejuvenate the cardiovascular system of first-time marathon runners."
Bhuva emphasizes that training for a marathon is a great motivator to stay active and can be a gateway to lifelong running, which can increase the likelihood of sustaining the benefits.
So if you have marathoning on your mind, we say go for it. After all, you're not getting any younger (at least, not until you start running).