An Only Child Is More Likely To Be Obese, Study Finds
mbg Editorial Assistant
By Jamie Schneider
mbg Editorial Assistant
Jamie Schneider is the Editorial Assistant at mindbodygreen with a B.A. in Organizational Studies and English from the University of Michigan. She's previously written for Coveteur, The Chill Times, and Wyld Skincare.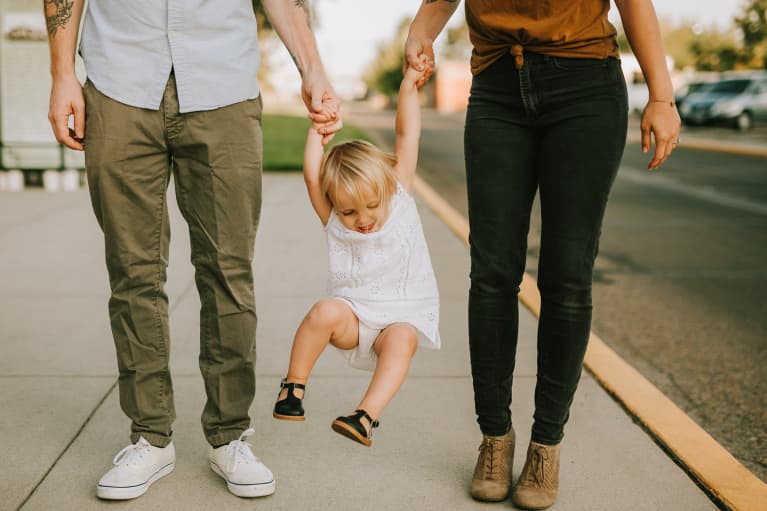 November 6, 2019 — 22:04 PM
Only children seem to get a bad rap when it comes to science. We can blame this negative association to a study that dates all the way back to 1896, when a scientist named E.W. Bohannon collected data from a questionnaire and deemed only children as self-centered and spoiled. And that was it—the reputation took hold, and many myths (usually stemming from select encounters) started to pop up, detailing only children's hypersensitivity, selfish tendencies, and likelihood of hypochondria.
Well, according to a new study published in the Journal of Nutrition Education and Behavior, there might be a new characteristic to add to the only child stereotype, one that actually may be grounded in research. This new study claims only children (the researchers called them "singletons" for the purpose of this study, which honestly makes them sound like software designs) tend to be more obese compared to children who have siblings.
Here's how they measured only children's food intake: Mothers kept self-reported daily food logs for three days (two weekdays and one weekend day) and completed a Family Nutrition and Physical Activity questionnaire so researchers could measure typical family eating behaviors. During weekdays, teachers kept food logs to measure the food these children ate while at school.
The results? Only children appeared to have fewer healthy family eating practices, beverage choices, and a lower total score on the Healthy Eating Index on both weekdays and weekends.
What's interesting is that not only were the singletons themselves found to be more obese, but their mothers tended to be obese as well. The researchers found that a mother's BMI had a stronger connection to their child's BMI than only child status. Meaning, even if a child had multiple siblings, if their mother was obese, they could face a higher risk of the disease.
There are a number of reasons only children face obesity more than children with siblings. Lead author Chelsea L. Kracht, Ph.D., believes families with multiple children require planning and more organized meals. "With multiple children you're scheduling a little bit more of your meals. So we're going to have more at-home meals. We're probably going to have less fast food," she suggests.
On the other hand, the American Academy of Pediatrics Section on Obesity chair Natalie Muth, M.D., suggests that singletons might be exposed to more food with fewer opportunities for activity. "Perhaps there is more food to go around. Or that they are less active because they don't have a live-in peer to play with them. Or maybe there is a biological factor at play," she told CNN. "It is hard to say for sure, but this is the question that researchers are trying to figure out."
The study does have some limitations we should acknowledge: It has a rather small sample size, and it didn't take fathers' eating habits into account. Although they couldn't speak to the impact fathers' diets have on children's obesity rates, the researchers did find that only children were more obese whether their mothers were married or not.
Where do we go from here?
The next step for researchers is to analyze how specific household and family dynamics can influence children's eating behavior, physical activity, sleep, as well as other factors that could contribute to obesity. Whether it's because they have fewer opportunities to play with children or there's simply extra food for them to munch on at the dinner table, it's important for researchers to discover what's mainly contributing to obesity rates in singletons.
This research also has the potential for more treatment options for children with obesity—if health care professionals can identify the specific lifestyle factors that could influence the disease, they might be able to address these signs with families and prevent future chronic diseases like type 2 diabetes.
"Nutrition professionals must consider the influence of family and siblings to provide appropriate and tailored nutrition education for families of young children," Kracht agrees. "Efforts to help all children and families establish healthy eating habits and practices must be encouraged."