New Study Explains Why Ginseng Can Help You Lose Weight
mbg Editorial Assistant
By Eliza Sullivan
mbg Editorial Assistant
Eliza Sullivan is an editorial assistant at mindbodygreen. She received a B.S. journalism and a B.A. in english literature from Boston University.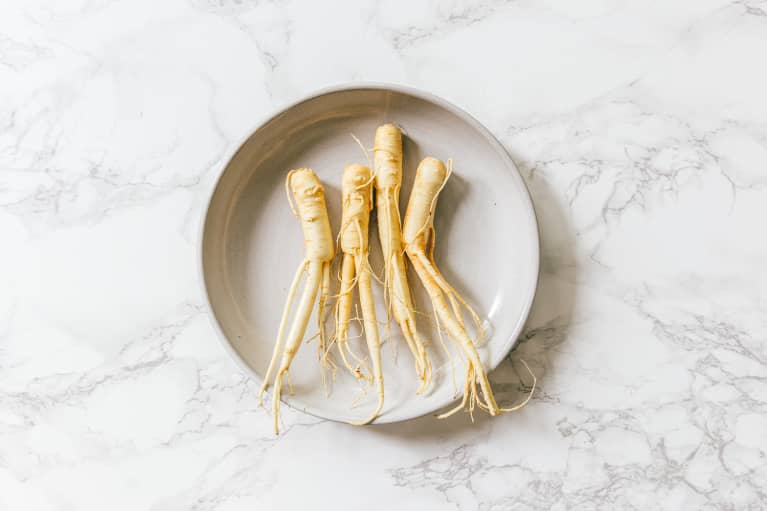 December 2, 2019 — 11:03 AM
Ginseng is a popular adaptogen, valued for its medical applications and studied extensively. One of its most popular applications is in the world of weight loss, and a new study has added to science's understanding of how this herb works.
What did the researchers find?
The study, published recently in the journal Gut, set out to consider the impact of ginseng on gut microbiota. Researchers considered the process by which ginseng helps with weight loss, looking to find out what about the herb mediates weight. They were able to isolate how ginseng aids in weight loss, as well as discover the mechanisms that make it work.
The study indicated that the products of ginseng can induce the production of bacterium that change how the body burns fat. They found that the microbiota influenced by ginseng play an important role in metabolism, which offers promise for the development of treatments to manage weight. The researchers think there's an opportunity for this knowledge to be specifically applied to probiotics for weight management and anti-obesity benefits.
Why does it matter, and what's next for research?
Ginseng has been related to weight loss before, but knowing why and how means there may be more effective ways to boost metabolism and help combat obesity. It's the first proof that the bacterium activated by extracts from ginseng can be harnessed to manipulate the way the body burns fat.
Researchers will continue to consider the ways that this compound can be applied to treat obesity and metabolic syndrome. The risks of being overweight and obese include many of the most predominant health concerns in America right now, like heart disease, stroke, type 2 diabetes, and certain types of cancer.
The benefits of ginseng expand past weight control: It's one of our favorites for helping with PMS and period pain, providing a natural energy boost, and lowering levels of the stress hormone cortisol.