New Evidence Reaffirms How Important The Gut Microbiome Is To Our Overall Health
mbg Associate Movement & Wellness Editor
By Ray Bass, NASM-CPT
mbg Associate Movement & Wellness Editor
Ray Bass is the associate movement and wellness editor at mindbodygreen and a NASM-Certified Personal Trainer. She holds a degree in creative writing from the University of Pennsylvania, with honors in nonfiction.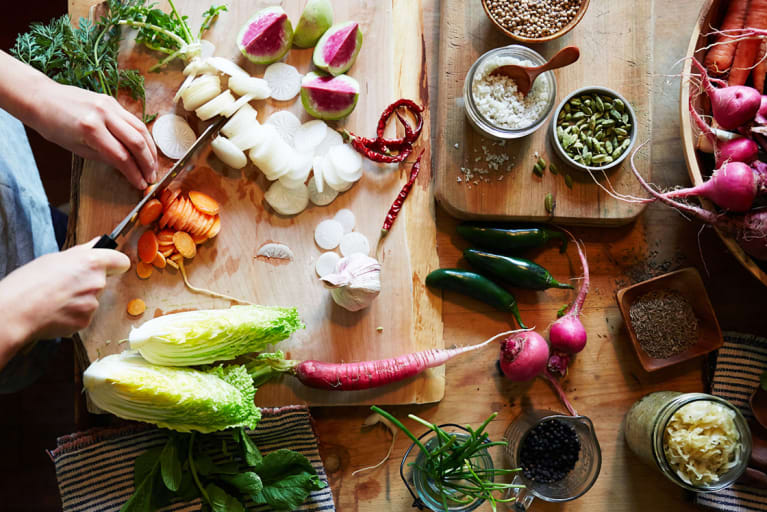 March 23, 2019 — 12:01 PM
There's a new pathway to control inflammation in the gut.
A study conducted by the University of Massachusetts Medical School identified a "new pathway controlling inflammation in the gut that is dependent on P-glycoprotein, which works to block neutrophils from infiltrating the intestines and causing inflammation."
While that may sound super science-y, this study has major implications for people who suffer from irritable bowel disease, given that neutrophil infiltration is a key characteristic of it.
Diet may help prevent C. diff infections in high-risk populations.
This next study from the University of Colorado Anschutz Medical Campus and Children's Hospital Colorado looked at the "impact of diet on susceptibility to Clostridioides difficile infection." Yes, another science term that may sound like it doesn't apply to you, but it's actually a "potentially life-threatening infection affecting more than 500,000 people in the U.S. each year."
Even more alarming is that the study showed that when mice were fed a "Western" diet (high fat and low fiber), it created a gut environment where the C. diff infection could thrive. In other words, this is more evidence showing that our diets and gut environments can influence our probability of developing a disease—and that changing our diets can play a role in disease prevention.
Prebiotics may prevent the effects of radiation treatment.
Perhaps the most exciting news is that research behind the power of prebiotics is expanding. This study found that "reduced oral nutrition contributes to gastrointestinal toxicity of total body irradiation via changes to the microbiome."
In short, the study "indicates the potential of a nutrition-based intervention [like prebiotics] in patients treated for hematologic cancers." Another notable development for functional medicine!
Needless to say, we're more intrigued and optimistic than ever about the future of gut health, and we look forward to seeing what comes of these studies. Here's hoping for more research on reducing inflammation, eradicating disease, and improving the overall health of humanity.