New Research Finds A Link Between Itchy Skin & Depression
mbg Editorial Assistant
By Jamie Schneider
mbg Editorial Assistant
Jamie Schneider is the Editorial Assistant at mindbodygreen with a B.A. in Organizational Studies and English from the University of Michigan. She's previously written for Coveteur, The Chill Times, and Wyld Skincare.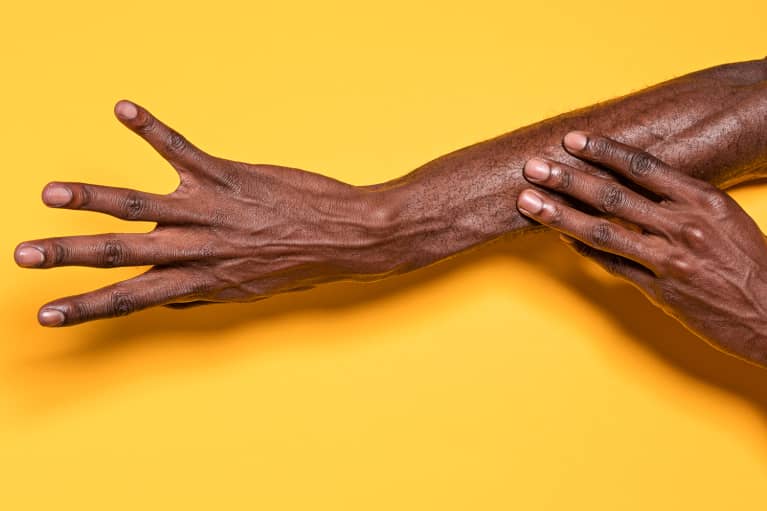 October 31, 2019 — 17:02 PM
When you experience skin inflammation, examining your anxiety and depression levels may not be the first thing that comes to mind. Although investing in a soothing moisturizer or natural oil might be your first instinct to get your itchy skin under control (as it should!), research shows that for your second move, you might want to shift your focus to your mental health.
A new study, published in the Journal of Investigative Dermatology, found a link between itchy skin and mental health conditions; specifically, itchy skin might be associated with higher levels of clinical depression, suicidal ideation, and stress.
Itchy skin can produce physical and emotional discomfort (if you've ever experienced an anxiety-induced breakout of hives, you know what I mean), so it makes total sense that people who are chronically scratching at their skin might experience a lower quality of life.
To investigate the skin's role in these mental health conditions, researchers analyzed 3,530 patients with skin diseases—think prurigo, eczema, and psoriasis—and compared them with over 1,000 healthy controls. Although these healthy participants didn't suffer from a skin disease, scientists wanted to study whether any itchy skin they had (even if it wasn't chronic) had an effect on their mental health as well. They measured all the participants' chronicity and intensity of itch; evaluated them on the Hospital Anxiety and Depression Scale; and analyzed their sociodemographics, suicidal ideation, and stress.
What they found was that patients with chronic skin diseases who felt itchy had a 14% prevalence of depression, compared to 5.7% in those patients who weren't itchy at that time. Additionally, healthy individuals who experienced itchy skin (perhaps due to weather, allergies, or other environmental factors) had a 6% depression rate, compared to 3% in healthy individuals without itch. People who experienced itch also reported more stressful life events, as well as economic hardships.
The bottom line: The painful burden that is itchy skin can have significant effects on mental health, even if you don't suffer from a chronic skin condition.
"Our research shows that itch has a high impact on quality of life," lead researcher Florence J. Dalgard, M.D., Ph.D., notes. "This study illustrates the burden of the symptom of itch and its multidimensional aspect."
She also recommends more aggressive treatment options for patients with skin diseases, specifically tailored to reduce itch as early as possible in order to prevent the onset of mental health issues.
How to prevent itchy skin.
Even if you don't struggle with a skin condition like eczema or psoriasis, this new study shows that it's just as important for your mental health to cease your scratching.
And as the weather turns drier when the seasons change, it's even more crucial to soothe your skin and help protect it from any polar vortex that may come your way. According to board-certified dermatologist Keira Barr, M.D., "itchy skin season" is actually all year long, but it can be especially brutal when outdoor temperatures become cool.
"We are currently heading into the season where as humidity goes down and indoor heating rises, skin can become dry and flaky, and itching can become a bigger issue," she says. And itchy skin is harder to control once it starts, so it's high time to have your extra-strength moisturizers at the ready.
Luckily, Barr gave me some tips on how we can stop dry, wintry skin in its tracks.
"Using skin care products free of fragrance and using moisturizers that can help maintain appropriate skin hydration are helpful," she recommends.
Additionally, according to Barr, people are becoming increasingly aware that our emotions, thoughts, beliefs, and coping behaviors can also have significant impacts on itchy symptoms. "Techniques including mindfulness based stress reduction, breathing and meditation, guided imagery, cognitive behavior therapy and biofeedback can address the psychosocial impact of itch," she says.
It looks like your skin and mental health have a codependent relationship. As Barr says, "There is an intimate relationship between the psyche and the skin." That being said, your itchy skin that's associated with stress and depression may have been started by stress and depression in the first place.
So as the weather turns crisp and your skin becomes more vulnerable to lower temperatures, be sure to take these proactive measures to kiss your itchy, inflamed skin (and hopefully depression, while we're at it), goodbye.