Everything You Need To Know About The New Moon In Sagittarius
Astrologers & Best-Selling Authors
By The AstroTwins
Astrologers & Best-Selling Authors
Dubbed the "astrologers to the stars," identical twin sisters Ophira and Tali Edut, known as the AstroTwins, are professional astrologers who reach millions worldwide. The AstroTwins have been featured by The New York Times, Good Morning America, the Today Show, and People Magazine, and have read charts for celebrities including Beyoncé, Stevie Wonder, Karlie Kloss, and Emma Roberts.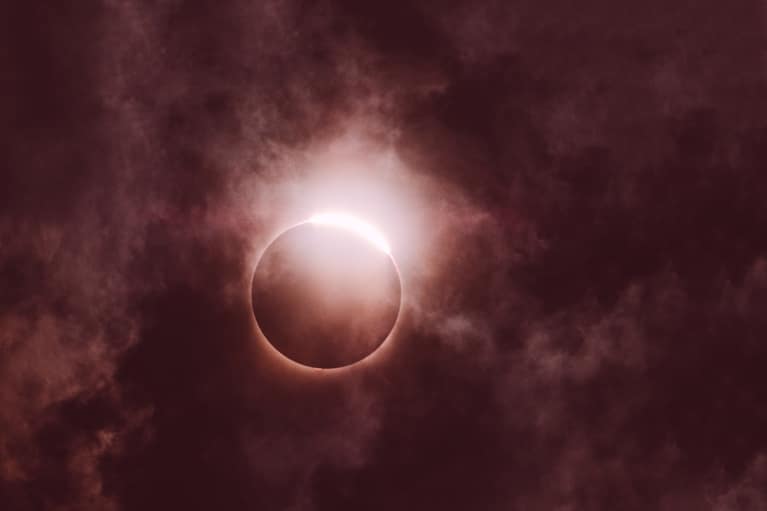 As the final lunation of 2017, the Sagittarius new moon lands alongside four other planets in this sign: the bold Sun, trickster Mercury in retrograde, love planet Venus, and stern Saturn. Authenticity is the order of the day—but not without some level of diplomacy.
The Sagittarius new moon lands right alongside stoic Saturn, the karmic planet that rules time and history. Interestingly, Saturn is spending its last day of a three-year trek through Sagittarius (on December 19, it will move into Capricorn until late 2020!). Although Sagittarius tends to be a "live for the moment" sign, this cosmic conjunction inspires us to reflect on important lessons and patterns that we don't want to repeat.
Since Mercury is retrograde in Sagittarius during the new moon, you might feel a bit reflective and even sentimental about the past. Reminisce about those wild times of yesteryear, and maybe revive some of these old adventures. Or aim for something new and unfamiliar! The Sagittarius new moon could set travel plans into motion. Book tickets to a new corner of the world for a trip you'll take by the corresponding full moon in Sagittarius on May 29, 2018. Cosmic tip: Wait until trickster Mercury turns direct on December 22 before reserving anything you can't cancel or reschedule later.
Remember, too, that new moons are a time for planting seeds, which you can harvest six months from now.
Here are 7 ways to break free from your limitations and hit the happiness mark under the spell of the Sagittarius new moon:
1. Plan your next big adventure.
Sagittarius is the zodiac's global explorer, and this new moon reminds us of the fact that there's a great big old world waiting to be discovered. Is there an area of the planet that's calling your name? Price out plane tickets, read independent travel blogs, and set up a special savings account to contribute to each week. If funds are already available, the temptation to hit the "Reserve Now" button may be too hard to resist. At the very least, make sure your passport is up to date. You'll want to have it handy should opportunity strike in the days ahead. You might even check out services like Home Exchange that facilitate a housing swap with someone living in the place you want to visit (and vice versa).
2. Reach out across "differences."
Running with a homogeneous crowd? Ears ringing in that echo chamber? The new moon in #StrongerTogether Sagittarius could send those self-imposed walls a-tumbling down. Diversity takes the spotlight at this unifying new moon. Make a point of reaching across any self-imposed blocks or boundaries and mingle multiculturally, especially while Sagittarius season is still in effect through December 21.
The moonbeams from global Sagittarius prompt you to be courageous and spark a conversation with someone outside of your usual social circles. If you already have unity in your community, draw new people into the fold who might not be as experienced with swimming in the melting pot. No matter where you find yourself near this new moon, this truth will be self-evident: People are people. And in these polarized times, we could all use a reminder of that. So mix up the usual suspects, tell your friends to bring their friends, and step out of your bubble—whatever it might look like from the inside.
3. Get your message to the masses.
These days, it's blessedly easy to share your thoughts and ideas across the digital universe. Sagittarius happens to be the sign that rules publishing, and this new moon calls the slumbering media-makers out of hiding. Nowadays, we don't have to wait for a major publishing house to offer us a book deal to get our novels or manifestos in print. Print-on-demand is all the rage with services like Lulu.com or Amazon's CreateSpace (we used it ourselves for our own 2018 Planetary Planners this year!).
Anyone wishing to join the blogosphere should harness the lunar power of this new moon to get started on Tumblr, YouTube, WordPress, Squarespace, Wix...the list goes on. Got a niche? Start talking to the select few who share your offbeat passion. But look out: Planting an idea under this new moon could start a sweeping new trend by the summer, when the Sagittarius full moon rolls around.
4. Focus on the hip area.
Sagittarius rules the hips and thighs, and this energizing new moon may send us straight to the dance floor. Since most of us spend our days seated at desks, stiff hips are an epidemic. Open them up! If you find yourself creatively blocked, stand up and do some hip circles—a belly dancing move that just involves planting your feet and rotating your hips in 360-degree arcs. Many believe that this movement gets us in touch with our wild, root chakra energy and helps the kundalini life-force energy move upward, igniting divine inspiration.
5. Let yourself be "too much."
Sagittarius is ruled by abundant Jupiter, the largest and most jovial planet in our solar system. It's got its own moons twirling around it, a fitting picture for the larger-than-life energy of Sagittarius. Sagittarius urges us to shed our self-consciousness and make utter fools of ourselves. The real party is not with the stiff, starched, and socially graced small talkers nibbling holiday hors-d'oeuvres. Nope. It's over there with the lady in wild patterns who leaps onto the empty dance floor and boogies to her own beat.
So go ahead and be TOO much. When you're fully self-expressed, it creates a gap between you and other people, giving them something to rise up to. Sure, they might laugh or be shocked at first, but they'll soon be inspired by your courage and authenticity. And they'll feel permission to be themselves freely, too.
6. Speak your truth, but stay off the soapbox.
When you're passionate about something, be it aerial yoga, an incredible podcast, or a shamanic healer who changed your life, it's normal to wish everyone knew about it, too. However, under the Sagittarius new moon's fervent zeal, it's easy to come across as a preachy proselytizer instead of a resourceful friend. Share generously—that's what Sag is all about—but do it with an open heart and nonattachment. In other words, ditch the know-it-all attitude and speak from a place of compassion and wisdom.
7. Discover a dose of daily Zen.
Wisdom-seeking Sagittarius rules higher knowledge, world religions, and philosophy. This is the sign of the lifelong learner who pulls from many different sources to arrive at a universal "truth." Raise your consciousness at the Sagittarius new moon by looking into new ways of seeing and being. Go ahead and explore obscure philosophies, study the way indigenous tribes live, or add more communal touches to your lifestyle. Suspend judgment and take it all in.
Find your gurus both in and out of the ashram, temple—or wherever it is you go looking. See the light of consciousness in every human. Better yet, be your own guru.
Check out what else is in the stars this month with this astrology forecast.