How To Harness The Powerful Energy Of Tonight's New Moon In Capricorn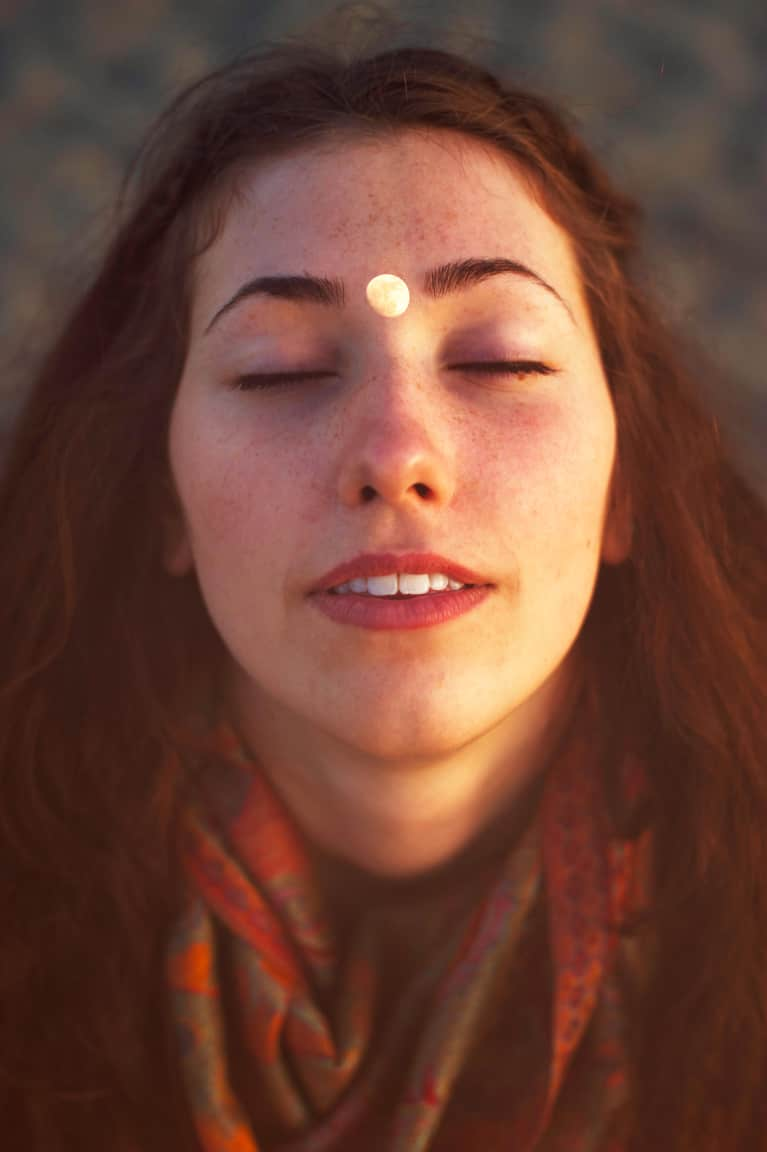 Capricorn is the star sign of outsized ambition—the zodiac's motivator who gets the job done right. New moons are powerful for planting potent seeds of intention, which we harvest under the light of the corresponding full moon six months later. And with the Sun still soaring through Capricorn until January 19, it's as fine a time as any to mobilize our New Year's resolutions.
This Capricorn lunation puts progress and productivity high on our agendas. But ask yourself: Are your goals really ambitious enough? The Capricorn new moon wants us to challenge ourselves and raise the bar.
And it's not just about winning the shiny gold star here, either. Capricorn is the elder of the three earth signs, so the influence of the new moon nudges us to conserve natural resources and adopt environmentally friendly processes as we build our empires. We may KNOW what we want, but it could take a couple of extra weeks (or months) to properly execute those missions. Even as we create our master plans, we'll likely need to tweak them a few times to make sure our goals are also established on terra firma.
Appoint yourself the CEO of your life and begin crafting a master plan.
Don't get frustrated if your big ventures don't immediately launch into the stratosphere. Instead of pacing anxiously or obsessing, use the extra time to tighten up your game and even to explore other avenues or options.
This new moon is calling on you to review the resolutions you made on New Year's Day, under the touchy-feely light of the January 1 full supermoon in Cancer. You'll have six months to build upon this galvanizing Capricorn new moon, so why not level up and push yourself outside of your comfort zone? With structure-junkie Saturn, alchemical Pluto, messenger Mercury, creatrix Venus, and the life-giving Sun all lending an assist from the Capricorn zone, the bricks you set down this week could evolve into an empire by the corresponding full moon on June 28.
Curious how to root YOUR dreams in reality? Here are few tips for tapping into the ambitious energy of the Capricorn new moon:
1. Forgive yourself for failing.
If at first you don't succeed, try, try again! Capricorn is symbolized by the persistent Sea Goat that tirelessly forges ahead. And let's face it: It takes some serious determination to get through the pressures of Capricorn season for some. Post-holiday recovery, getting back on track, goal setting...it can take a lot out of you. The Capricorn new moon urges you to remain calm and conserve your energy. Make "Don't sweat the small stuff" your mantra at this lunation. If you're wrapping up a big project with seemingly no end in sight, do keep your eye on the prize, and don't forget to reward yourself for all that hard work. Remember: Life is messy, and we will all inevitably make mistakes from time to time. But without our failures, how do we expect to grow? Next time you fail, try asking yourself what can be learned from the mishap so you can keep going.
2. Harness the earth's natural superpowers.
Splash some green on your dreams! Capricorn is the elder among the three earth signs, so the influence of the new moon nudges us to conserve natural resources and embroider eco-friendly practices into anything we produce. Capricorn rules the mountains, and it's associated with gemstones, archaeology, and healing crystals. Many of the earth's treasures contain healing and nurturing properties; certain crystals can help you tap into the driven and structured energy of Capricorn at this new moon. By working with the healing powers of crystals and precious gemstones, you can harness your most heartfelt ambitions and put a plan in place to accomplish your goals.
Speaking of the earth, the Capricorn new moon urges you to do your part to protect it after the holiday season of excess and waste. If you want to go deeper, the Capricorn new moon encourages it: Read up on climate change and hydraulic fracking to develop an informed opinion on the topic. Be proactive: Buy a state park pass, donate to a conservation charity, treat yourself to a bike for urban commuting or leisurely path rides. Start a window-box herb garden in your kitchen.
4. Practice creative visualization.
Capricorn is the strategist of our star system—the marathon runner, not the sprinter. Taking the long view is highly encouraged at this Capricorn new moon, especially if you've been stressing over the little things. Imagine where you'd like to be this time next year. (Don't worry, you can go back to living in the moment in a second!) Working backward, start jotting down the simple, practical steps you'll need to take to achieve this vision. Appoint yourself the CEO of your life, and begin crafting a master plan.
5. Don't forget the past.
Although Capricorn plans for the future, this sign also honors time-tested legacies and traditions. Capricorn is the guardian of history, so find a way to honor your personal or family lineage, too. Which cherished practices have survived the generations in your clan? If you can't find anything like this in your own family tree, you could read or watch the biography of an interesting trailblazing figure—someone who literally made history. (This year's Capricorn new moon arrives right after Martin Luther King Day.) It will also inspire you to ponder the legacy you might leave behind someday.
6. Connect to a fatherly figure.
Capricorn rules the zodiac's 10th house of fathers, men, masculinity, and authority figures. Whoa, that sounds a little foreboding, doesn't it? Today, pay tribute to the half of the population that sports a Y chromosome, and listen to the late, great George Michael's "Father Figure" too, while you're at it. Is there a man in your life whom you could personally thank? Make an effort to connect to the "masculine" or "yang" energy that lives within all of us, regardless of gender or sex. Can you find a way to appreciate your dad, even if it's just for giving you life? If you're not on good terms with your father, perhaps you do a small "forgiveness and release" ritual to free both of you from any karmic pain or bitterness. New moon, new year, new focus!
Capricorn is the zodiac's Sea Goat, a blend of intuitive fish (or mermaid) and earthy goat. While the oceanic side of this mythical creature is comfortable with intuition and mystery, the other part tirelessly ascends until s/he reaches the top. We are capable of much more than we often give ourselves credit for, and this once-a-year transit helps us see that. This new moon's lunar influence reminds us to stretch beyond our boundaries and limitations. Spending time hiking or in the mountains can channel this zodiac sign's best energy too. Still looking for a winter activity to help you stay active? Consider snowboarding lessons, whizzing down the black diamond if you're a seasoned skier, or just a nice fireside weekend at a lodge. One lift ticket, please!
Want more insights from the AstroTwins? Tune into their juicy mbg podcast episode and check out their Astrology Fundamentals class that's perfect for astrologers-in-training.