A Dancing Ritual For Rejoicing During The New Moon In Cancer
mbg Contributor
By Alexandra Roxo
mbg Contributor
Alexandra Roxo is the co-founder of Moon Club, a global monthly mentorship program dedicated to women's empowerment and moon rituals and a transformational coach and healer.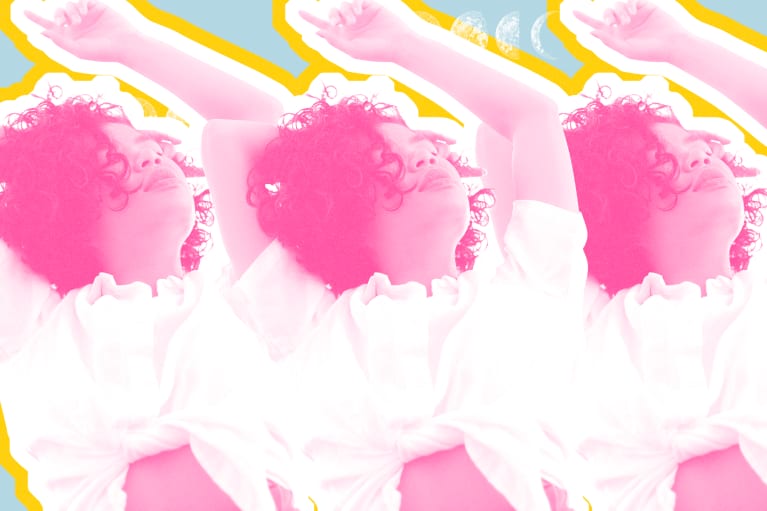 In today's world, if you have the means and the time to commit to self-growth, doing so can be nearly addicting. It provides an opportunity for perfectionists like me to stay in the zone of continuous self-work—without taking a moment to just rejoice.
Why celebrating is a necessary part of the spiritual work.
Sometimes I need to remind myself that there's solace and spiritual expansion to be found in dancing and singing. Eating. Shouting! Coming out from my apartment (key word there being 'apart') and just looking at another human being and saying: "Wow. This world is intense. I am so glad you're here."
Don't get me wrong: There's nothing wrong with working hard and staying open to opportunities to grow. But sometimes I wonder, if we're always inquiring and looking for expansion, are we still having fun with it?
As conscious beings on Earth, we need to step it up, get our heads out of the sand, and acknowledge what's really happening on this planet. But are we also taking daily time to dance, play, and laugh? As fiercely as we speak up against the things that hurt us, politically or personally, can we also commit to celebrating, dancing, and singing so loudly that it invites others in? Can our "work" be rejoicing together?
This is the life I want to lead: Rejoicing as hard as I am working, laughing as hard as I am crying.
I call the high and light aspects of my being spirit and the dark and heavy aspects soul. Soul is at home in the deep, shaded valleys. Heavy torpid flowers saturated with black grow there. The rivers flow like warm syrup. Spirit is a land of high, white peaks and glittering jewel-like lakes and flowers. Life is sparse and sounds travel great distances.—The Dalai Lama, as quoted by James Hillman in "A Blue Fire"
To ring in this week's new moon in compassionate Cancer, I invite you to rejoice with me. Yes, shit is fucked up in this world. Yes, the climate may be in full ruin by 2050 if we don't do something about it. Yes, people around the world are suffering in ways that are hard to even imagine. Yet, we also have access to so much information that we ever had before. In my opinion, there is just as much good news as there is bad. It is this way, the news cycle mirrors the life of being a human. It is all the things! Let's have the courage to love big and show up even when it hurts.
A movement ritual for rejoicing and releasing.
1. Put your mask aside and allow yourself to look "silly" for a moment. No, really, invite yourself to look silly!
2. Put on my Rejoice playlist or any other music that makes you feel free.
3. Dance like a wild animal for at least 10 minutes.
4. Scream in the mirror and vow:
I vow to stay awake and love generously and dance more often!
I vow to take a breath and have more fun as I grow!
I vow to enjoy my freedom and not take it for granted!
I vow to use my life as sacred ritual and practice!
5. Take a selfie, write a poem, or send a voice note of love to a friend to share your vibrant spirit.