PSA: Tonight's New Moon Is A 'Personal New Year' For This One Sign
mbg Contributors
By The AstroTwins
mbg Contributors
Ophira and Tali Edut, known as the AstroTwins, are professional astrologers based out of New York and Seattle. Their work has been featured in The New York Times, Elle Magazine, Vogue and Good Morning America and they are the authors AstroStyle, Love Zodiac, Shoestrology, and Momstrology.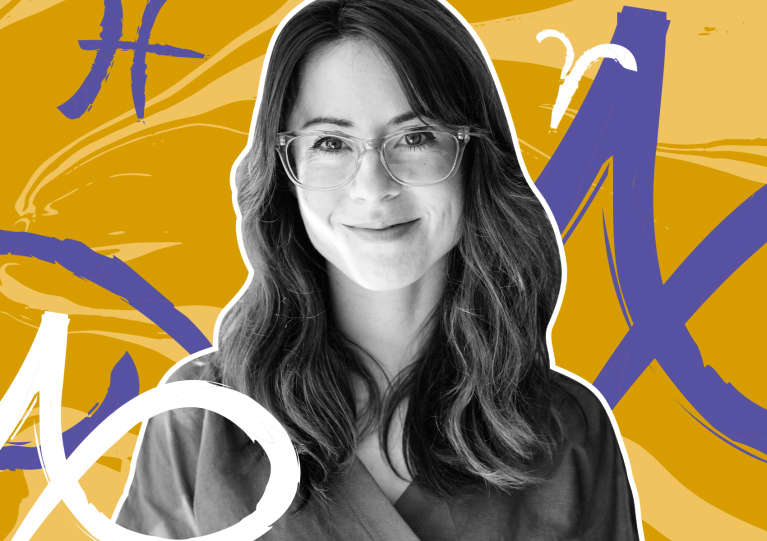 It's your time to shine, Aries! The Sun is blazing through your sign until April 20, waking you up to your passion and purpose. You're in the zone. and it's only getting stronger, especially once the year's only Aries new moon arrives on April 5.
This annual lunation is your "personal new year," a cosmic coming-out party that's perfectly positioned for a debut. If you've got something to launch or share, do it now. This new moon could also kick off a six-month self-discovery process, one that will culminate at the Aries full moon on October 13. You've got a whole block of time to let your inspired birthday-season wishes unfold. Set a few intentions, light the spark—then see where it all takes you.
Heads up: It's high season for retrogrades.
Another reason not to rush? April will begin retrograde "high season," as Jupiter, Pluto, AND Saturn all begin their annual backspins this month. These slow-moving outer planets switch gears for four to five months every year, so this is business as usual for them. However, since they're all in big-picture and career-related zones of your chart, their 2019 retrogrades could prompt a spring-summer round of soul-searching around your goals.
The first planet to U-turn is Jupiter, which will retrograde through Sagittarius and your ninth house of travel, learning, and entrepreneurship from April 10 to August 11. Growth is great, but it can also be exhausting—and this is your cue to ease up on the gas pedal a smidgen. Jupiter, Sagittarius, AND the ninth house all rule expansion. For the next four months, be a little more discerning with your risk-taking impulses.
You've had a triple-shot of "bigger, better, faster" energy powering your plans ever since Jupiter began its 13-month transit on November 8, 2018. It's been exciting—but maybe even a bit much for even you, Aries! Over these next four months, slow down and integrate all that you've been learning. Your discoveries deserve a minute to be reveled in, processed, and commemorated. In fact, there could be hidden gold in them that you rushed past in your eagerness for novelty. Retrace your (adventurous) steps now! You could very well have overlooked an opportunity. If you're working on a media or educational project (all themes of the ninth house), the retrograde is ideal for tweaking and editing.
The second Libra full moon will bring on the love.
How about partnering up for the win? On April 19, the second of two consecutive Libra full moons will power up your seventh house of commitments and contracts. This is the rare reverb from the March 20 Libra full moon, so look back to a month ago for clues of what might come together today. A romantic spark could turn official—or you could move to the negotiations phase in a business deal. Something you've been pondering for the past four weeks could finally become clear. On the fence? Wait for the full moon to pinpoint your correct next steps.
Most years, there's only one full moon per sign, but in 2019, two fall in Libra, giving you a doubleheader of lunar-powered relationship boosts. Examine your closest ties: Is there an equal give-and-take? Does everything feel harmonious or is there something to address? If you've been overly independent, try delegating and sharing the spotlight. And if you've leaned heavily on a couple of core people, use this moment to truly thank them for being there.
The next day, April 20, the Sun leaves your sign and enters Taurus, starting a monthlong visit to your productive and profitable second house. And while it might mean a bit less revelry than your birthday month, you're probably ready to get down to business. On April 22, the Sun makes its once-a-year conjunction (meetup) with innovator Uranus, which could deliver a stroke of genius. Suddenly, you see the whole visionary picture of how you'll turn one of your ideas into an empire. This Sun-Uranus alliance gives you a surge of confidence and excitement, but be mindful that it can also have a "sizzle then fizzle" effect. By all means, play out the possibilities, but don't start printing up business cards and buying domain names until you've slept on it.
If you're an Aries, the end of the month is all about long-term planning.
You'll be glad you did, because on April 24, Pluto will turn retrograde in Capricorn and your ambitious tenth house of long-term plans until October 3, followed by Saturn's retrograde in Capricorn from April 29 to September 18. Brilliant ideas merit the proper time to research, plan and streamline, especially if you want something that's built to last. Saturn is the ruler of Capricorn and the tenth house—so again, you have a triple-shot of one specific energy.
Transformational Pluto and stern Saturn will put the kibosh on anything that you try to rush into production—and doubly so with both planets retrograde in cautious Capricorn. Retrace your steps if needed. Anything worth doing needs to be done right!
The tenth house rules men, fathers, authority figures and leadership. All of these areas could become focal points for repair work while Saturn and Pluto backtrack. You may feel a strong pull to reconnect with your roots or dig into your family tree. Has there been a mystery in your family lineage or an unresolved matter? Move toward clarity and forgiveness, Aries. Perhaps there's a story to tell here. With wounded healer Chiron, now in Aries until 2027, any transformational work you do around your personal identity and family of origin could become your platform for helping others. Tell your story and you'll encourage others to do the same.