How To Make Your Home Feel Like A Big Holiday Hug, From Interior Experts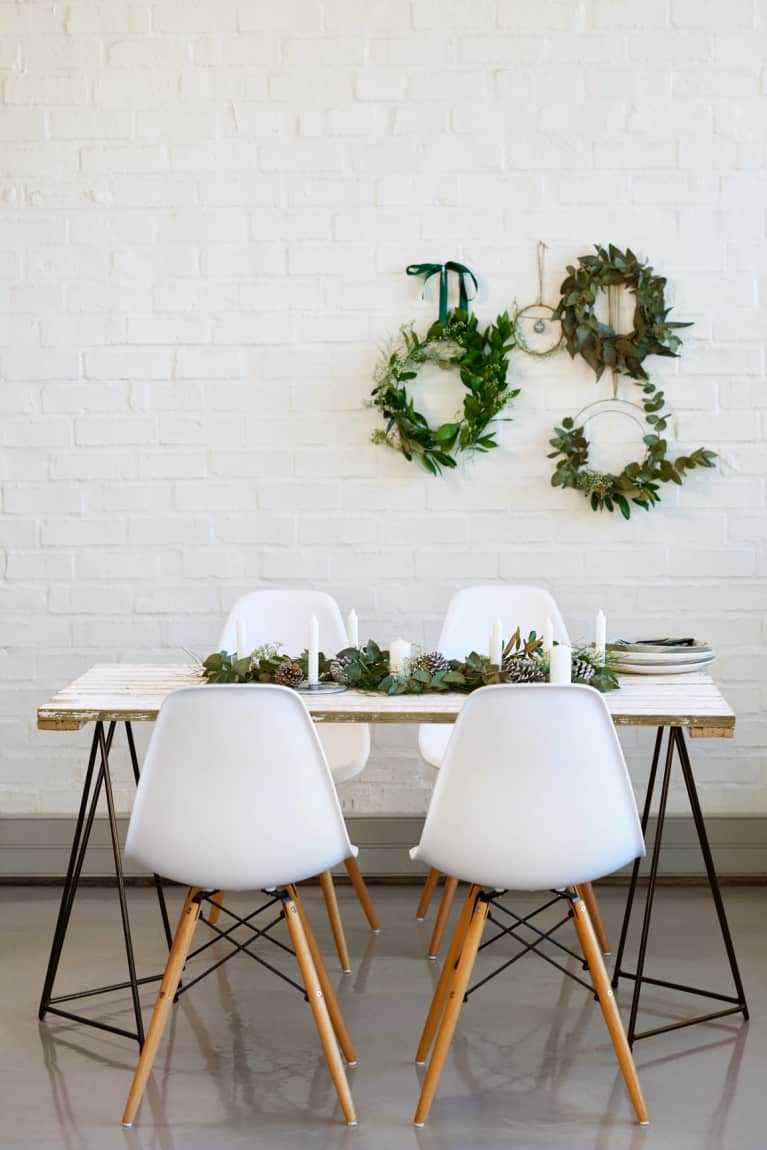 Our editors have independently chosen the products listed on this page. If you purchase something mentioned in this article, we may
earn a small commission
.
Your holiday celebrations likely look a little different this season, and your décor can follow suit. Whether you're spending the holidays solo or with close family, in your apartment or your childhood home, your space can hold you through it all. Here, interior designers and stylists share their favorite ways to deck out the home for the start of winter—some traditional, some rule-bending, all comforting.
Bring on the nostalgic decorations.
This year more than ever, I'm looking back to memories from my childhood or traditions my grandparents have passed down to me to help guide my holiday décor.
Because we can't all be together, incorporating an element of nostalgia that reminds you of loved ones or cherished memories is a lovely way to feel the good vibrations this year. For me, this comes in the form of adding tinsel—my mom's favorite holiday decoration—to our tree and garlands.
—Karina Lameraner, creative stylist at online interior design service Modsy
Surprise the senses with new lighting and scents.
Lighting is essential when creating a particular mood in a room, and an array of candlesticks, lanterns, and fairy lights is a magical combination for Christmas. You might like to consider using seasonally scented candles or diffusers, which infuse delicate notes of cinnamon, nutmeg, and pine throughout your home, creating a truly festive experience.
—Emma Sims Hilditch, founder and creative director at Sims Hilditch Interior Design
Deck out your houseplants.
As nostalgic as Christmas trees are, consider buying yourself a tree that can cheer up your home far beyond the holiday season. A fiddle-leaf fig brings so much life and vitality to any space, and it is tall enough and strong enough to hold ornaments, lights, and bows. If you already have houseplants you love, give them a festive look with your traditional tree décor.
—Kelly Robinson, interior designer and founder of Where Spirit Meets Space
Add fresh, fragrant greenery.
I love using fresh seasonal greenery throughout my home during the holidays. My go-to is always olive branches because they add such a fresh look to any space. I'll make a simple tablescape or lay a few clusters of branches along my console table to create a garland! Go on a foraging adventure in your backyard, or pop by your local flower market to find the best fresh greenery.
—Karina Lameraner, creative stylist at online interior design service Modsy
Start a new tradition with your tree.
A fun little tradition that my family has always loved is an advent tree, as opposed to a calendar. We hang small attractively wrapped presents from a miniature tree and replace each with a Christmas decoration that has been passed down through my family for generations [on the days leading up to Christmas]. This is a great way to utilize any decorations which have sentimental value but are no longer to your taste.
—Emma Sims Hilditch, founder and creative director at Sims Hilditch Interior Design
Create a winter solstice mandala.
While many of us are separated from loved ones this year, nature is always there for us. Winter solstice [on the 21st] is a day of celebration in the natural world, as the darkest day passes and the light begins to return. To celebrate, take yourself on a device-free walk in a park or forest and collect pine cones, acorns, leaves, or branches to create a solstice mandala.
—Kelly Robinson, interior designer and founder of Where Spirit Meets Space