4 Healing Nature-Based Rituals (Because Spring Is Just Around The Corner)
mbg Contributor
By Tanya Carroll Richardson
mbg Contributor
Tanya Carroll Richardson is a professional intuitive and spiritual author who is passionate about angels, beauty, and nature. She has been in the NYC publishing world as a writer and editor for over 15 years.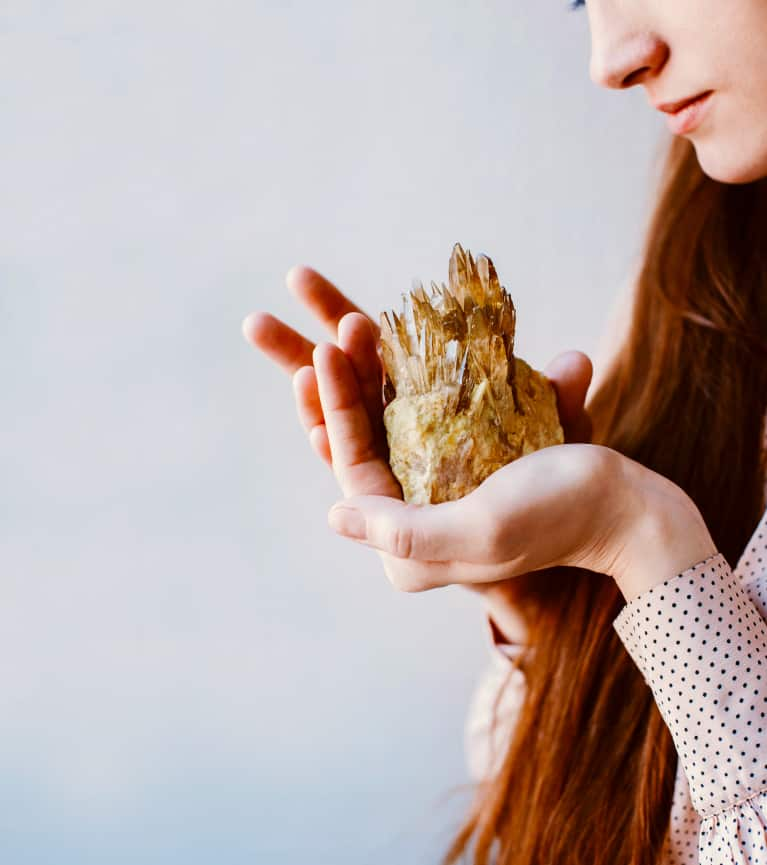 Our editors have independently chosen the products listed on this page. If you purchase something mentioned in this article, we may
earn a small commission
.
Grief isn't something you can think your way through. It is instead an experience you must feel your way through. As a psychic intuitive, I regularly help clients who are grieving a loss—a marriage that is ending, a career that's no longer fulfilling, the death of a loved one, or the loss of a specific dream they had for their life.
Ritual helps us be present with our emotions and reach catharsis, so that, eventually, we can move on from this loss to the birth of new, exciting things in our lives.
Connecting to nature reminds humans of the sacred quality of existence and can help you find the sacred in even the most traumatic loss. Remember that pain, like everything else in life, always changes. Soon you will be feeling stronger and celebrating something wonderful again.
Try one of these outdoor rituals, designed to help you process emotions or gain insight about this loss:
1. Scream, cry, laugh, or dance with abandon in wide-open nature to release pent-up emotions.
Have you ever jogged out onto an isolated beach at dawn or driven deep into the mountains and just screamed your head off? I've actually met people who did just that while going through a divorce or the terminal diagnosis of a loved one—and the effect was powerful. You might start out screaming and then end up laughing or having a cleansing cry. If screaming feels too over the top, try throwing small rocks as hard as you can against the ground. It can seem like no one will be able to handle the intensity of our emotional response to grief, but nature—especially a wide-open space where you feel safe but have privacy—can handle anything you throw at her. And you will feel so much lighter and more peaceful after releasing some of those intense emotions.
2. Receive an insightful message about your loss from fire.
Build a safe fire in your home or outside, and look around for a small stick or twig to use during your ritual. Once the fire is crackling, close your eyes and hold the twig in your hands for a few minutes. Silently ask your higher self what message you most need to hear about the loss you are grieving. If the message you receive comes as a shock, that is a great sign that you're tapping into your intuition. If you've been grieving the loss of a business venture, you might hear or sense that you need to work on trust and being less fearful around money issues in general. When you feel you have received your message, throw the stick into the fire and watch it be slowly consumed by the flames. Take the message you received to heart, and use it to help navigate your journey forward.
3. Sit under a tree and journal on recycled paper about your subconscious issues around this loss.
Perform this ritual near a tree to get to the root issues around your grief. This is something I help clients do in a psychic session, and it can be the ah-ha moment that speeds up healing or promotes a deeper level of understanding. If you are grieving the loss of a parent who passed away, take out your journal and ask your spiritual guidance squad for some of the roots of this grief. You might realize that fear is a root and that you don't feel as protected in the world without your parent. If you had a challenging relationship with your parent, you might discover that one of the roots of your grief is regret at how you were treated as a child or how you and your parent never fully reconciled. Journaling is a great way to process your emotions when someone in your life dies, which is why I put together a very special grief journal to help people do just that.
4. Use natural stones or crystals to ground yourself during intense emotional moments.
One day you might be feeling calm about your grief journey, and the next you could experience an outburst of intense sadness, anger, or frustration at a loss of health, income, or status. I'm a big fan of carrying a very small crystal or stone in your bag, purse, or pocket. People used to refer to these as "worry stones," but I prefer to call them "prayer stones" or "touchstones." After you pick your stone, perform a ritual where you hold it between the palms of both hands and close your eyes. Next infuse your stone with gentle, loving energy by thinking of your favorite place in nature—a stream, wooded path, or your grandma's backyard—that always makes you feel safe and calm. Nature is an extremely grounding force, and holding your special stone when you are grieving can help you find the eye of an emotional hurricane.
Try to remember that this loss is just one season in your life. Even after the most devastating loss, you will come out the other side of your grief journey feeling hopeful and inspired once again. The more you consciously process your emotions and become curious about your grief, the more you will gain from this loss.
Here are a few more ideas on how to harness nature's power for healing.