Experts Weigh In On The Keys To Successful, Sustainable Thrifting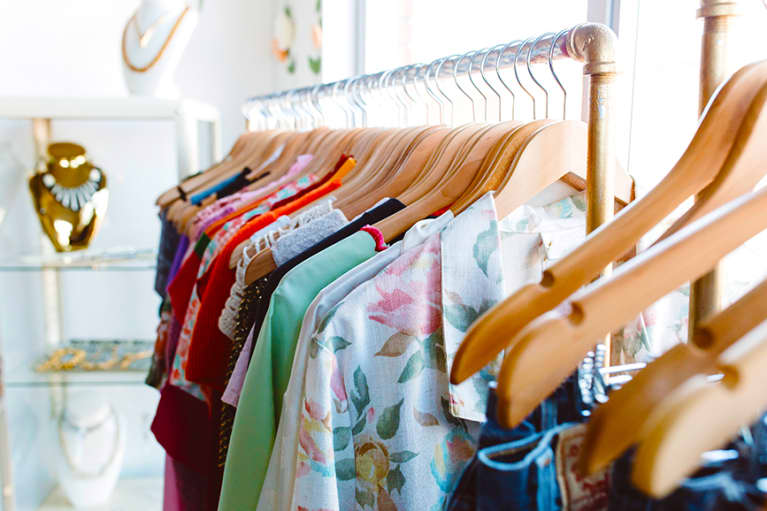 Our editors have independently chosen the products listed on this page. If you purchase something mentioned in this article, we may
earn a small commission
.
August 17, 2017 — 7:10 AM
PSA to everyone looking to get a jump-start on their fall wardrobe: Today marks National Thrift Store Day. It's a borderline magical occasion on which secondhand shops around the world and the internet slash prices even further. Thrifting is a more responsible way to shop since it keeps clothes out of landfills and promotes a circular economy, helping you feel better about your purchases—given that you actually end up wearing them.
While a vintage vest covered in pins or a showy, shimmery flapper may be tempting at first glance, buying clothes you'll end up trashing later doesn't help the world's fashion pollution problem. These well-versed thrifters know a thing or two about navigating a sale rack, and their tips and tricks will help you make the most out of your next eco-friendly excursion:
1. Stick to what you know.
My most important rules are always knowing what works in terms of my style and body type and only using thrifting to fill holes in my wardrobe. If I can keep those guidelines in my mind, I find that my thrifting excursions are a million times more productive!
These rules work for thrifting in stores as well as online—something I've been doing a lot of lately! I'm currently a bit obsessed with eBay...I've set a few alerts for items that I know I need (like the perfect pair of brown leather block-heel sandals) and having that kind of direction while sifting through the secondhand market ensures I only make purchases I know will work.
—Faye Lessler, eco-friendly blogger behind Sustaining Life
I like to go thrifting with a friend because it's just more fun, and it's nice to get a trusted opinion since you usually can't return anything. When IRL thrifting, I tend to fully give in to serendipity—sometimes I find a gem, and other times I leave empty-handed. When looking for a specific item, tech can be a game-changer. I use eBay or Depop to look for items and always have a watchlist where I save things I want to bid on or am just thinking about.
—Elizabeth Stilwell, editor at eco-mag Selva Beat
Thrift Shops tend to cluster together, especially in New York City. Before you start your thrifting adventure, hit up Yelp or your trusted Google search bar to get a map down of everywhere you want to shop. For instance, in Sydney there are a couple of stores located in affluent areas where if you get there on just the right day (and there is really no rhyme or reason to which day this is), you can find a great quality piece. I once found a beautiful black leather Bally handbag, which came up good as new after a little cleaning, along with a really cute Alice & Olivia cocktail dress that I want to rework into a new style.
And before heading to the register to cash out on your finds, make sure to look it over for stains. Check out the entire garment, give the seams and zippers a good tug, and look for anything that might be missing. Top spots to check: pits, back of the neck, boobs/belly (sloppy eaters live among us), and elbows.
—Jacinta FitzGerald, research and operations of ethical fashion guide Project JUST
4. Get specific and prioritize style over fit.
When I am shopping vintage, I prefer to look for one or two specific items with as much of an idea of what I want as possible. I have an item, color, and sometimes even a particular brand in mind. When I've found that perfect piece that fits my search, I'm not afraid to do a bit of tailoring and dry cleaning. These tend to be my most cherished pieces of clothing!
—AmyAnn Caldwell, editor-in-chief at social-good platform The Good Trade
5. Check out the fringe sections.
Denim jeans are a great thrifting secret. The dyeing of denim is one of the fashion industry's largest pollutants, but there are so many jeans in thrift stores—usually wonderfully organized by size. Even pairs that retail for $200 can be found for under $10. I haven't bought a "new" pair since I moved to NYC in 2010. Straw and wicker bags were also a big trend this year, and I already had a couple of beautiful ones that were thrifted for under $5. Always stop by the accessories—you could find a beautiful vintage clutch or a silk scarf!
My most recent favorite is a beautiful African print stunner I found at the Salvation Army on 23rd Street. I found six items that day for $25! Happy thrifting, friends!
—Erin Blank, designer behind eponymous ethical clothing label
Inspired to make thrifting your new Sunday activity? Here's and a primer on how to quit fast fashion for good. Plus, a peek into the vintage item eco-minimalists are rocking this year.