This National Geographic Explorer Studies The Most Magical Part Of Our Oceans
mbg Sustainability Editor
By Emma Loewe
mbg Sustainability Editor
Emma is the Sustainability Editor at mindbodygreen and the author of "The Spirit Almanac: A Modern Guide To Ancient Self Care."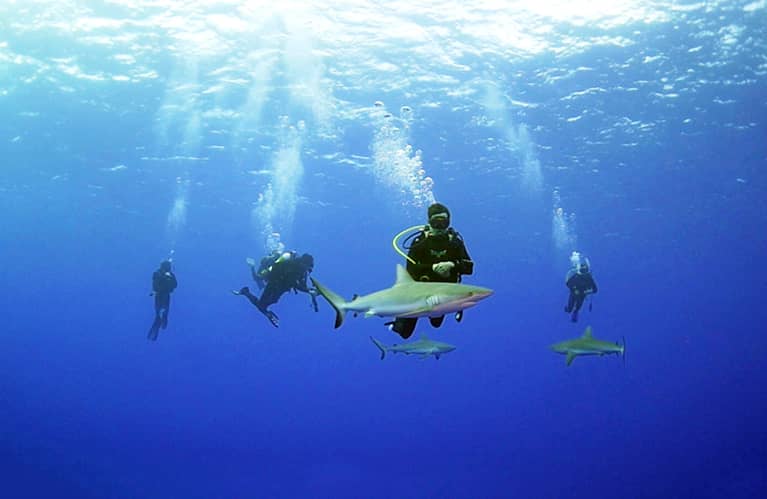 Imagine being in a pitch-black ocean, swimming to the faint light of a school of fluorescent fish until you realize you've followed them miles offshore. While this probably sounds like a nightmare to most, to David Gruber, it was the discovery of a calling.
"I was confronted in one of those Life of Pi moments where the sea was lighting up around me and I was really curious about these bioluminescent animals," says Gruber. That dark night off the coast kicked off years of study, ultimately culminating in a laundry list of degrees including a Ph.D. in oceanography and master's in journalism. These days, Gruber's still swimming at night to the tune of nature as a marine biologist and acclaimed National Geographic explorer. But now, he's doing it to uncover the stories veiled under our ocean and share them in a way that inspires action.
Gruber's exploration has brought him into murky waters around the world, searching for species that are bioluminescent (emit their own light) and biofluorescent (emit light when exposed to certain light stimuli). In the process, he's researching the fascinating way these critters see the world and how they may be using light to communicate it. He's even bringing some of these incredible creatures back to shore to answer age-old questions about the human body.
"A small fluorescent protein gene from coral can be used to watch how specific genes interact in the brain," he explains. "I collaborated with a neuroscientist to find a protein that would flicker when there was a voltage change, such as when a neuron fired. Now you can watch neurons fire under a microscope with this little flicker of fluorescence."
Gruber's exploration is marked by an obvious love for the underwater environment and a deep desire to protect it. He's developing new technology delicate enough to interact with nature—such as the aptly named squishy robot fingers, robotic limbs made out of rubber that can handle fragile marine life without disturbing it—traveling by solar-powered boats, and using noninvasive, low-light cameras to record his deep-sea musings.
The psychology of climate change.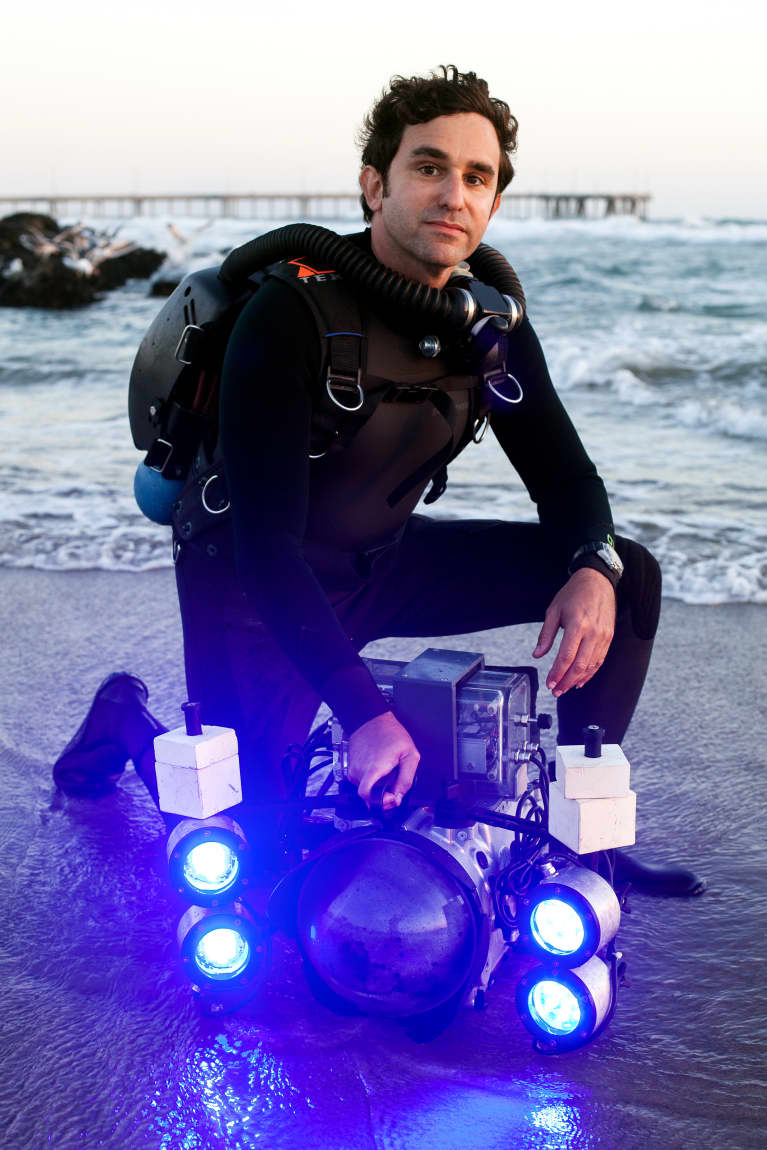 When Gruber's not on sustainable adventures, he's working as a college science professor in NYC to inspire the next generation of mindful explorers. "It only takes one generation to really change mindsets," says Gruber, who credits a steady meditation routine, propensity for adaptogenic tonics, and mindful workout routine as his physical and mental fuel. "Being an explorer and a professor is a nice mix of mind and body. Going on expeditions in the ocean really keeps me wanting to stay fit and do yoga and run and exercise. It's great inspiration, especially when living in a city like New York."
His work in and out of the classroom is a reminder of the fragility of nature and our innate responsibility to protect it—despite a propensity to sometimes think otherwise. "As someone who devotes a lot of time to thinking about how humans have evolved with the planet, it's really quite evident the effect that we're having on our surroundings. It's always interested me that we can look at all this and still not believe it or look the other way," he says. "It's really a human psychology issue. We don't want that bad news. We don't want to react until we absolutely have to."
Gruber hopes to inspire a mindset change by emphasizing the adaptability of the nature he sees and the creature that inhabit it. "I love the analogy that many species that have a parasitic relationship with their environment get killed off. It's the animals that have a symbiotic relationship, the ones that work together, that are the most healthy and successful. In order to solve problems, we need to learn from nature. After all, we learned how to fly from birds. We need to find the most successful animals out there and see what made them successful."
Here are a few everyday actions that you can take to protect our oceans, straight from David and other inspiring experts in the field.