What You Need To Know About The Humanitarian Crisis Happening In Your Own Backyard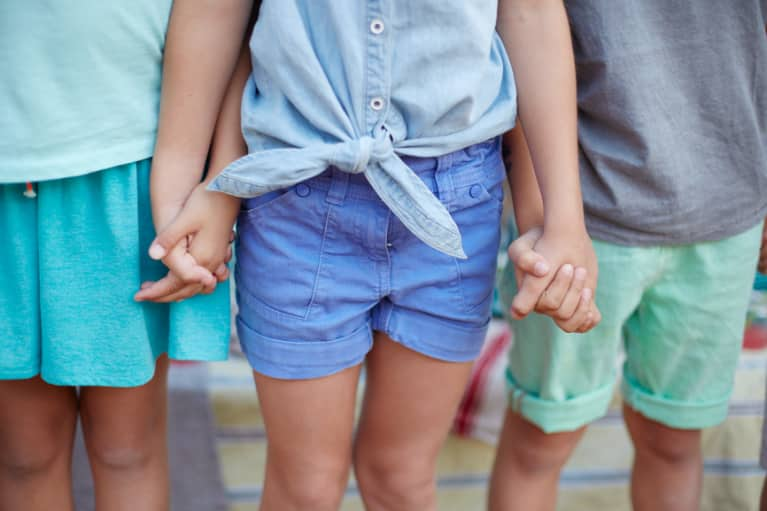 Our editors have independently chosen the products listed on this page. If you purchase something mentioned in this article, we may
earn a small commission
.
International Missing Children's Day has been observed on May 25 since 1983. On this day, I hope to raise awareness about the children around the world who are missing and to spread a message of hope.
When I researched human trafficking to write my book, it tore apart some of my own misconceptions. Human trafficking, I have realized, is a far more complex problem with vast networks operating differently in different countries. Here are some myths that can easily allow us to turn a blind eye to this growing problem that humanity faces.
1. Human trafficking is happening somewhere far away and cannot happen in our own communities.
The idea that people who are susceptible to human trafficking are only from poorer sections of society or that it happens only to immigrant populations or in developing countries is wildly inaccurate. Social media is a very viable tool for human traffickers and with the spread of technology, it is one of the most important ones to ensnare young kids into the slave trade.
The idea that underprivileged kids are smuggled or sold only in specific countries is an outdated one. It happens in countries like the United States, where traffickers can target kids from the convenience of their living rooms. Human traffickers also need not appear like their fictionalized versions in novels or movies and/or be connected to the mafia. They could be smooth-talking businessmen or shop owners or local politicians who could be investing their resources in this trade.
2. Victims of abuse and trafficking will always want to escape and will naturally cry out for help.
Enslavement doesn't necessarily mean that we will see the victims physically restrained or behind bars. The slave trade depends vastly on psychological dependence and/or mental torture. Many children are "broken into the trade," which means that they have been forced to rely on their abusers as their only means of survival. After years of such reliance and after not having known any other life, victims tend to show a stance of "taking control" of their lives by equating the abuse to love and making themselves believe this is their choice.
In cases where they want to escape, they are unable to come to terms with the idea of leaping into the unfamiliar even though they know that they are escaping a brutal life. In some other cases, where children are smuggled from villages and the human trafficker happens to know the victim's family, the victims might be afraid to escape because their families are threatened. So while it might appear that some victims are willingly pursuing prostitution or are involved in forced labor, it is usually because in their minds this is their only choice.
3. Sex trafficking happens only to women, and men are always the perpetrators.
Many boys are trafficked and are forced into the slave trade at a very young age. Although the percentage of women trafficked for sex is significantly higher, this doesn't mean boys aren't trafficked or aren't in danger of being lured. This kind of trafficking can also be perpetrated by women who could be victims themselves or could be making money on the sale of children. By the same token, both men and women are fighting against human trafficking and working for organizations that take action against modern-day slavery.
4. Only illegal immigrants get trafficked.
Legal immigrants who have come to this country on a visa can also be entrapped and enslaved. The lack of family and friends in a foreign country, culture shock, and language barriers can make such individuals vulnerable to getting trafficked. In the United States, immigrants are often lured with false promises of a job opportunity. These victims can work as domestic servants, in restaurants and hotels, or in the agriculture industry and can often be in plain sight. They are often threatened, forced to work long hours and paid poor salaries. They often live cooped up in a small space/apartment with several other people, which is one way of identifying possible human trafficking.
5. Human trafficking equals sex trafficking.
Human trafficking often draws attention to sex trafficking and many think that's what it implies. But sex trafficking isn't the only modern-day slavery problem. Forced labor and child labor are equally compelling issues of human trafficking. In countries like India, Africa, China, and Bangladesh, issues of child labor are common and by the time the finished products reach us, we aren't aware of the slave labor behind the product. As far as possible, shopping from socially conscious companies is a great way to avoid contributing to this problem. Here is a list of goods from various countries that are produced using child labor.
Many missing children find themselves in the worst form of child labor. According to United Nations, there are an estimated 21 to 30 million slaves worldwide. I have found volunteering and making donations to be the most accessible ways to help. Other ways are signing petitions or participating in fundraising activities. In the United States, The Polaris Project has some great initiatives. You can sign petitions to firm up human trafficking laws on this site, and always call the National Human Trafficking Resources Center in case of suspicious activities at 888-373-7888 or text them the code BeFree (233733).