My Favorite Fall Cocktail Is Mostly About Pretending It's Still Summer
Contributing Food Editor
By Liz Moody
Contributing Food Editor
Liz Moody is a food editor, recipe developer and green smoothie enthusiast. She received her creative writing and psychology degree from The University of California, Berkeley. Moody is the author of two cookbooks: Healthier Together and Glow Pops and the host of the Healthier Together podcast.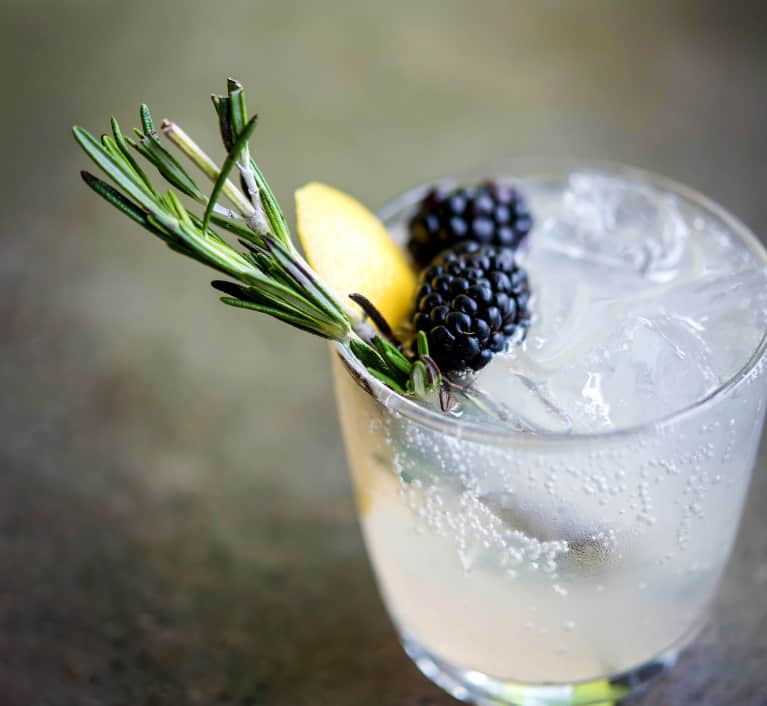 Fall came hard and fast to New York City this week, with temperatures dropping more than 20 degrees overnight—and the weather forecast promising more of the same for the foreseeable future. While many of my friends met the introduction of autumn with open arms, I was less enthused. As a California kid, I'm just as enamored—perhaps even more so—with warm sweaters, pumpkin spice granola butter, and the changing of leaves (this is someone who dressed as a leaf peeper for Halloween one year). But I'm also still a California kid, meaning winters are hard—really hard. There was a point last February when I curled up in a ball on the couch, lamenting to my husband that I couldn't even remember the feeling of the sun on my skin. "And," I cried, "there are still months left."
All of this is to say, I'm taking my time letting go of summer. Because I still have an incredibly hard time eating food that's out of season, my main lifeline is via my cocktail. My husband can make hot toddies all he'd like—I'll be over here with my favorite discovery of last summer, Ketel One Botanical. Even the flower-covered bottles remind me of more carefree seasons, and the flavors—Cucumber & Mint, Peach & Orange Blossom, and Grapefruit & Rose—take me straight back to picnics in Central Park, with the scent of fresh-cut grass wafting in the air and rogue puppies romping over to give me kisses. Alcohol is, after all, a preservative, so it makes sense that the vodka infusions, which are all-natural and unsweetened, have somehow found a way to preserve the essence of an entire season.
The Peach & Orange Blossom has been my go-to—it reminds me of Morocco (perhaps not coincidentally, a land of more or less perpetual summer), and, with a splash of sparkling water and a slice of orange, it's the perfect thing to come home to after a biting walk in the cheek-burning wind. We're also just getting into citrus season, one of the best parts of winter, so, well—I'm easing in, OK? There will be time for ciders and toddies. For now, though, I'll be camped under my SAD light with the soundtrack of waves crashing playing from my phone in the background.