This Home Accessory Could Become The Next Houseplant
mbg Sustainability Editor
By Emma Loewe
mbg Sustainability Editor
Emma Loewe is the Sustainability Editor at mindbodygreen and the author of "The Spirit Almanac: A Modern Guide To Ancient Self Care."
Our editors have independently chosen the products listed on this page. If you purchase something mentioned in this article, we may
earn a small commission
.
Over the last few years, plants have traveled off our plates and out of our gardens to become a celebrated part of our homes. Houseplants are lauded for their ability to remove toxins from the air, inspire productivity, and catch light in a dreamy, Insta-worthy way. And our obsession with bringing the healing properties of nature inward appears to be just getting started.
New books like The Nature Fix are diving into how humans can more seamlessly integrate into their natural surroundings, while living lobbies, green gyms, and plant-dotted office buildings are turning into hallmarks of city life. In an age where ferns and magnolia trees are becoming as common as doormen and urban parks are popping up every day, innovation in biophilic design—the process of integrating patterns from nature into built environments—is soaring.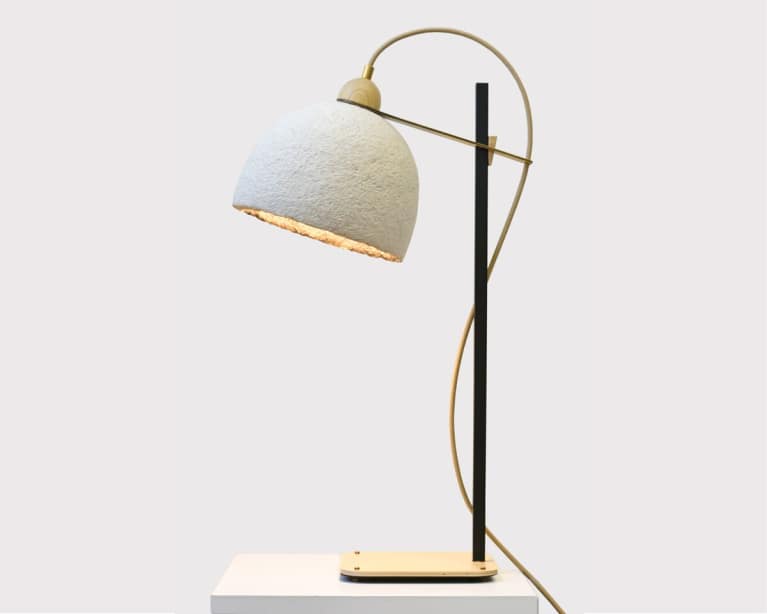 Nobody is better proof of the shift than Danielle Trofe—a Brooklyn-based designer whose line of GIY (grow-it-yourself) lamps made of mushroom and hemp, Mushlume, kick-starts this week. With the help of Ecovative, a manufacturer of a lab-altered, renewable mushroom material that can withstand extreme temperatures, she's crafted a living lighting that can actually be returned to the earth once it runs its course. Believe it or not, under the right conditions mushroom fungi can actually be turned into a strong, sustainable building material. Shaping it into items like furniture and fashion doesn't require additional electricity, heat, or water, since it essentially does the growing and molding for you. Forward-thinking design capital of the world Copenhagen has even dedicated an entire museum exhibit to fungi's seemingly limitless potential.
When Trofe first came across Ecovative's mushroom material, which has also been used as a replacement for those notoriously bad-for-the-planet Styrofoam packing peanuts, she experienced an epiphany of sorts.
"It shifted my perspective and really made me look at the full life cycle of a product to try to understand the safety and the materiality of what things are made of," she says. "The hands-on experience of working with the material and moving away from 3-D modeling on a computer formed this deeper connection between me and my work."
Now, Trofe is back in school for a master's in biomimicry to add to her design pedigree. She is optimistic that her line of clean, simple, of-the-earth lampshades will inspire the masses to become interested in pushing the boundaries of home design too.
"Being able to slowly bring natural elements into your home—especially ones that are living or were living—is essential in continuing to have that relationship with the planet and the resources on it. It's really the visualization of how we can start to use material that's a little more sustainable and fits in a little bit better on the planet."
The lamps are already a staple in neighborhood hot spots like 1 Hotel Brooklyn Bridge, and this week a Kickstarter campaign will make them widely available to the masses. By bringing them into people's homes, Trofe hopes to continue to build a community around science, technology, and a love for the planet.
"Going green has gone beyond just being a trend," she says of the future of natural home goods. "Now, people are realizing that we do live on a finite planet with finite resources. We're at the point where we need to make better decisions that support life on this Earth. People are owning up to that responsibility, especially creators."