The 8 Most Common Mistakes People Make on Dating Apps

mbg Contributor
By Andi Forness
mbg Contributor
Andi Forness is an online dating coach and active member of the Jungian Coaching Association and the Society of Women Entrepreneurs.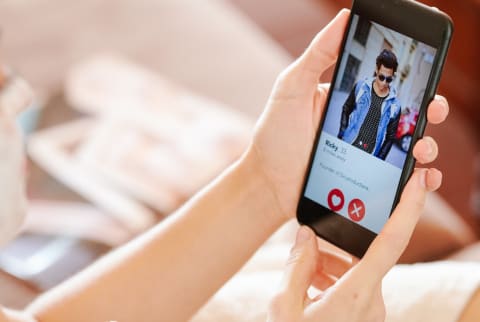 Image by Guille Faingold / Stocksy
January 4, 2020
It is a new year—and a time for new love. Dating apps report that they get a huge influx of traffic at the start of the year. The first Sunday of January is often referred to as "Dating Sunday" and considered the busiest day of the year for dating apps. That means you can expect to see many fresh faces and polished profiles, and it's a great time to jump on if finding love is on your bucket list for 2020.
Before you put yourself out there, here are the most common mistakes people make on dating apps that can make finding the love of your life more challenging. Avoid these, and you will set yourself apart from the crowd and make finding your partner way more pleasant—and more likely!
Advertisement
This ad is displayed using third party content and we do not control its accessibility features.
Copy and paste: writing the same generic message to everyone. Instead, find one thing that makes their profile stand out to you and comment on it.
Lack of authenticity: Does your profile actually showcase who you are? Most people out there like a night out on the town or dinner at home with Netflix. What else do you really like doing? What do you value? What makes a great first date? This is your chance to really show who you are and what you are into! Jigsaw puzzles, Nespresso, bed by 10 p.m., anyone?
Trying to seem cool by not caring: Making little to no effort to fill out your profile, posting only one profile photo, or saying "If you have questions, just ask" shows insecurity and lack of effort and that the other person will have to work hard being in a relationship with you. No, thank you.
Being negative: Having a list of don'ts and saying "no drama" or "no hookups" is a beacon to attract just that. Your profile needs to come from a place of your heart's desires, not baggage or fear.
Yes, the photos matter: No matter how much we all want to value personality above all else, the photos are what will draw people in on a dating app. Comes with the territory, unfortunately! Photos that make many people swipe left include bathroom selfies, photos with Snapchat filters like a bunny nose, photos from your fishing trip, photos from 1993, lying on a bed trying to be sexy, sunglasses and hats—anything that doesn't give a clear view of what you look like. Those are no-no's. Leave out the group photos as well. We know you have friends, but sometimes we think your friend is cuter and get distracted or confused as to who you are. Your profile photos just need to be about you and what you are into.
Staying virtual: You put yourself on a dating app to find love, not to have penpals. Too many people try to get to know the other person by messaging or texting for weeks and wonder why it gets boring or the other person disappears. Take it into real life, ASAP.
Being too busy: Look at your calendar for the next few weeks. Can you actually make it to a date? Don't swipe or engage in a convo with someone when you can't go out because you're going to Europe for two weeks, you are sick, prior commitments, kid duties, etc. If you want a relationship with someone, you have to open your schedule as much as your heart.
Too much too soon: Talking about sex, calling you "babe" or "beautiful," telling all the things about your past (including your ex), interviewing the other person with questions on how much their property taxes are, fantasizing about who this person is and what you can be together—these are all ways of moving way too fast. Take your time. It is not a race.
Finding the balance between dating with a goal in mind to find love and not having any expectations about who it will be or when it will happen will set your new love story up for success. Have fun and enjoy the process and the lessons that putting yourself out there will bring you. Happy dating!
Advertisement
This ad is displayed using third party content and we do not control its accessibility features.
Reset Your Gut
Sign up for our FREE doctor-approved gut health guide featuring shopping lists, recipes, and tips